The pickings for Indian cuisine on the east side of Orlando has been slim for a while now, ever since Anmol was closed at the UC-17 plaza by UCF, bulldozed over for a new high rise student apartment complex.
Well, a new Indian restaurant has popped up in East Orlando to satisfy the curry cravings of our eagerly awaiting friends (myself included). And it just may be one of my new favorite Indian places in town…
I recently dropped by Tamarind Indian Cuisine on Colonial Drive near Woodbury Road (formerly the second location of Cypriana Greek Restaurant) for lunch.
Their lunch buffet ($8.95) – with more than 12 different Indian dishes from vegetarian curries to meaty chicken dishes to naan and tandoori chicken – runs from 11:00 am till 3:00pm.
If you may be thinking you've heard of an Indian restaurant named Tamarind around town before, it's because this outpost is actually a sister restaurant to the Tamarind Indian Cuisine in Winter Park, owned by the same folks who also run Bombay Cafe on Orange Blossom Trail and Aashirwad near Kirkman. It is a venerable Indian empire stretching the four corners of Orange County, so you can be assured that this iteration has some tried and true practices when it comes to Indian food.
On my visit, the buffet had some truly tasty choices: from savory dishes like tandoori chicken, chicken tikka masala (or butter chicken as it's known in some parts), and goat biryani (a spiced aromatic rice dish with origins in Persia) to veggie options like the aloo mutta with potatos and peas and the gobi manchurian (a kind of Chinese influenced sweet and sour veggie stir-fry mix dish). The idli, little rice cakes, were good but the consistency was a bit too sticky for me that afternoon. Overall, a varied and satisfying selection that day, which, I was told, changes daily.
For dessert, I had a nice, sweet mango kulfi ice cream.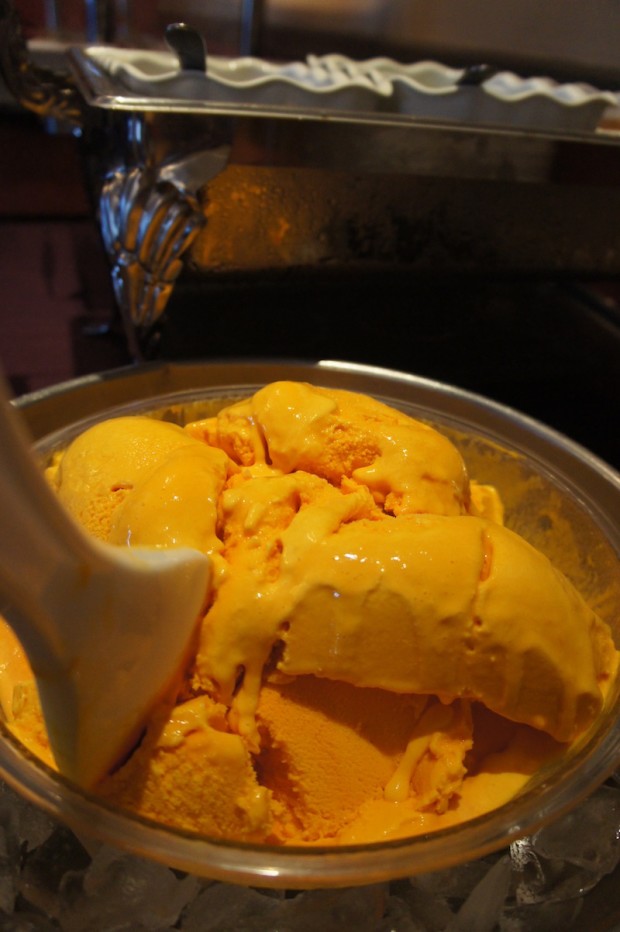 One thing that stood out for me during my visit at Tamarind was the remarkably good service that I had experienced there. The waiters were friendly and accommodating and, all in all, very sincere which is a breath of fresh air when compared to most other Indian restaurants that I've been to.
On a second visit with friends for dinner, we ordered the chicken tandoori (baked in a clay oven, flavored with yogurt and dusted with red spices), chicken tikka masala (cooked in a creamy, delightful tomato based sauce),lamb roganjosh (a spicy, aromatic dish based out of the Kashmir region), and a side of garlic naan bread.
We also ordered mysore masala dosa, a South Indian fermented crepe made from rice batter and black lentils, lathered here with spicy red chutney, and served with a cup of mixed potatoes and peas. The slightly sour and sweet dosa is a popular street food item in South India, rich with nutrients and fun to eat with your hands. The potato-pea mixture is wrapped in the flaky dosa and dipped in sambar, a vegetable stew made with tamarind popular in South Indian and Sri Lankan Tamil cuisines.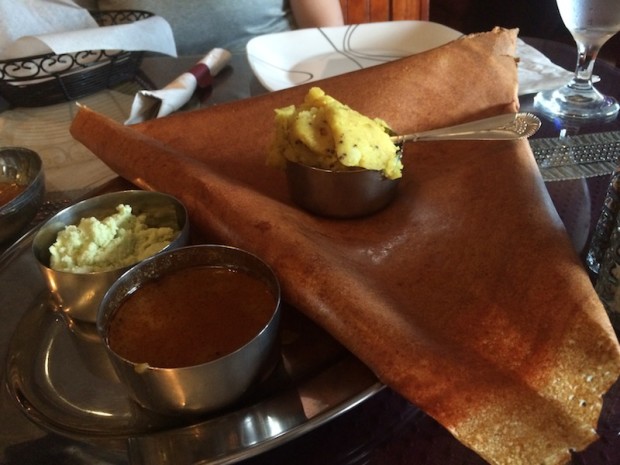 Dinner was fabulous and I am very happy to report that we finally have a proper Indian restaurant on the East side of Orlando again! I hope to return again soon to satisfy those curry cravings…