For 27 years, The Peabody Orlando hotel was connected to the Orange County Convention Center on International Drive. In late 2010, a $450 million renovation of the hotel added a 32-story wing that doubled the number of rooms and an expansion tower that stands as the second tallest building in Orlando (behind the SunTrust tower in Downtown Orlando).
On October, 1 2013, The Peabody Orlando was sold to Hyatt Hotels and renamed Hyatt Regency Orlando.
With the change to Hyatt Regency, the Peabody's trademarked Capriccio Grill was transformed into Fiorenzo Italian Steakhouse, with a new menu and a new chef de cuisine.
Fiorenzo, which means blossoming or flourishing in Italian, brings together the flavors an authentic Italian restaurant in Orlando and the tradition of a great American steak house. The restaurant is elegantly decorated, with dark black marble table tops and champagne gold touches accenting the dining room, and an open kitchen with a pizza oven operating to full capacity. The black and gold give it an almost Gatsby-esque feel, dapper for a hotel restaurant, a little old fashioned yet modern at the same time.
Chef Jimmy Stafford, the new Chef de Cuisine at Fiorenzo, has been a part of Hyatt Hotels Food and Beverage team for the past nine years. A graduate of Hyatt's Culinary Training Program, Stafford has served as a chef at Manchester Grand Hyatt in San Diego, Calif., Chef de Cuisine at Grand Hyatt Kauai Resort and Spa, and Sous Chef for Andaz Wall Street in New York, N.Y.
Chef Stafford has created Fiorenzo's brand new menu with his own creative twist, featuring signature dishes such as chocolate papardelle, 20oz prime bone-in rib eye, and bison carpaccio.

Chef de Cuisine Jimmy Stafford carving out slices of cured Spanish Iberico ham in the Fiorenzo kitchen
The new menu is composed of prime steaks, seafood entrees, creative pizza and pasta dishes, as well as select wines from an extensive wine cellar.
Our waiter, a Mr. Gokhan, is the definition of great service, offering helpful suggestions and checking up on our dining experience throughout the evening, making sure our drinks were full without being too intrusive. He actually had quite a resume as well, having worked as a head waiter on the Royal Caribbean cruiseline.
We started our dinner with the bison carpaccio and the endive and watercress salad.
Carpaccio is the Italian dish consisting of raw meat or fish (such as beef, veal, venison, salmon or tuna), thinly sliced or pounded thin and seasoned with lemon, or vinegar, olive oil, salt and ground pepper. The dish was named carpaccio after Vittore Carpaccio, the Venetian painter known for the characteristic red and white tones of his work.
The Bison Carpaccio here at Fiorenzo, like many of the dishes crafted by Chef Stafford and his team, are no less a work of art – beautifully red, thinly sliced cuts of bison drizzled with tangy, sweet juniper lemon vinaigrette and topped with a dollop of house-made cucumber yogurt, crispy julienned strips of green apple, kohlrabi cabbage, and fresh horseradish. The bison itself is delightfully refreshing and reminded me a lot of tuna, not too gamey but distinctly different from beef. I also enjoyed the crunchy texture of the green apple when eaten together with the tender bison slices.
BISON CARPACCIO
Green Apple, Kohlrabi, Fresh Horseradish, Cucumber Yogurt, Juniper Lemon Vinaigrette – $17
My dining partner similarly enjoyed her endive & watercress salad, a refreshingly creative and unique combination of endive, watercress, golden delicious apple slices, watermelon, feta cheese, and candied pistachios all topped with a sweet pistachio dressing. The salad was at once sweet and tart with the combination of apple and watermelon fruit, and also savory with the nutty pistachios. I would definitely call this one of the best salad dishes here in Orlando today and enjoyed it even more than the bison carpaccio.
ENDIVE & WATERCRESS SALAD
Golden Delicious Apple, Watermelon, Feta Cheese, Candied Pistachios and Pistachio Dressing – $14
Fiorenzo also has a nice selection of cheese and cured meat plates. The cheeses range from Smoked Scamorza, to Gorgonzola Picante, Truffled Pecorino, and Burrata alla Panna while the cured meats include Finocchiona, Bresaola, Wild Boar Salami, and Jamon Iberico.
CHEESE & CURED MEATS – Served with Condiments & Crostini
Cheese: Smoked Scamorza, Gorgonzola Picante, Truffled Pecorino, Burrata alla Panna
Cured Meats: Finocchiona, Bresaola, Wild Boar Salami, Jamon Iberico
One of the strongest points at Fiorenzo is their list of house made specialty pasta dishes unlike any others found in Orlando. Take the Vesuvio pasta dish, a fabulous dish made with vesuvio pasta served with a Butternut Squash sauce base and topped with fresh sauteed spinach, sweet pear, shaved ricotta salata cheese, and roasted pine nuts. These curvy, spirally, squiggly pasta are shaped to resemble Mount Vesuvius, the famed Italian volcanic mountain, and its sea-shell like shape helps scoop in the delicious butternut squash sauce. The dish really makes Fiorenzo an exciting stand out among all the other Italian restaurants out there.
VESUVIO PASTA – Butternut Squash, Spinach, Fresh Pear, Ricotta Salata, Roasted Pine Nuts – $12/$22
RISOTTO OF THE DAY – Local Corn Risotto
My dining partner thoroughly enjoyed her grilled branzino, a European seabass fish, served with roasted cauliflower, parsnip puree, and cured orange salmoriglio, while I chose the more traditional, but no less impressive, 20 ounce prime bone in ribeye steak, grilled to perfection to a requested medium rare.
GRILLED BRANZINO 
Roasted Cauliflower, Mache, Parsnip Purée, Cured Orange Salmoriglio – $36
20oz PRIME BONE IN RIB EYE – $57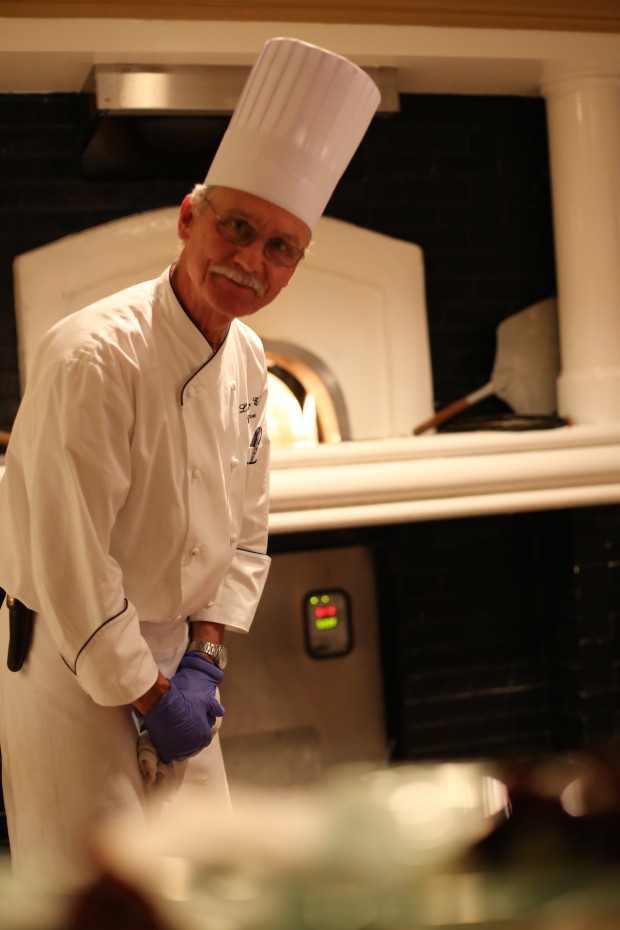 We did not get a chance to try the pizzas at Fiorenzo, but the selection looked great and from where we were sitting, we could see the chefs preparing the pizza orders for other patrons at the restaurant that evening, hot and fresh out of the oven.
PIZZA SELECTIONS 
PEPPERONI – Mozzarella Cheese, Pepperoni, Parmesan Cheese – $15
MARGHERITA – San Marzano Tomatoes, Fresh Mozzarella, Basil, Sea Salt, Olive Oil – $15
FUNGI – Mixed Mushrooms, Arugula Pesto, Truffled Pecorino Cheese – $17
BLANCO – Roasted Garlic, Grilled Zucchini, Smoked Scamorza, Calabrian Chili – $15
SALSICCE – Lamb Sausage, Bitter Greens, Cured Olives, Ricotta, Mint
Fiorenzo Italian Steakhouse's private room accommodates 50-100 people and the main dining room accommodates up to 200. Each month, Fiorenzo also hosts a wine dinner with a four-course menu. My dining partner and I were so impressed that we can not wait to return, especially with a group of our friends for a special occasion.
Patrons of Fiorenzo Italian Steakhouse enjoy complimentary valet parking (valid for visits 4 hours and less). Serving dinner daily from 6p – 10p. To make a reservation call 407-345-4570 or click here.
Fiorenzo Italian Steakhouse at Hyatt Regency Orlando
9801 International Drive,
Orlando, Florida, USA, 32819