I was recently invited to The Bohemian Hotel in Celebration to preview their new menu – created by executive chef, Zachary Martin. The dinner menu is focused on healthier food options, locally sourced ingredients, the freshest ingredients and sustainable food items. The majority of the produce is from local farmers in the Florida area – including Water Kist Farms, Cahaba Farms, Arc Farms, Pero Farms, Santa Sweet Farms and B&W Quality Growers.
At some point in my life, I lived in Celebration. However, I never set foot in the hotel. From the outside, it has a regal look. The lights lighten up the street and the giant "Bohemian Hotel" sign welcomes both tourists and the town of celebration.
Before entering, I was greeted by a friendly hotel staff. I entered the hotel and found my eyes scattered. There was so much to take in! Art. People. Laughter. The positive energy radiated through the entire lobby.
I was taken to the pool area, where a variety of Mini Martinis were served. I'm not a lush by any means, but I wanted to try all of them. Here's what they had:
Blood Orange
Key Lime Mojito
Tequila Sunrise
Lychee
Malibu Bleu
Mini Martinis 
First, I tried the Blood Orange Martini, which had notes of grapefruit and cinnamon. The alcohol overpowered the flavor but it was still enjoyable. Two minutes later, I tried the Tequila Sunrise. This was definitely too strong for me but it had beautiful aromas of orange and cedar wood. After that drink, I found myself feeling slightly buzzed. However, I had to have one more drink. The bartender handed me a Malibu Bleu, which was as blue as the sky. This drink was unlike the others; it was refreshing and reinvigorating. For those of you who aren't a fan of super sweet drinks, I wouldn't recommend this one – it's definitely on the sweeter side.
After drinks, we were taken to the dining room. A beautiful long table awaited I and the other media. The table was embellished with fresh flowers and beautiful cutlery – the type you'd see in MTV's Marie Antoinette – the room was also surrounded with artwork by Tom Sadler, a talented artist who creates beautiful landscape pieces in rich color.
Several minutes passed until Executive Chef, Zachary Martin appeared, an enthusiastic chef whose love for culinary creations is undeniable.
After telling us about the menu, he left the room and we were served the Summer Corn Bisque – a beautiful blend of citrus and yogurt. At first, I thought the combination was strange because citrus and dairy don't usually go well together. Why? The citrus tends to make the dairy curdle. The bisque was warm and tangy; I detected bold flavors of bold mandarin and lemon. The after taste was surprisingly creamy – almost like an orange cream Popsicle.
Next, we sampled the Beets and Bleu – a dynamic salad made of roasted beets, pickled red onions, crumbled bacon, mixed greens, bleu cheese, and aged balsamic. Under any other circumstances, you wouldn't find me eating beets. The dirt-like taste has always repelled me away. To my surprise, the salad was excellent. The beets were cooked perfectly and didn't have the dirt taste – it was most likely balanced by the aged balsamic. The pickled red onions and mixed greens gave it a crunch texture, while the bleu cheese tied everything together with its tart creaminess.
After trying the Beets and Bleu, we were served the Crab Cake. Now – I've had a lot of crab cake in my life but I've never tasted crab cake with shaved fennel, tomato, red onion salad, and champagne yogurt. The combination was definitely unique. I wasn't a huge fan of the champagne yogurt since it was too rich – almost like mayonnaise. However, the crab cake was moist and the red onion salad had bold flavors of pepper and spice.
Crab Cake with shaved fennel, tomato, red onion salad, and champagne yogurt
Next, we tried the Chilean Seabass. Unlike everything else we sampled, I wasn't impressed with this dish. The fish was served with soba noodles, pea tendrils, shitake mushrooms, prawn butter, and coconut curry broth. The combination was too much. Yes – there is such a thing as too much; kind of like when you make an alcoholic beverage and add too many ingredients. The Seabass would have been excellent with just the pea tendrils, shitake mushrooms, and coconut curry broth. The soba noodles were awkward and the butter was too much in combination with the rich coconut curry broth.
Chilean Seabass served with soba noodles, pea tendrils, shitake mushrooms, prawn butter, and coconut curry broth.
For the final entrée, I tasted both scallops and filet mignon – on different plates, served with summer roasted vegetables, roasted fingerling potatoes, and fresh herb butter. The scallops were cooked to perfection. In the past, I've had chew scallops. However, these were juicy and easily melted with every chomp.
Scallops with roasted fingerling potatoes. 
I only had a small bite of the filet mignon since I don't eat beef but it was tender and full of bold woodsy flavor – think oaky mixed with peppers. Unfortunately, I was not a fan of the herb butter – it was too rich and didn't really pair well with either of the meats.
Fillet Mignon with roasted fingerling potatoes. 
If you've met me – you'd know that I'm a dessert connoisseur. Three out of four times, I order dessert first because I know I'll be full if I eat the entrée first. After dinner, we were treated to a decadent Florida Key Lime Cheesecake. Here's my honest critique. I was majorly confused because Key Lime Cheesecake is moderately tart and creamy. This dish was definitely more along the lines of a  New York Cheesecake with a hint of lime; it was served with sugared limes and dried raspberries, which gave it a contrasting tanginess. The "filling" itself was very creamy but lacked tartness. Overall, I give it eight out of ten stars.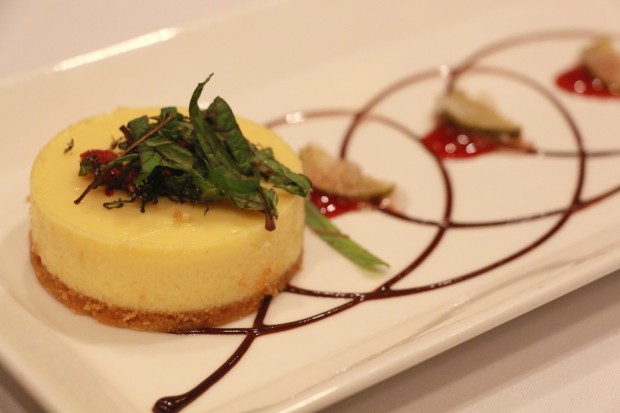 Key Lime Cheesecake served with sugared limes and dried raspberries
Our night ended with lots of laughs and discussions about art. The hotel's Grand Bohemian Gallery showcases more than 75 works of art by local, regional and internationally recognized artists. Upon exiting the hotel, I briefly listened to the live music and felt the soulful energy of the hotel. If you are in Celebration, try out the new menu. The staff is extremely friendly and the hotel has a unique charm of its own.
About Executive Chef, Zachary Martin
Born and raised in New Orleans, La., Chef Zazhary martin's hometown roots have influence his innovative culinary creations and his modern approach to classic cuisine. His techniques and talents have been fine-tuned through mentoring by the royalty of new-age giants, Emeril Lagasse and Bernard Carmouche.
About Bohemian Hotel Celebration – Celebration, Fla.
Within the charming town of Celebration rests a delightful escape from the ordinary, Bohemian Hotel Celebration. The Kessler Collection boutique hotel features a luxe lobby inspired by nature with warm golden, cream and white décor reminiscent of sophisticated Floridian elegance. The hotel's fine design, inspired by its owner Richard Kessler, includes a breathtaking Italian chandelier, natural linen furnishings, fresh orchids and handmade poplar bark tables. Captivating lakeside views invite guests to walk alongside the water for a stroll in the "unexpected Orlando," take a swim in the inviting pool or relax in rocking chairs on the terrace, among lush red draperies, hickory branch chandeliers and rustic driftwood scones crafted from indigenous vines.
About Kessler Collection Hotels
Capturing the classical and unconventional spirit of Bohemian cultures, The Kessler Collection's portfolio of passionately created and artistically inspired boutique hotels boast chic design, luxe accommodations, enriching ambiance and intuitive service. Whether visiting properties in Florida, Georgia, North Carolina, Colorado, New Mexico, Alabama and South Carolina each hotel's exquisite art, music and cultural influences, personally acquired for that hotel by the Kessler family, are deliberately approachable.
Designed to inspire unforgettable experiences, Kessler guests are bathed in re-defined Bohemian luxury, from an 1888 historic hotel, a cutting edge downtown landmark and a magical castle, to an earthy Native American retreat, high design southern mansion and elite ski lodge.