Putting the freshest, most sustainable local food on the plates of diners in Greater Orlando is the goal of goFLA, the Greater Orlando Food Leaders Alliance (GoFLA), Central Florida's first coalition of chefs and food advocates formed to promote farm-to-table cuisine and boost the region's culinary reputation.
The members of GoFLA, including restaurant owners, writers, suppliers, artisans and promoters, gathered this past week on July 28 at East End Market to kick-off the organization and sign a manifesto to promote the remarkable bounty of Central Florida's fields, waters and producers.
"I don't think there has ever been that large a gathering in Orlando of local food advocates who are actually doing the work: cooking, growing, brewing, distilling, producing; militant advocates, farmers, ranchers chefs; the best food writers in town; and people who not only talk about changing the way we look at food in Central Florida but actually do something to change it. I'm very proud to be a part of it, and I think we can make a difference." – Joseph Hayes, food critic for the Orlando Magazine and founding member of goFLA.
Noted Chef Norman Van Aken, known as the founding father of New World Cuisine and featured chef at award-winning Norman's at the Ritz-Carlton Grande Lakes in Orlando was on hand to start off the historic event.
Chef Norman Van Aken of Norman's Orlando signs the GoFLA Manifesto
Among the organization's founding chefs are seven James Beard Foundation "Best Chef" semi-finalists: Kathleen Blake, Rusty Spoon; Kevin Fonzo, K Restaurant; Scott Hunnel, Victoria & Albert's; Brandon McGlamery, Luma on Park and Prato; James and Julie Petrakis, Cask & Larder and Ravenous Pig; Hari Pulapaka, Cress Restaurant; and Henry Salgado, Txokos and Spanish River Grill, among other leading area chefs.
"Exciting time for all in Central Florida! As an organized and united front, all of us will have a stronger impact on establishing our community and making effective change. We all do so much in our community and now together we will have a stronger impact!," said Chef Kathleen Blake of The Rusty Spoon.
"goFLA is an energized collective of like-minded stewards of the Central Florida food system. We are excited for our region's culinary reputation and on-going health, vibrancy, and prosperity." – Chef Hari Pulapaka, Cress Restaurant
The organization has begun promoting Florida's abundance through Twitter and on Facebook via the hashtag #SunshinePlate.
The signed goFLA Manifesto permanently will hang in the Apex at East End Market as a tribute to the region's growing interest in supporting local farmers, fishermen and other local food producers, and to "honor the remarkable resources of the Central Florida food basket by telling the story of who we are, of the power of what we do, and why we do it here," the document reads.
The group was originally brought together in a "boot camp" co-organized by the James Beard Foundation and the Chef Action Network which was designed to focus on issues unique to the Greater Orlando culinary scene. The initial enthusiasm has spread to encompass many of the area's most talented chefs.
"The James Beard Foundation applauds this initiative by chefs and other Central Florida food industry professionals to raise consumer awareness about the need to support the local, artisanal culinary food movement and the restaurants and businesses that celebrate the best of the best in their region," said Kris Moon, senior director, Strategy and Development for the James Beard Foundation.
"Last night was an historic moment — the largest gathering of local culinary talent in one spot for the collective good, and the energy was electric! Greater Orlando Food Leaders Alliance is a fledgling movement with a goal of putting the absolute best food on diners' plates, and sharing the story of Central Florida's culinary talent with the world. What an honor to elevate these chefs – they have big hearts and bigger talent!" – Pam Brandon, Editor, Edible Orlando Magazine
Greater Orlando Food Leaders Alliance Manifesto
PREAMBLE:
We, the undersigned, celebrate the world of possibilities afforded by the bounty and beauty of Central Florida and are committed to our position as leaders in our culinary and cultural landscape. As chefs, restaurant owners, farmers, producers, writers, artisans, suppliers, pastry makers, line cooks and creative promoters, using our self-expression and talents, we pledge to honor the remarkable resources of the Central Florida food basket by telling the story of who we are, of the power of what we do, and why we do it here.
Honoring the rich multi-cultural influences and agricultural bounty of our region and our state, the impact of food choices on our collective personal health, and the integrity of the global environment, we affirm the following principles:
1. We pledge to promote the bounty of Central Florida's farmlands, oceans and producers, and to develop inventive ways to use regional ingredients. Chefs will utilize their expertise and talents to create and promote dishes demonstrating the diversity and taste of our locally sourced and seasonal ingredients and to highlight them and their suppliers on menus whenever possible.
2. Orlando and Central Florida draw millions of visitors from around the world, and we pledge to share our incredibly diverse culinary culture and identity within our community and beyond in hopes of making a significant socioeconomic impact.
3. By collaborating with local producers and employing fair economic practices, we will work to generate sustainable local abundance, and to financially strengthen our communities and everyone who works in the fields, farms and kitchens of Central Florida. Increased visibility will have impact on policy makers, media, tourist boards and diners, and will help establish a power base from which food-related issues can be addressed.
4. Chefs, cooks and restaurant owners will make every effort to increase their use of Florida ingredients by at least 10 percent. Greater demand will generate greater participation and improve the lot of everyone involved. Each individual and business will pledge to measure this honestly.
5. We will encourage and practice sustainable production in the field and in the kitchen whenever possible to express the freshness and uniqueness of our local bounty and to uphold the ethics we wish to associate with our region.
6. Our work depends on nature's gifts. We will promote animal welfare and sound production processes in our seas, on our farmland, and in the wild.
7. We will share our knowledge, including outreach to children and, as part of their education, we will work with educators to teach basic cooking skills and emphasize the impact their food choices will have on themselves, on their culture, and on their environment.
8. We will join forces with the fishing, food, retail and wholesale industries, as well as with consumer representatives, other cooking craftsmen, farmers, researchers, teachers, politicians, and authorities for the benefit and advantage of everyone in Central Florida.
Chef Hari Pulapaka of Cress' Barefoot Farmer Okra with Gobi Manchurian stuffing and smoked onion-soubise
Mini Pasture Prime Beef Patty by Chef Bram Fowler of Journeys Catering
Lake Meadow Naturals deviled eggs from Chef Kathleen Blake's The Rusty Spoon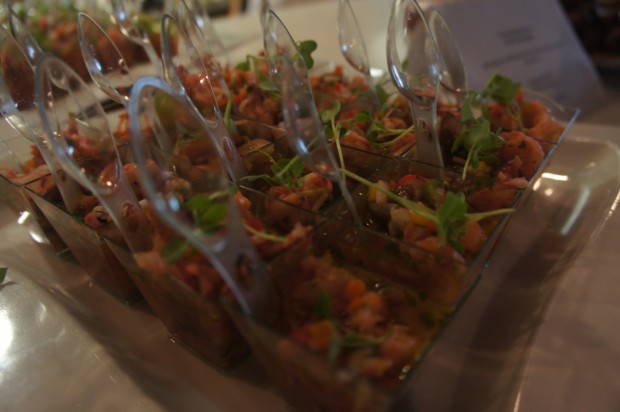 Chef Tim Keating of The Flying Fish Cafe – Florida Rock Shrimp Ceviche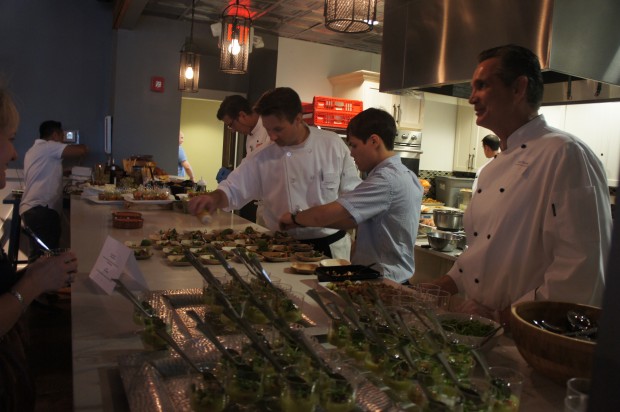 Chef Tim Keating, Chef Greg Ritchie, and Chef Scott Hunnel
Smoked Pork Rillettes from Siro's Italian Kitchen
Chef Lexi Gawlak of Siro's Italian Kitchen at Marriott World Center with Chefs James and Julie Petrakis of the Ravenous Pig and Chef Norman Van Aken
Edgar Massoni of Orlando Meats Company
James Beard Award nominated Chef Tim Keating of The Flying Fish Cafe
Chef Scott Hunnel of Victoria and Albert's