Take a step inside Highball & Harvest, Orlando's newest Southern-cuisine inspired restaurant at the Ritz Carlton at Grande Lakes Orlando resort, and you might think you've been transported back to a 1920s style speakeasy – dark wood decor, a craft bar, and a lively atmosphere that may be one of the best kept foodie secrets in town.
We first introduced you to the new concept taking place of the Vineyard Grill at the Ritz back in February, and now the plans have come to fruition.
Intricate details and meticulous planning went into the creation of Highball & Harvest, right down to the custom logos imprinted on the napkins and dining ware.
Near the entrance, a new, expansive bar greets you.
Here expert bar chefs serve up signature seasonal hand-crafted cocktails and there is even an interactive cocktail bar "chefs table", where the bar chefs can instruct while muddling tableside and handcrafted cocktails are infused with seasonal fruits and herbs.
The ambiance at Highball & Harvest is rustic, yet refined, definitely a suitable place for an after hours cocktail or meeting with friends for some fine Southern inspired cuisine.
The restaurant emphasizes farm-to-fork dining led by rising young Chef de Cuisine Mark Jeffers, a Daytona, Florida native who pulls his culinary inspiration from his hometown as well as his extensive travels around the South, from Low Country-infused Charleston to Cajun-spiced New Orleans.
Chef Jeffers' dishes are hyper local, infused with Floridian citrus and ingredients from nearby purveyors and the resort's own 7,000-square-foot Whisper Creek Farm, which opened in October 2012 and continues to expand.
"The dishes we create at Highball & Harvest are designed to give restaurant-goers a sense of nostalgia while enjoying southern classics infused with regional flavors," says Chef Mark Jeffers. "We start with locally sourced products and allow the quality of the ingredients speak for itself."
At a recent media preview, I was delightfully surprised, and at times enchanted, by the restaurant's modern take on traditional Southern offerings.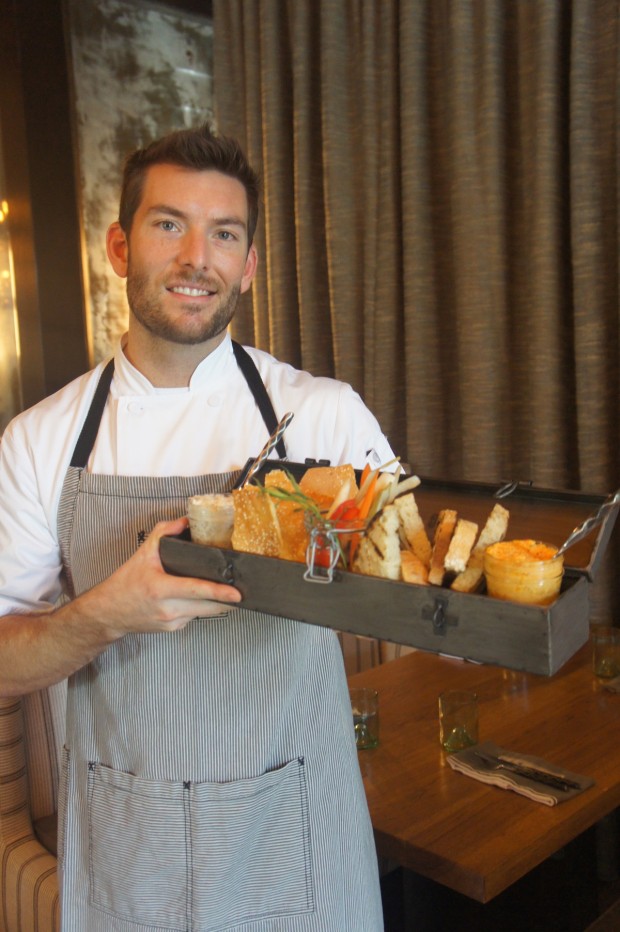 Chef Mark Jeffers of Highball & Harvest with the Southern Spreads "tackle box"
Take for example, The Southern Spreads ($16), consisting of chunky pimento cheese dip and smoked fish dip served with pickled veggies, benne seed lavash, and grilled sourdough presented in a kitschy, converted metal tackle box. The pimento cheese, which we lathered across pieces of lavash bread, was velvety smooth and satisfying.
One of their signature cocktails, the dill or no dill ($11), is a refreshing and cool libation crafted with Sipsmith gin, elderflower liqueur, cucumber, dill and lemon – perfect for hot Florida summer days.
The pastry team's presentation of the Parker House Rolls, made from Khorasan wheat, an ancient grain from Egypt and the fertile crescent of ancient Mesopotamia, is heavenly and almost didn't need any of the herb and apple butters that it came with. Truly one of the best breads I have ever had and a must seek out item when you visit Harvest & Highball.
Drawing from both Chef Jeffer's New Smyrna Beach and Southern upbringing, the crab cake and fried green tomato appetizer ($16) is a unique, yet delicious take on the traditional fried green tomato dish – the textures of the tender jumbo lump crab and the crispy fried green tomatoes worked very well together, especially when served together with the corn chow chow and the cajun remoulade sauce.
Other notable appetizers include Dale's Deviled Eggs, named after the proprietor of local Lake Meadow Naturals Farms from whence the eggs come from, as well as the pork belly sliders and the playful chicken biscuit with pickled watermelon rinds.
For our entree, we chose the Booker's Skirt steak ($30), marinated overnight in Booker's bourbon whiskey and served with grilled corn and tomato salad, potato puree, and a dash of charred onion vinaigrette. The steak was perfectly seared and had a wonderful flavor to it thanks to the whiskey marinade.
The pastry team, led by Executive Pastry Chef Stephane Chéramy, is highlighted once more for the desserts section – truly divine pastries from the key lime tart to strawberry shortcake with bubblegum marshmallow showcase the true depth of culinary skill possessed by the food and beverage team at the Ritz Carlton.
Highball & Harvest's most unexpected offerings: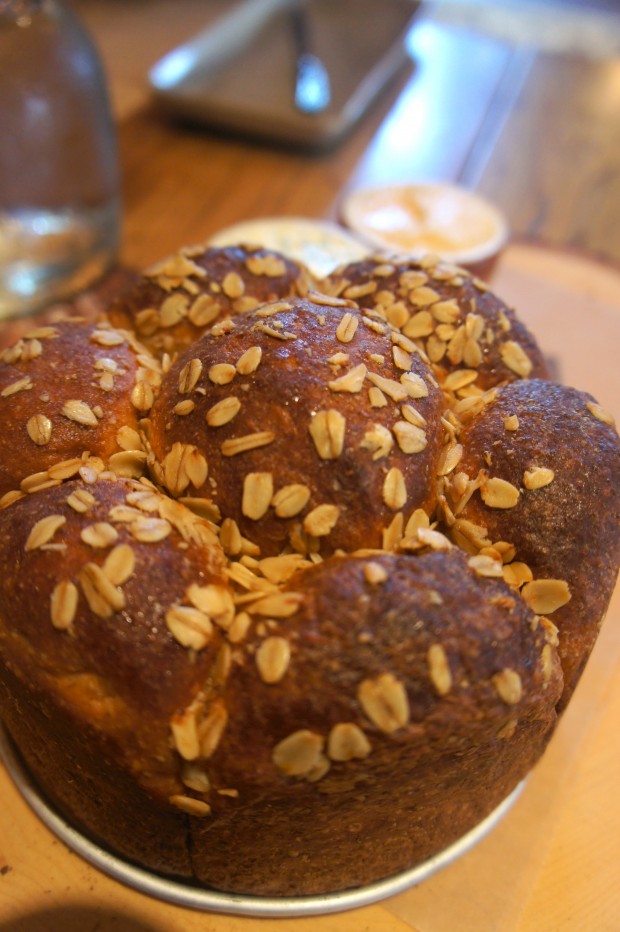 Parker House Rolls, made from Khorasan wheat (Egyptian old-world grains) and served warm and moist with less gluten than typical bread, a complimentary bread presentation made from scratch by the resort's 30-person pastry team.
Signature dishes: Pig-n-Potatoes, an all-day breakfast dish of poached egg, potato hash, and tender pork cheeks with sweet peppers, caramelized onions, H&H Hot Sauce, and hollandaise sauce. The Southern Spreads, pimento cheese dip and smoked fish dip served with pickled veggies, benne seed lavash, and grilled sourdough presented in a metal tackle box. Smoked Lamb Brisket with boiled peanut "baked beans" and collards.
Raw Oyster Bar with signature house-made H&H Hot Sauce. Chefs shuck oysters by hand and teach diners all-things-oysters.
Signature cocktails include: "The Last Wish" served over an ice sphere with orange peel, the "Doc Holliday" with house ginger beer and blueberry jam, and the "Back 40 Punch", a refreshing take on a bourbon cocktail mixed with sweet tea and lemon.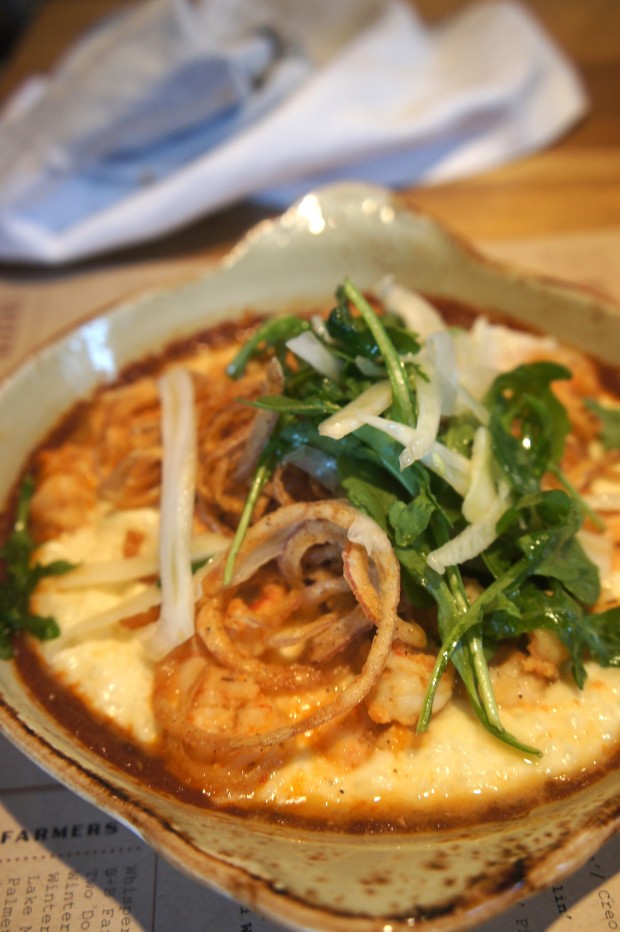 SHRIMP & GRITS
Canaveral Red Shrimp / Anson Mills Grits /
Charred Tomato BBQ / Arugula / Fennel / Crisp Onions 16/25
H&H PIMENTO CHEESE BURGER
Double Short-Rib Patties / Bacon /
Mustard / Pimento Cheese / Spicy pickles 18
CHICKEN FRIED CHICKEN
Potato Puree / Garlic Kale / Watermelon 27
GRILLED LINE-CAUGHT SWORDFISH
Beluga Lentils / Cilantro Coulis / Mango 32
BLACKENED GROUPER
Hominy Ragout / Andouille / Pickled Okra 29
H&H PIG-N-POTATOES
Poached Egg / Potato Hash /
Pork Cheeks / Hollandaise 17
STRAWBERRY SHORTCAKE
Strawberry Sorbet / Poached Rhubarb / Bubble Gum Marshmallow 9
BABY DONUTS
Cappuccino Ice Cream / Chocolate Hazelnut Spread 9
WARM CHOCOLATE CAKE
Bourbon Pickled Apples Chutney / Madagascar Vanilla Ice Cream 9
H&H KEY LIME TART
Winter Park Honey Infused Oranges / Margarita Sorbet 9
The opening of Highball & Harvest at The Ritz-Carlton Orlando, Grande Lakes marks a series of improvements and renovations to the resort in the coming months. JW Marriott Orlando will open Whisper Creek Farm: The Kitchen in Spring 2015 spotlighting charcuterie, Whisper Creek Farm ingredients, and beer from Whisper Creek Farm: The Brewery opening in September 2014.
Highball & Harvest
(407) 393-4422
The Ritz-Carlton, Grande Lakes
4012 Central Florida Parkway Orlando, FL
www.highballandharvest.com
HOURS
Daily – 6:30 a.m. – 10 p.m.
Bar – Daily – 11 a.m. – Midnight