From Atlanta, Georgia to Orlando, Florida comes a classic American tavern fare called Marlow's Tavern. At Marlow's Tavern, there are a large number of dishes and cocktails updated each season. On that note, the neighborhood Taverns, in Winter Park and Pointe Orlando, are bringing back popular seasonal specials that we were lucky enough to have a few plates. Every ingredient comes in fresh 6 days a week and bread comes in 7 days a week because Marlow's Tavern does not consist of a freezer besides a small one for ice cream and chocolate chips as well as to keep the food fresh for that day.
As executive chef and co-founder of Marlow's Tavern John C. Metz said, "there is something about these hearty dishes that we all start craving in the fall." With that, Marlow's Tavern brings us a Ribs & Whiskey menu that offers an assortment of sweet and tangy dishes. The Ribs & Whiskey menu is available at the Winter Park and Pointe Orlando locations Tuesday, September 23 through Monday, October 27. From the starters to entrees and sides to desserts, Marlow's Tavern aims to please and each guest craves each item after experiencing it for the first time.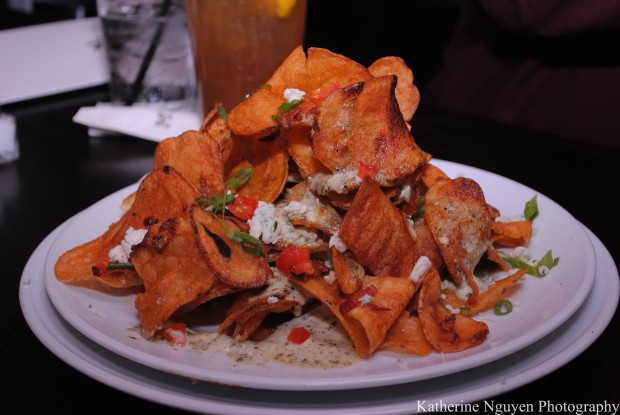 To begin with, we shared a few starters that included J.T.'s Kettle Chips, which were crispy potato chips crowned with Gorgonzola cheese, bacon, Roma tomato and scallions. Eating this was like eating nachos where parts of the chips would be crunchy, while other parts in the cheese are a bit softer, but nonetheless packed with flavor. In my opinion, I like the softer chips, but I don't fancy getting my fingers dirty…yet, that'll give me an excuse to lick my fingers after eating J.T.'s Kettle Chips. Remind me to thank J.T. for his contribution of this delicious snack to the Marlow's Tavern menu.
I recommend having a plate of J.T.'s Kettle Chips with your friends and having a glass of SweetWater Whiplash GA BAV 6.2%, which is also on this special Ribs & Whiskey menu. SweetWater Whiplash GA ABV 6.2% is an American style Belgian IPA, with a subtle flavor in combination with citrusy, piney hops, well balanced with tart, dry finish. Sweetwater originates in Atlanta, Georgia and is considered to be a neighborhood tap. At all times, Marlow's Tavern will have at least two neighborhood taps on hand.
Besides the SweetWater Whiplash, A Kick From Ginger can also be a nice drink to have with the chips…or anything on the menu, for that matter. A Kick From Ginger contains the original Kentucky bourbon, Old Forrester, along the original Atlanta ginger ale, Red Rock. This is a nice drink to sip on after a long day while kicking your feet up…as long as your feet are not on the bar counter.
For instance, order yourself a Shrimp & Crab "Nacho" Plate along with A Kick From Ginger and you'll know what I'm talking about. This starter consists of rock shrimp, crab, Pepper Jack cheese, and fresh jalapeño. Each bite will make the rainy days a little bit brighter. Please note that because the jalapeños used are fresh, it will have a spicy note to every bite.
The Daily Smoke-House Flatbread offers slow-roasted pulled pork, basted with our secret sauces and the best ingredients the farm has to offer, served on brioche. This flatbread brought a welcomed surprise taste of sweetness that is refreshing and light to eat. Packed with ingredients fresh and delicious that'll keep you wanting more and more.
With the flatbread, I indulged in a Georgia Peach Lemonade that consists of Minute Maid Lemonade, peach nectar, Jack Daniel's Honey whiskey, and a frozen peach. This drink is cute, tasty and refreshing as long as you remember to mix thoroughly as the alcohol may settle at the bottom.
When lemonade isn't on the mind, R&W S'weet Tea is another possibility. It is made up of Deep Eddy Sweet Tea Vodka, fresh lemon, agave nectar, topped with a shot of Shock Top beer, and a kick of orange.
After the starters, the entrees were now making their way to the table. A Pig With Buns is a slow-roasted pulled pork with Jack Daniel's® Honey Glaze, House-Made Pimento cheese, dill pickles, and crispy tobacco onions on a buttery onion roll with a side of Granny Smith Apple Cabbage Slaw. Eat with caution, as an experience of explosive flavors will take place with plenty of textures in each bite from the crispy tobacco onions to the tender pulled pork.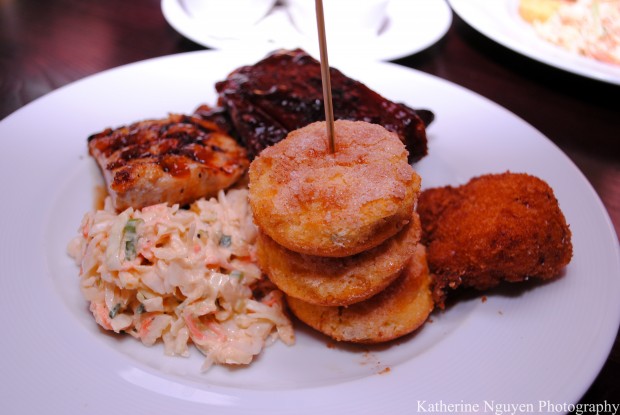 Marlow's Ribs & Whiskey Hookup is a feast with: slow-cooked Smithfield James River ribs and drunken chicken with Granny Smith apple-cabbage slaw, Southern fried mac and pimento cheese and house-made sweet corn and jalapeño muffins. This plate consists of a bit of everything from the Ribs & Whiskey menu and is made to share. The Drunken Chicken is very lean and isn't overpowered by too much flavor. This can be eaten on it's own if ordered that way, but it can also go well with a salad.
The Granny Smith apple-cabbage slaw is very unique to the taste and will grow on you like the House-made Sweet Corn and Jalapeño muffins. Although it may be assumed that the muffins will be sweet according to its name, but it also has a hint of cinnamon to it. At Marlow's Tavern, these muffins are very moist and delectable.
The slow-cooked Smithfield James River ribs are made St. Louis style and are "finger lickin' good". They come with a choice of favorite barbecue sauce, including Jack Daniel's glaze, Hoisin barbecue and Marlow's chipotle barbecue. Each was great, but the Jack Daniel's glaze came out on top in my book along with Marlow's chipotle barbecue! These ribs are served with each side listed in the hookup. You'll want to try the Southern fried mac and Pimento cheese. Along with the other sides, this is a blast to the South in every bite.
Last, but not least is the Bourbon Bread Pudding, which is a Crème-brulee-soaked Cuban, vanilla bean and a splash of Jack Daniel's Tennessee honey whiskey for sippin'. Unlike other bread puddings you may have tried, Marlow's Tavern Bourbon Bread Pudding isn't soggy! It comes out warm with a scoop of cold, delicious vanilla bean ice cream on top. To fully experience this dish, a little of the bread pudding and the ice cream should be on each spoon. If the bread pudding is eaten without the cold ice cream, it may be too sweet to the palate.
For casual to formal special occasions, social gatherings, and corporate events, just say "Meet Me at Marlow's" to enjoy great food and beverage with world-class hospitality in a relaxed and welcoming environment. To book your group dining experience, contact Annette Medina at 407.741.3215 or amedina@marlowstavern.com.