Food and Wine Weekends at Waldorf Astoria Orlando and Hilton Orlando Bonnet Creek: A Celebration of Fine Wine & Culinary Arts
– Weekends through November 9, 2014
With the Epcot® International Food & Wine Festival going on right now at Disney World, local area hotels have started to prepare their own special food-themed events around this 53 day event,the perfect complement for visiting as well as local food lovers.
Many are familiar with the Swan and Dolphin's Food and Wine Classic Weekends, but not so many are as familiar with the new Food and Wine Weekends at Waldorf Astoria Orlando and Hilton Orlando Bonnet Creek.
Last year, we had the opportunity to preview the entire list of Waldorf and Hilton Food and Wine Weekend events and were blown away by the high quality food that we encountered on our adventure from the sushi at Zeta Bar's Art of Sushi to inarguably one of the best restaurants in Orlando, Bull and Bear restaurant.
Food & Wine Weekends events are being held from September 19 through November 9, 2014.
Weekend Highlights
Global Venture – a Wine Pairing Dinner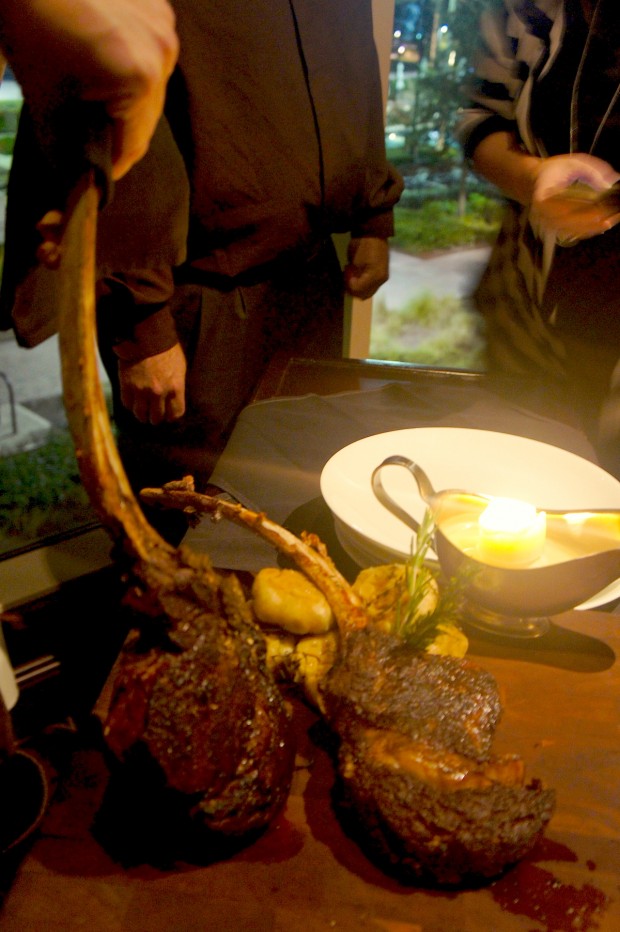 Friday and Saturday, 7:30pm, Bull & Bear Restaurant
Experience an exclusive 3-course tasting menu comprised of exquisite food and wine pairings from around the world – prepared by the illustrious chefs of Waldorf Astoria Orlando. $110 per person, plus tax and gratuity.
Reservations are required by calling 407-597-5413 or clicking here.
Preview menu for September 19-20
Preview menu for September 26-27
Preview menu for October 3-4
Preview menu for October 10-11
Preview menu for October 17-18
Menus for October 24-25, October 31, November 1, and November 7-8 will post as they become available.
Cibo Della Vita
Friday & Saturday, 5pm – 11pm, La Luce by Donna Scala at Hilton Orlando Bonnet Creek
From the kitchen of La Luce by Donna Scala at Hilton Orlando Bonnet Creek, each weekend a tasting menu and wine pairing will be featured. This series of culinary experiences is certain to be the talk of the town! Pricing Varies. Reservations recommended. Call 407-597-3600.
Preview menu for September 19 & 20, 26 & 27; October 17 & 18, 24 & 25
Preview menu for October 3 & 4, 10 & 11, 31; November 1, 7 & 8
Bar du Chocolat and Champagne Tasting
Friday and Saturday, 6:30pm – 10:30pm, Peacock Alley
Decadent, yes. Sinful, perhaps. Most certainly an experience for those with a sweet tooth. Peacock Alley will be transformed into a chocolate-lover's dream, offering a cocoa-infused evening of self-indulgence paired with a selection of fine champagnes. Guests can choose from a signature selection of chocolate treats from the Waldorf Astoria Orlando's world-class pastry team. Pricing varies.
The Art of Sushi Pairing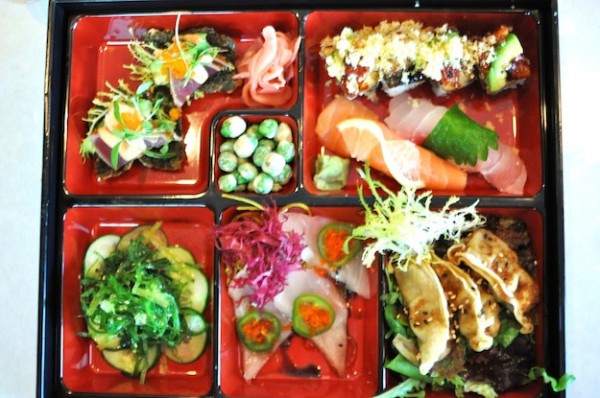 Friday and Saturday, Zeta Bar & Sushi Lounge at Hilton Orlando Bonnet Creek
An exciting epicurean journey awaits as guests explore perfect pairings for our favorite sushi dishes including beer, sake and wine. Pricing varies.
Live Entertainment
Nightly at Peacock Alley
Peacock Alley is centrally located in the heart of the main lobby of the Waldorf Astoria Orlando, overlooking the magnificent hand-crafted clock. With a nod to the stunning landmark restaurant of the same name in New York, Peacock Alley offers an irresistible menu of small-plate inspired cuisine for lunch and dinner, creative libations including our signature Peacock Egg, an exquisite wine selection and live entertainment nightly.
The Peacock "Egg" is one of the most creative cocktails we've ever seen in Orlando, a frozen shell made from a water balloon filled with water, burst, and drilled to fill with lemonade, blue curacao, bombay sapphire gin with lavender syrup served over a martini glass and neon blue LED lights and a base of blue sugar powder. Definitely a great conversation piece for our peacock friends.
Royal Tea – A New Waldorf Astoria Tradition
Sundays, 3pm – 5pm, Peacock Alley
Treasure time together as you savor finely-prepared tea sandwiches and house-made pastries, while sipping premium hot tea and listening to live piano music. Add a glass of champagne for a "Grand Royal Tea." From $30 per adult; $15 per child, plus tax and gratuity.
Astoria After Dark
Friday and Saturday, 6pm – 10pm, WA Kids Club
Adults are not the only ones to have fun. The WA Kids Club is offering a nightly children's program including dinner and a non-stop roster of fun activities – providing parents some "adult time" in which to experience Food & Wine Weekend activities.
All guests are invited to enjoy Food & Wine Weekend experiences.
We were recently invited to a media preview for the Bull and Bear's Global Venture menu for the Food and Wine Weekends and continued to be impressed by the skill of the chefs and culinary team and the flavor profiles that they were able to bring out in their dishes.
Amuse-bouche:  Mushroom Sausage, Fennel Confit on a Parmesan Cheese Cracker
First Course:
Wisconsin Pride Cheese Souffle
Wisconsin Pride  – A savory 4-year & 2-year Wisconsin cheddar cheese soufflé topped with crunchy roasted fava beans and pumpernickel croutons, paired with Domaine Ferret Pouilly-Fuissé, France 2012, an Old world Chardonnay with light oak that compliments the mild flavor of the cheddar.
Second Course:  Pasta Explosion
The Pasta Explosion is one of my favorite dishes of all time – one of Bull and Bear's signature dishes, it's served with a special spoon to be eaten in one bite so that the full flavor explosion can be experienced. The pasta is a very delicate, homemade pasta filled with blended bellota pata negra ham; topped with beurre monté and aged reggiano parmesan cheese to pull the favors together. The dish is paired with Domaine de Triennes Rosé, France 2013, with aromas of strawberry and an olive finish; acidic enough to cut through the richness of the pata negra ham and reggiano parmesan in the pasta explosion.
Main Course:
Bull & Bear Fried Chicken
Bull & Bear Fried Chicken takes over 12 hours to make. First, chicken breast is removed from 3-1/2 pound chicken with wing bone attached and skin intact, marinated in an alkaline brine for 12 hours and cooked sous-vide for 1-1/2 hours. The chicken is dredged in a buttermilk batter and topped with corn flake and corn meal then fried for 6 minutes; served with mashed potatoes and gravy made from foie gras, duck fat and demi-glace. The fried chicken is paired with L'Ecole Nº 41 Syrah, Walla Walla, Washington 2010, made with 80% Syrah 20% Grenache the light tannins lingering flavor of olive and cocoa contrast with the flavors of the fried chicken.
Tomahawk Ribeye
Tomahawk Ribeye is a 38 oz. bone-in rib-eye from 32-day dry aged Allen Brothers beef with an entire rib bone attached and carved tableside alongside a lighted candle made from beef tallow, paired with Hugh Hamilton, Jekyll & Hyde Shiraz 2009, Australia
Sides:
Bull & Bear Frittes
Bull & Bear Frittes are crispy, delicious hand-cut Idaho potatoes soaked in malt vinegar and water then cooked in beef tallow; tossed in homemade garlic powder and served with garlic aioli and all natural ketchup. The frittes are so good they hardly need any aioli or ketchup for dipping.
Wilted Spinach, lightly sautéed in extra virgin olive oil, garlic, fleur de sel sea salt, and fresh lemon juice and Aged Gruyere Cheese Potato Gratin made with roasted fingerling potatoes with aged Gruyere cheese and topped with a toasted brioche with aged Gruyere and 4-year aged Wisconsin cheddar.
Desserts:
The Lemon
Signature dessert; whole lemon cleaned out; rind cooked for 4 hours in a simple syrup reduction; filled with homemade lemon sorbet, lemon curd, and Chantilly cream; cut into perfect bites and topped with shortbread cookie tableside.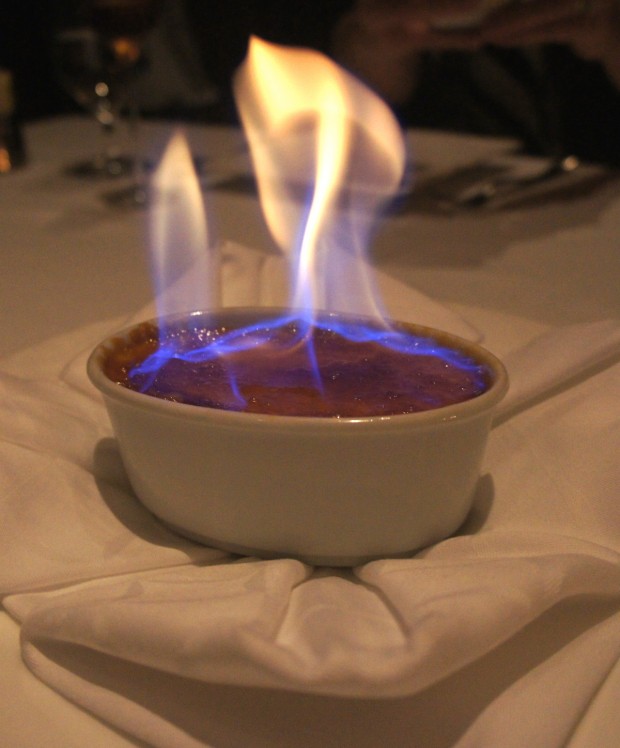 Crème Brûlée Flambée – Vanilla bean crème brûlée flambée with a hidden layer of dark chocolate crème on the bottom.
The Cigar – Organic Mexican chocolate ganache center; chocolate wafer outside; ash made from merengue and colored with squid ink.
The Napoleon – Puff pastry  with black walnut pastry cream; black walnuts soaked in 12-year-old aged Zaya Rum from Trinidad; dried merengue and dried raspberries.
Desserts paired with Weingut Angerhof-Tschida Samling Trockenbeerenauslese, 2002, Austria – this unique dessert wine from Austria is best described as a dessert in a glass, the thickness and mouth coating sweetness of this wine will definitely leave you  feeling satisfied.
Waldorf Astoria Orlando
14200 Bonnet Creek Resort Lane, Orlando, FL 32821
Telephone: 407.597.5500
Reservations: 888.353.2009
http://www.waldorfastoriaorlando.com/food-wine