Lots of great things happening in the City Beautiful's restaurant scene, some good, some not so good
Restaurant Openings
Pig Floyd Urban Barbakoa in Mills 50
Introducing a fresh interpretation of the barbecue experience. PIG Floyd's integrates cultural influences with traditional fire, smoke and pit methods to craft vibrant, delicious fare.
Pig Floyd's Urban Barbakoa
1326 N Mills Ave, Orlando, Florida 32803
407.921.1696
www.pigfloyds.com
Soco Restaurant in Thornton Park
Soco in Thornton Park
629 E. Central Blvd., Orlando, FL
http://www.socothorntonpark.com/
407-849-1800
Open for dinner from 5 to 10 p.m. this week.
It occupies the former Hue restaurant space on the corner of Central Boulevard and Summerlin Avenue in Downtown Orlando's Thornton Park district and led by Executive Chef Greg Ritchie via ScottJosephOrlando
HIGHBALL & HARVEST AT THE RITZ-CARLTON ORLANDO, GRANDE LAKES
A farm-fresh take on resort dining, The Ritz-Carlton Orlando debuts a modern approach to Southern cuisine in a highly anticipated new casual-dining restaurant: Highball & Harvest. Blending rustic design elements with contemporary Ritz-Carlton refinement, the signature restaurant features interactive dining (from table-side handcrafted cocktail experiences to bar-side oyster shucking), a novel railroad-inspired design with a substantial bar area, and a playful Southern-inspired menu.
Comprised of The Ritz-Carlton and JW Marriott Orlando, Grande Lakes continues its dedication to farm-to-fork dining and authentic, local experiences with the opening of H&H, helmed by the resort's rising young Chef de Cuisine Mark Jeffers who joined The Ritz-Carlton, Orlando in 2007. Having grown up on the water, the Daytona, Florida native pulls his culinary inspiration from his hometown state as well as his extensive travels around the South, from Low Country-infused Charleston to Cajun-spiced New Orleans. Chef Jeffers' dishes are hyper local, infused with Floridian citrus and ingredients from nearby purveyors and the resort's own 7,000-square-foot Whisper Creek Farm, which opened in October 2012 and continues to expand. The thirst-quenching heart of the restaurant will be its hands-on cocktail bar experience.
Highball & Harvest's most unexpected offerings:
Parker House Rolls, made from Khorasan wheat (Egyptian old-world grains) and served warm and moist with less gluten than typical bread, a complimentary bread presentation made from scratch by the resort's 30-person pastry team.
Signature dishes: Pig-n-Potatoes, an all-day breakfast dish of poached egg, potato hash, and tender pork cheeks with sweet peppers, caramelized onions, H&H Hot Sauce, and hollandaise sauce. The Southern Spreads, pimento cheese dip and smoked fish dip served with pickled veggies, benne seed lavash, and grilled sourdough presented in a metal tackle box. Smoked Lamb Brisket with boiled peanut "baked beans" and collards.
Raw Oyster Bar with signature house-made H&H Hot Sauce. Chefs shuck oysters by hand and teach diners all-things-oysters.
Interactive cocktail table with handcrafted, herb-infused cocktails. Knowledgeable bar chefs muddle ingredients while curating a personalized cocktail experience. Cocktails are served on the rocks with hand-carved ice, sculpted bar side with a high-end Japanese ice saw and infused with Whisper Creek Farm herbs and fruits. Signature cocktails: "The Last Wish" served over an ice sphere with orange peel, the "Doc Holliday" with house ginger beer and blueberry jam, and the "Back 40 Punch", a refreshing take on a bourbon cocktail mixed with sweet tea and lemon.
Cask wine. Central Florida's largest selection of wines from the cask. This method ensures perfect temperature control and freshness, and is eco-friendly by reducing the amount of wine bottles used.
Reflecting the importance of the resort's home at the headwaters to the Florida Everglades, H&H's one-of-a-kind design takes a note from its Central Florida locale, an agricultural industry epicenter. A play on the region's "Iron Harvest" railroad, H&H exudes a casual elegance of rustic sophistication–warm accents of reclaimed pine wood columns, industrial metal, juxtaposed with refined white brick walls and a checkered marble floor at the Market Station where the breakfast buffet is served. Noteworthy artistic elements include a large abstract still-life mural, traditional antique Killim rugs, custom hand-painted dishware, farm tool accessories, an apothecary chest of rare liquors, and linen fabrics. H&H, designed by The Johnson Studio, offers a variety of seating, from communal dining in a lounge area with a horseshoe-shaped bar to casual leather-padded seats, a modern interpretation of a farm chair.
HIGHBALL & HARVEST AT THE RITZ-CARLTON ORLANDO, GRANDE LAKES
4012 Central Florida Parkway
Orlando, FL 32837
(407) 393-4422
http://www.highballandharvest.com/
Daily 6:30 a.m. – 10 p.m.
Bar Daily 11 a.m. – Midnight
Royal Indian Cuisine in Casselberry
Royal Indian Cuisine
1410 SEMORAN BLVD,CASSELBERRY FL,32707
info@royalindianorlando.com
Phone: +407-681-7542
http://www.royalindianorlando.com/menu.html#mix
via @EatLocalOrlando
New Indian restaurant in Casselberry, opening in the former location of a Brick and Fire pizza offshoot. Lunch buffet daily except Mondays.
Green Day Cafe in NoDo
Green Day Cafe Downtown
807 North Orange Avenue
Orlando, FL 32801
(Free garage parking in the 801 North Orange Avenue building)
The anticipated operating hours are 7 a.m.-9 p.m. Monday-Saturday and 10 a.m.-5 p.m. Sunday.
Green Day Cafe is opening in downtown Orlando at 7 a.m. Monday Sept. 22. Green Day Cafe is known for fresh salads, soups and sandwiches with an emphasis on eco-friendly practices and customer service. The restaurant, which will have both indoor and outdoor seating, replaces the Virgin Olive Market in the city center's North Quarter District. via OrlandoSentinel
JJ's Grille on Curry Ford

The newest addition to Orlando's thriving restaurant scene, JJ's Grille, celebrates the much-
anticipated Grand Opening of its first restaurant on Wednesday, September 24th in Orlando, in the Crystal Lake Plaza on Curry Ford Road, JJ's Grille's hours of operation are 11:00 am until 10:00 pm, seven days a week.
The fast-casual restaurant seats about 30 guests and features a menu focused on grilled, fresh meats that guests can order either in Mexican-style as burritos and rice bowls, or Mediterranean-style in a pita sandwich. Salad bowls are available as well. JJ's Grille is a fusion at heart, offering options that range from Latin, with pico de gallo and guacamole, to Middle Eastern with hummus and their signature item, tabbouleh. Vegetarians and vegans can also enjoy JJ's Grille, as they offer a grilled eggplant and squash alternative to the meats.
JJ's Grille
2950 Curry Ford Road
Orlando, FL 32806
407-802-2947
Chicago's Stuffed Pizza Downtown

image via @Tastes Of Orlando
Chicago's Stuffed Pizza
116 West Church Street
Orlando, FL 32801
(407) 930-0770
"It was delicious and tasty, but very filling, and my Chicago friend approved of this pie very much.I really enjoyed Chicago's Stuffed Pizza and am looking forward to a return visit with a group of friends" via @Tastes Of Orlando
Mingos at UCF DoubleTree hotel
Downtown Orlando restaurant Mingos recently opened at UCF DoubleTree by Hilton slated on August 12. Mingos will be the exclusive restaurant partner of Alena Hospitality, offering their exceptional menu and signature top-notch service to hotel guests and neighboring residents. Since opening in the Eola Heights District of Downtown Orlando in November of last year, Mingos has been living up to its motto "Fresh. Healthy. Lively." featuring fresh, local ingredients in an inspiring menu created by Executive Chef Luis Negron. Mingos also provides an award-winning Sunday Brunch and beautiful dining atmosphere.
The 2,700-square-foot restaurant seats about 90 guests, including a lounge area, and plans to hire 50 workers.
Mingos at DoubleTree – UCF
12125 High Tech Avenue Orlando, FL 32817
mingos.com
(407) 275-9000
Coming Soon
SHAKE SHACK TO DEEPEN TIES TO ORLANDO WITH NEW LOCATION ON I-DRIVE
Beloved Burger, Hot Dog and Frozen Custard Stand to Open Second Central Florida Shack in Spring 2015 – Building on the success of the Winter Park Shack that opened this past July, the newest Central Florida Shack will be prominently situated in the all-new I-Drive 360 – Orlando's premier dining, entertainment and shopping destination that is home to the 400-foot-tall "Orlando Eye" observational wheel. Conveniently located on famed International Drive, the I-Drive Shack will be approximately 3,000 square feet with an outdoor patio space for al fresco dining.
Restaurant Closings

Greens and Grille on University Blvd near UCF, popular for their salads, has closed. Their remaining location by the Mall at Millenia is still open. Via Michael Lothrop
Upcoming Events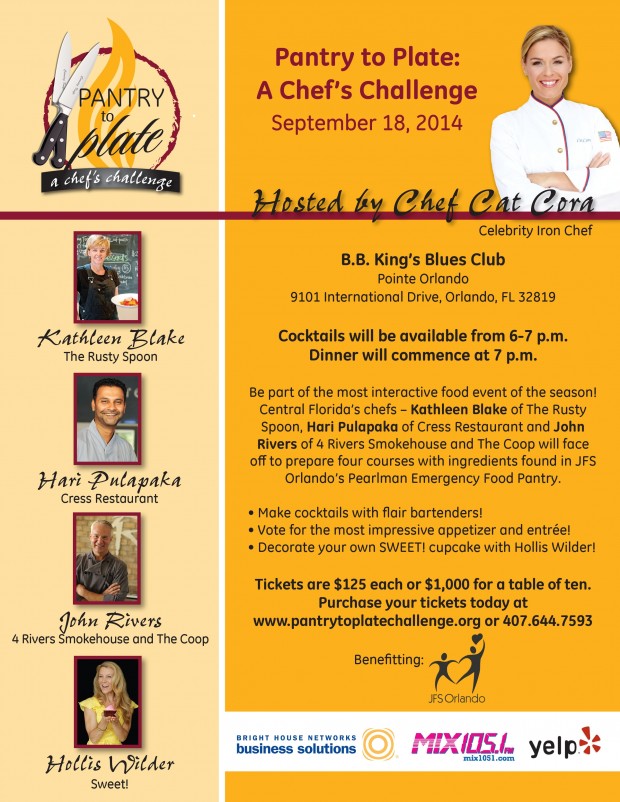 Pantry to Plate Chef's Challenge 9/18/2014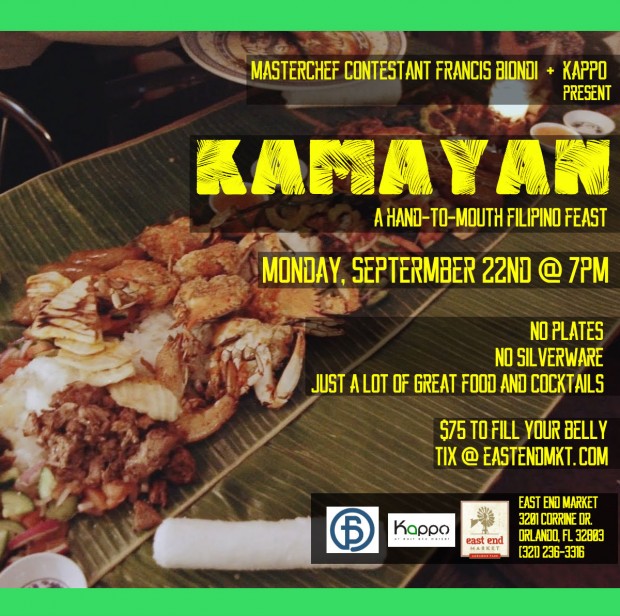 Kamayan: A Filipino Feast event that is being held at East End Market on September 22nd from 7PM-9PM.
A KAMAYAN is a traditional Filipino way of communal eating with your bare hands. No plates or silverware are necessary (but will be provided) for this casual, family-style dinner on top of the East End Market in Winter Park, FL. Try a variety of traditional Filipino delicacies from vegetarian tastings, to different pork/meat dishes, and whole fish, as they are spread atop mounds of steamed rice and banana leaves.
MasterChef 15 contestant Francis Biondi will be teaming up with Kappo at East End Market and also Chef Jonjie Sibayan from the PAO Cafe Filipino Restaurant in Tampa – which is a cool collaboration between Tampa and Orlando's food scenes.
Beer and cocktails will be paired with the food with Rene Nguyen from Hanson's Shoe Repair pairing up the cocktails. Tickets are $75 and seats are limited, check it out and support the Filipino food movement.
http://www.yelp.com/events/orlando-kamayan-a-filipino-feast-food-event