Peruvian cuisine reflects the history of its people – from the ancient Incan empire to the Spanish conquistadors who took their place and later, African and Asian (particularly Chinese and Japanese) immigrants – all have left their mark on Peruvian cooking, making it one of the earliest forms of "fusion cooking" in the New World.
This blend of cultures has made Peru what some have called the gastronomic center of South America, an up and coming place for new and avant garde cuisine. Chef Nobu Matsuhisa, famed for his own forms of fusion cooking, first came up with the form after moving to Peru in the 1970s and finding ingredients missing for Japanese cuisine, substituted local Peruvian food products in his dishes.
The four traditional staples of Peruvian cuisine are corn, potatoes (of which there are 3800 varieties in Peru alone), and other tubers, Amaranthaceaes (Quinoa, Kañiwa and kiwicha) and legumes (beans and lupins). Quinoa in particular has enjoyed a resurgence in popularity recently, bringing new attention to Peruvian cuisine and culture.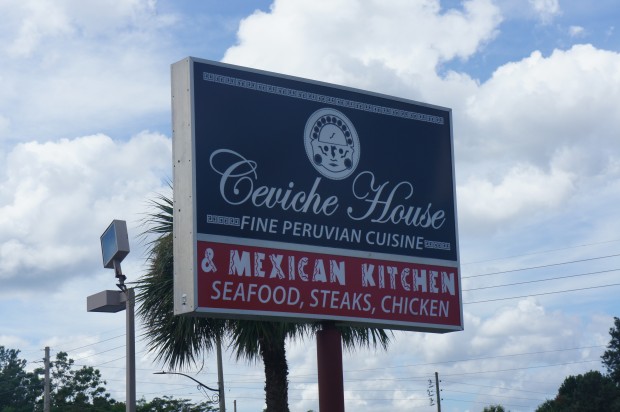 Locally here in Orlando there are quite a few restaurants serving up the popular Peruvian dishes from pollo a la brasa (rotisserie style chicken) to ceviche.
On Semoran Blvd, just south of SR 408, you can find Ceviche House Orlando (a sister restaurant to Ceviche House on Orange Blossom Trail in South Orlando), specializing in dishes from Peru's Pacific coast, once ruled by the Chimu tribe before being absorbed by the Incans.
The location is inside a former Pizza Hut, and for some inexplicable reason, also says that they serve Mexican food here, but a quick review of the menu did not show case any tacos or tortilla dishes.
Complimentary cancha, or toasted corn nuts, are served complimentary alongside some green salsa for dipping.
Anticuchos are brochettes made from beef heart marinated in a various Peruvian spices and grilled, often with a side of boiled potato or corn. They are commonly sold by street vendors and served shish kabob-style, but one may find them in creole food restaurants.
Here at Ceviche House, the anticuchos de corazon are deliciously grilled sliced beef hearts marinated in a panca red sauce, a splash of red wine vinegar, a hint of cumin and the golden touch of Inca yellow peppers, Peruvian corn and sliced golden potatoes.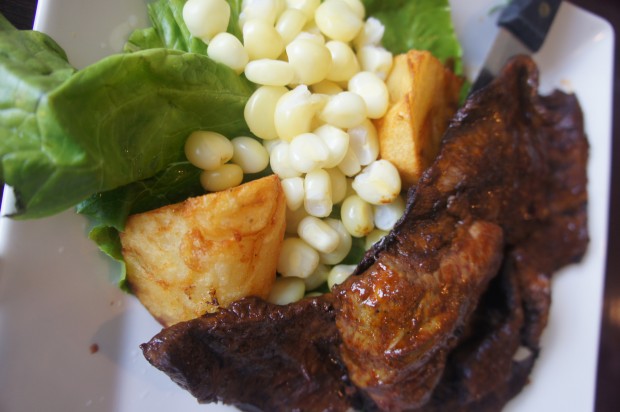 Choclo, a large kernel corn also referred to as Peruvian corn or Cuzco corn (named for the capital city of the Inca empire: Cuzco) is served as a side to many of the dishes here, it's a little milder and softer than our sweet corn, definitely an interesting and different take on corn.
Ceviche, a South American dish of marinated raw fish or seafood typically garnished with herbs and served as an appetizer, consists generally of bite-size pieces of white fish (such as corvina or white sea bass), marinated raw in lime juice mixed with chilis.
CEVICHE MIXTO (The treasure chest of the sea)
A mixture of octopus, squid, shrimp, white fish, red onions, citrus juices, cilantro, rocoto pepper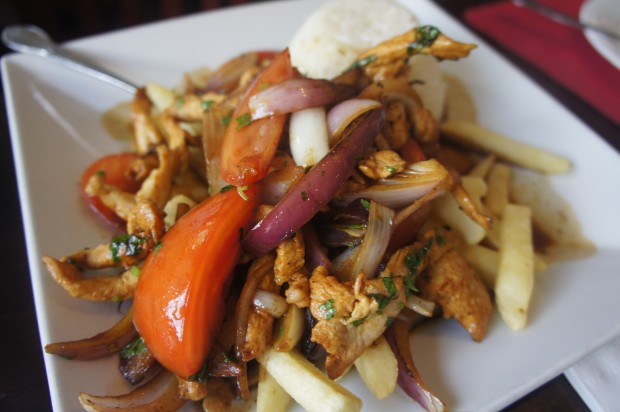 PECHUGA DE POLLO A LA CHORRILLANA – Grilled chicken breast served with sautéed red onions, fresh tomatoes, wine reduction, white rice
Causa is a mashed yellow potato dumpling mixed with key lime, onion, chili and oil. Varieties can have avocado, chicken, tuna (typically canned) or even shellfish added to the mixture, usually served cold with hard boiled eggs and olives. Here, we tried the crab causa, made with the yellow potato mash and layered with fresh crab.
Chifa is a term used in Peru to refer to Chinese cooking, in which Peruvian and Chinese ingredients are fused to cantonese culinary tradition – chaufa mixto (fried rice) and lomo saltado (stir fried beef with potato) are common staples in the Peruvian kitchen. As a self proclaimed fried rice expert, this was truly some of the best fried rice I ever had in Orlando – the rice was just the right texture, fresh yet crispy, just enough soy sauce with out being too salty, great balance of flavor with the ingredients of shrimp, beef, and chicken. Very nice.
CHAUFA MIXTO DE MARISCOS, POLLO Y CARNE
Peruvian stile stir fried rice mixed with beef, seafood and chicken in a chaufa sauce with a drizzle of sesame oil
Overall, Ceviche House brings a little taste of the big flavors of Peru right here in Orlando and should be added to your list of places to try – it's like traveling the world without leaving home.