October 13, 2014, we were invited to Krispy Kreme to see the behind the scenes operation and enjoy some fresh doughnuts. All doughnuts are made when the Hot sign is on and is made all by a machine. The only part of Krispy Kreme that isn't operated by machines is packing the doughnuts into boxes and serving happy customers.
Krispy Kreme plans on giving a free Halloween or Pumpkin Spice Doughnut to anyone who wears his or her costume into a location on Halloween!
Dough is on a "doughnut elevator" and slowly moves to the fryer. Once fried on one side, the next step is to flip the doughnuts one column at a time.
The doughnuts move forward on the conveyor belt and out of the oil to allow excess oil to drip off and down into a safe section of the belt.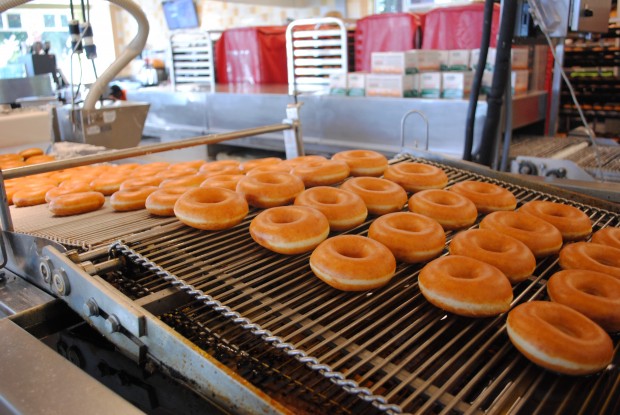 My favorite part was when the doughnuts went under a glazing waterfall.
This Fall season, Krispy Kreme offers Pumpkin Spice and Pumpkin Cheesecake as well as a number of Toasted Marshmallow stuffed doughnuts.
In my opinion, the Pumpkin Spice is my favorite Fall season doughnut from Krispy Kreme. It is like heaven in every bite.
Not only did we try doughnuts at Krispy Kreme, we also decorated our own doughnuts.