Chef Mark Jeffers, Chef de Cuisine of the newly opened Highball & Harvest at the Ritz-Carlton, was born in Port Orange Florida, but spent a lot of time in North Carolina while he was growing up. You can see much of the influence from his upbringing in his cooking today.
Recently, we had the chance to interview Chef Jeffers for our new series, the Orlando Chef's Spotlight Series, about his past adventures to the future at Highball & Harvest.
"I started cooking at a young age, and always had a knack for "concoctions" as I used to call them." Chef Jeffers told us recently through an e-mail correspondence.
He later moved to Tallahassee for college and bar tended in a martini bar while going to school. He grew to love the process of combining different and unusual (at the time) flavors in drinks.
"Creating balance of flavor/acidity/depth in a cocktail is essentially the same thing."
He eventually took a leap and moved to Orlando to go to Le Cordon Bleu, and used that as a jumping platform to land a job at the Ritz-Carlton at Orlando Grande Lakes Resort, spending the next 6 years working his way around the hotel at various capacities from Supervisor, Sous Chef, Banquet Chef, Chef Tounant, and now Chef de Cuisine at Highball and Harvest.
What are some of your favorite dishes on the new menu?
I love the Grouper dish. It is so simple, yet the flavor combination is really delicious. The rich and spicy Hominy ragout with Andouille sausage, Perfectly blackened grouper, finished with lemon juice and parsley, and the Pickled Okra to help create a balance for the creamy sauce is fantastic.
What are you planning for the coming fall and winter season?
I also love the my new baby back rib dish I put on the menu. Smoked Ribs, that I finish in the oven for a pull-apart tender texture. I made an apple sorghum BBQ sauce that creates a beautiful candied lacquer. I paired them with my southern interpretation of a good German spaetzel ("Baby Dumplings") and braised red cabbage (red wine cabbage)
Another favorite new dish that just made the menu is my Southern Style Surf-n-Turf. Citrus Brined Cobia, Braised Pork Belly, Squash Puree, Brussel Sprout Slaw. A beautifully balanced dish fit for the fall.
The last 2 dishes that I mentioned are new additions to my fall menu, but a few other things I'm working on include….a Braised Lamb Shank, Creamy Grits, and Carolina Mushrooms. Another nice dish is my crispy skinned trout with spaghetti squash and sunchoke puree with sorghum popcorn.
I also added my interpretation of a ceviche- Back-Porch Ceviche: Royal Red Canaveral Shrimp, Pickled Tomatoes and Sweet Potato Chips from Whisper Creek Farm (on property)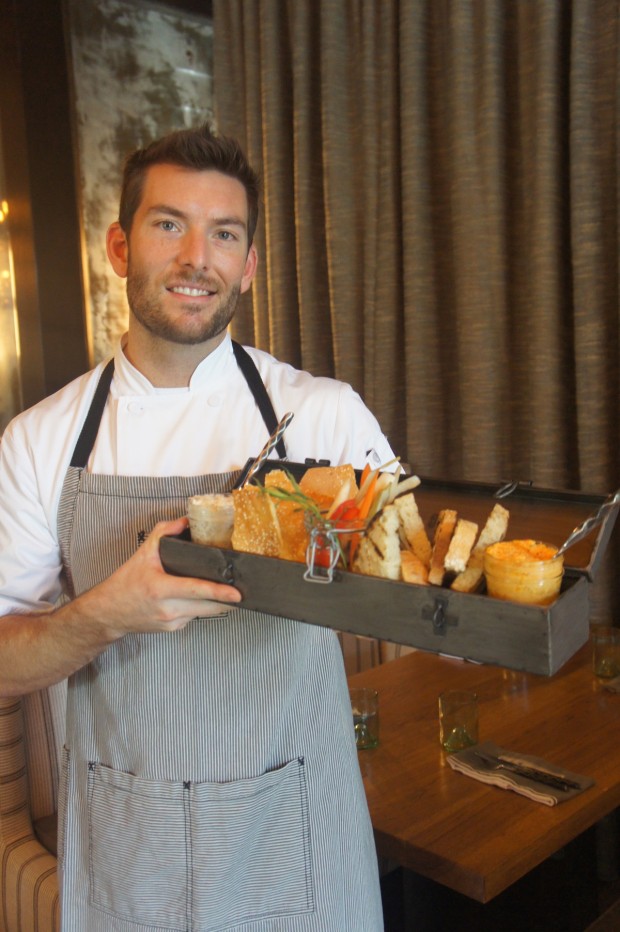 Where do you dine when not at Highball and Harvest?
My favorite restaurants in Orlando to go to when I'm not at H&H are Prato, Hawkers, and The Ravenous Pig, but I have a soft spot in my heart/stomach for authentic Mexican.
There is a tiny hole in the wall taco place near work off OBT called El Tenampa – $1.50 tacos with tripe, beef tongue (lengua), belly, and all the typical other meat choices. Super simple with 2 soft corn tortillas cilantro and minced onions. Another perk is that they always have 2 for 1 margaritas. ( I recommend knowing a little Spanish if you go….This place is REALLY authentic if you know what I mean)
What are some interesting facts about yourself that most people might not know?
I've been chased by a bear in Canada (maybe provoked)
I HATE sharks (but used to surf at the shark bite capital of the world…New Smyrna Beach)
Somewhere out there, there is a video of me breakdancing…Hope that never surfaces (long time ago)
I secretly want to have Bear Gryll's life.
My dream job involves a cooking show
Growing up, what were some of your favorite childhood eats?
My mom used to make all different kinds of casseroles that she found in magazines and cookbooks. Some were better than others, but the highlights were a chicken pot pie casserole and a tuna noodle casserole. My dad used to love making fried chicken on the weekend, (while my mom made herself a grilled chicken). Really Good.
My go-to sandwich I would make for myself was a pan fried bologna sandwich with American cheese on toasted white bread with pickle relish and mustard.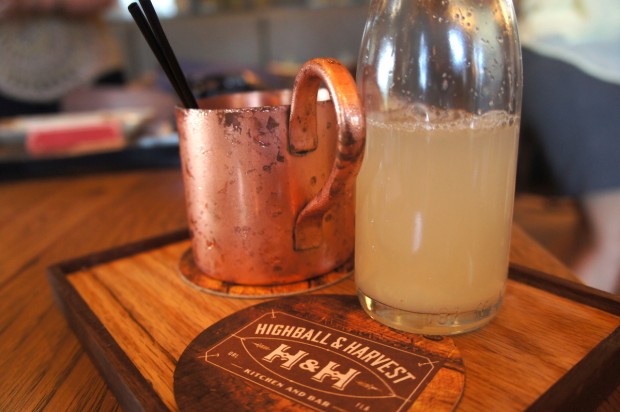 Highball & Harvest
The Ritz-Carlton, Grande Lakes
4012 Central Florida Parkway Orlando, FL
(407) 393-4422
www.highballandharvest.com
HOURS
Daily – 6:30 a.m. – 10 p.m.
Bar – Daily – 11 a.m. – Midnight