We just finished celebrating New Year's here in the states, but in a few weeks the local Asian American community here in Orlando will also be celebrating the Lunar New Year.
It's one of my favorite times of the year, not just for the festivities but also for the great food that goes along with the holiday celebrations.
I remember gathering around at home growing up with my uncles, aunts, cousins, and grandma around the family dinner table having a huge feast, praying to our ancestors and the gods for a lucky and healthy new year. My favorite dishes were the fried egg rolls and roasted duck, Hakka style, filled with Chinese spices, herbs and wild mushrooms.
This year the Chinese/Vietnamese Lunar New Year's Official Date is Thursday February 19th, 2015 – but the celebrations begin much earlier and last almost all month.
This is the year of the Sheep/Goat and those people born in the year of the Sheep / Goat are said to be "tender, polite, filial, clever, and kind-hearted. They have special sensitivity to art and beauty, wise, gentle and compassionate and can cope with business cautiously and circumspectly."
Luckily for us here in the Central Florida community, we are home to the largest ethnic enclaves of Asian Americans in the entire state, particularly around the Mills 50 district with shops, restaurants, and markets all getting ready to celebrate the Lunar New Year.
Lunar New Year Traditions
Eating dinner together as a family – people journey from wherever they are, to come home and have dinner. Every year this time marks the largest mass migration of people when workers in the cities travel home to their home villages to visit their families again.
Giving/Recieving Red Envelopes – filled with lucky money from elders to the young. Asian culture is big on karma so want to start off the year doing good things for others and hope for good things to happen to you in return later in the year. Universal balance.
Clean the house before the new year start the year new, and pay off all your debts
Big parades with lots of firecrackers. The loud noise "scares" away any evil spirits so you can start off the new year fresh.
On that Thursday, February 19th if you have lunch in the Mills 50 area, you will see the Wah Lum Kung Fu Lion Dance team "blessing" each business with their lion dance and fire works.
What to Order – Traditional Chinese Dishes for New Years
Eat
Noodles – The longer, the better – the noodles represent longevity and long life
Dumplings – They are shaped like little gold nuggets, symbols for good fortune and wealth
Fish – The word "yu" sounds like "abundance" in Chinese, so your new year will be abundant with good luck – eat whole fish so that your whole year is full of good luck
Fried Spring Rolls – The name also sounds like "good fortune" in Chinese, eat it for a lucky new year
Oranges are also plentiful during new years because the name and look of the orange is similar to gold. So giving oranges as a gift is also quite common, as it the giver is seen as wishing prosperity on the receivers.
Vietnamese Banh Tet – Bánh tét is a Vietnamese savoury but sometimes sweetened cake made primarily from glutinous rice, which is rolled in a banana leaf into a thick, log-like cylindrical shape, with mung bean or mung bean and pork fillings, then boiled. It is a must have traditional food in Vietnamese Lunar New Year. It demonstrates the importance of rice in the Vietnamese culture as well as historical value. During Vietnamese Tét, family members would gather together and enjoy feasting on bánh tét, the central food of this festive Vietnamese holiday to celebrate the coming of spring.
Drink
Wash it all down with a glass of Baijiu
Baijiu – traditional clear grain spirit made from sorghum and wheat

The number one drink in the world at about 40-60% alcohol
Like Vodka to the Russians, Rum to Puerto Rico, Baijiu is to the Chinese
It's drank at almost all meal gatherings in China.
Say Happy New Year!
Vietnamese – Chuc Mung Nam Moi
Cantonese – Sun Lien Fai Lok
or Gung Hay Fat Choi (Literally : Congratulations on your Prosperity – have a prosperous new year)
Mandarin – Xin Nian Kuai Le
Places to Celebrate:
Local Orlando Restaurants:
Ming Bistro – Chinese Dim Sum – Great for Families/Friends/Groups
1212 Woodward Street #6, Orlando, FL (407) 898-9672
Chuan Lu Garden – Authentic Sichuan cuisine – for spicy food lovers
1101 East Colonial Drive, Orlando, FL – (407) 896-8966  http://chuanluyuan.com
Tasty Wok – Chinese street food / barbecue and noodles
1246 East Colonial Drive, Orlando, FL  (407) 896-8988
Chan's Chinese Cuisine – Dim sum and traditional Chinese cuisine 
1901 East Colonial Drive, Orlando, FL (407) 896-0093
Golden Lotus Chinese – Dim sum and traditional Chinese cuisine
8365 South John Young Parkway, Orlando, FL (407) 352-3832
Local Markets – Pick up New Year goodies
Saigon Market
1232 East Colonial Drive, Orlando, FL 32803, United States
(407) 898-6899
Tien Hung Market
1112 East Colonial Drive, Orlando, FL 32803, United States
(407) 849-0205 http://tienhungmarket.com/
1st Oriental SuperMarket
5132 West Colonial Drive, Orlando, FL 32808, United States
(407) 292-3668 http://1storiental.com
Street Food Festivals/Events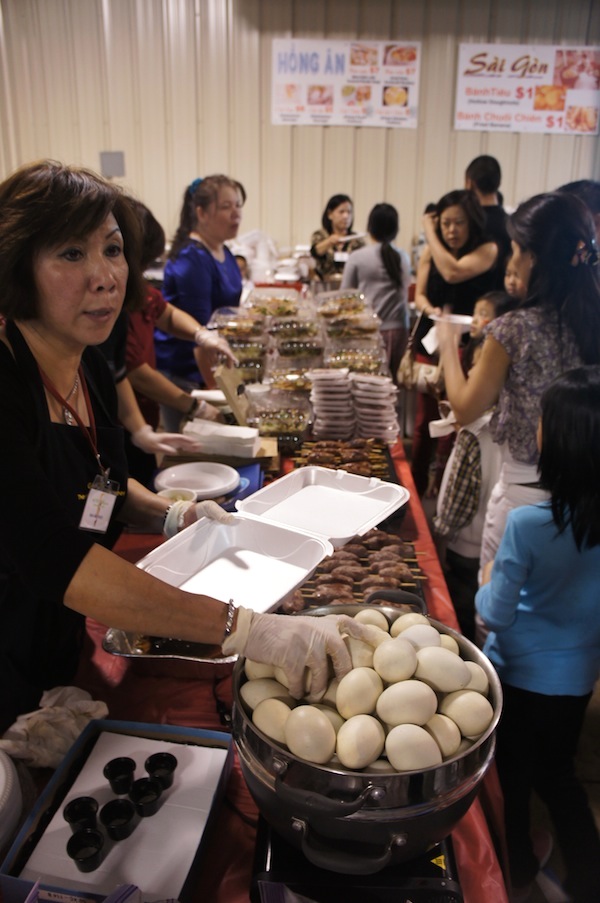 Vietnamese New Year Festival by the Vietnamese Catholic Church
Saturday January 31 and Sunday February 1 at the Central Florida Fairgrounds
– Orlando Foodie Forum facebook group meet up on that Sunday Feb 1 at 10:30AM
– Try the pork meatballs, sugarcane juice, Vietnamese banh mi, other street foods
– http://www.philipminhparish.org/
Vietnamese New Year Festival by the Vietnamese Community of Central Florida
Saturday February 7th – Sunday February 8th at the Central Florida Fairgrounds
– Street food and also Miss Vietnam of Florida Pageant on Sunday
Vietnamese Vegetarian Food Festival at Bao An Temple
Sunday February 15th, 2015 8am – 2pm (local cultural acts, lots of vegetarian Vietnamese food for sale)
and the new years eve celebration is the night of February 18th (they have singers, performers, food for sale)
Bao An Buddhist Temple – 5788 North Apopka Vineland Road, Orlando, FL 32818, United States
Dragon Parade and Lunar New Year Festival
at the Orlando Fashion Square Mall – Sunday February 22
http://www.centralfloridadragonparade.org/

See you next time on Wesh Sunrise News on CW 18 !