The Super Bowl is over! and with it, all the excitement to watch the Seahawks (Seattle) and the Patriots (New England) play against each other. However, the question is where are some of the best places to watch this once a year game, as well as other sports games now?
I got invited for a chance to visit Duffy's Bar Grill new location in Lake Mary, and their whole idea was to reimagine bar food. I could definitely see their concept coming through as their menu had something for everyone as well as their price range:
Appetizers from $4.99-$13.99
Lunch Specials from $5.99-$8.99
Entrees from $7.99-$18.99
Desserts from $1.99-$5.99
Drinks at the bar from $2.25-$13.00
For the Seafood Lover: Sesame crusted Ahi Tuna
Fresh slices of tuna that's thinly seared with a mixed sesame shell, served with soba noodles and cucumber salad.  Definitely one of the more refreshing appetizers!
The Fusion Enthusiast: Korean Beef Tenderloin Mini-Tacos
Super juicy and tender pieces of Korean marinated beef, topped with onion-relish and held together by soft shall tacos.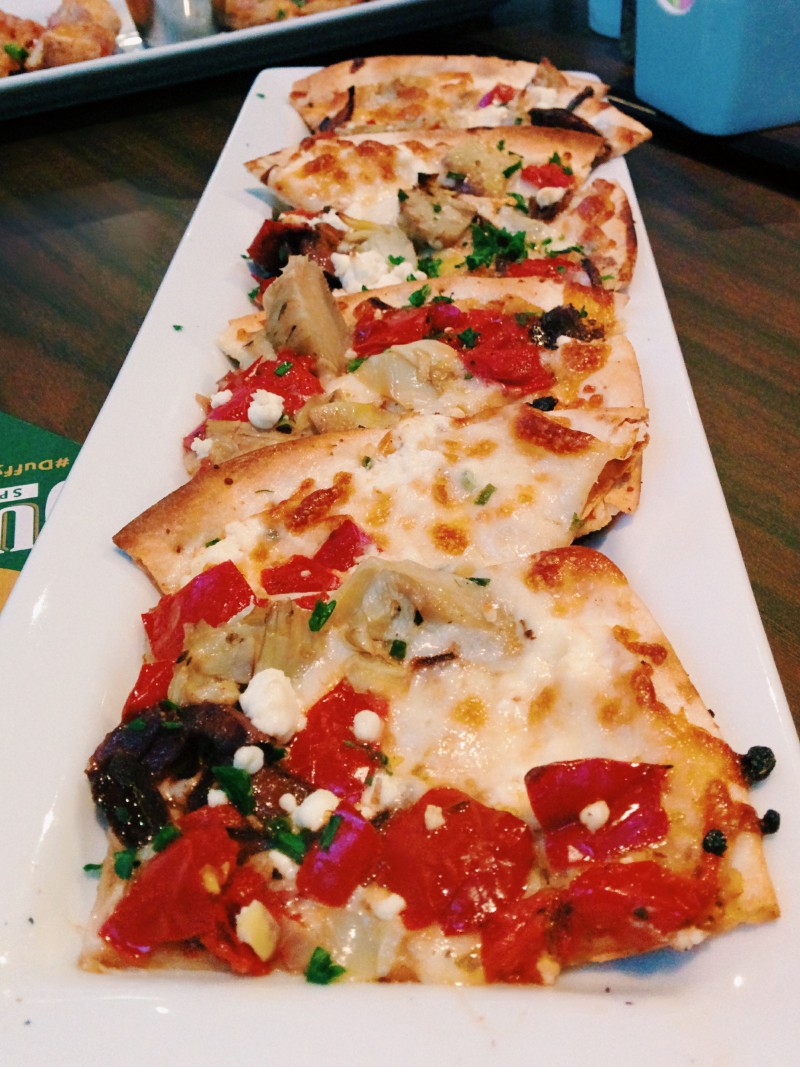 The Veggie lover: Roasted Artichoke & Goat Cheese Flatbread
The roasted artichoke was accompanied by sweet red peppers, balsamic onions, and savory goat cheese on top of a crispy baked flatbread.
The Meat Lover: Churrasco Steak 
Let's talk about this beautiful assembly, first off, we have a super tender skirt steak that's grilled and seasoned so nicely and then sauced up with chimichurri ( an Argentine based sauce that consist of finely chopped parsley, garlic, oils, and other herbs.). Then we have sweet fried plantains, and mouth-watering black beans…in fact it made my friend convert from pinto beans to black beans from being so delicious.
The Classic: Traditional Jumbo Wings
A must have bar food, crispy wings tossed in a wide selection of sauces. Such as: Honey garlic, BBQ, asian sesame, sweet buffalo, spicy roasted garlic, firecracker, and my personal favorite-Mango Habanero.
Not only was Duffy reinventing Bar food, they have a couple of cocktails that could perk up any night.
Cotton Candy Cosmopolitan
This was definitely a conversation starter drink! You have your classic drink with a side of cotton candy for you to dissolve into the drink. This allowed you to control the level of sweetness all the while entertain you as you watch the colours of the candy melt and swirl together.
Pineapple Mojito
Super easy to drink, they combined with yummy mojito with a splash of pineapple juice making it all the more refreshing with a hint of tartness.
Ultimate Patron Margarita  
If you like tequila, this is most likely made for you. With Patron silver, triple sec, and patron citronge, it could get dangerous since you could hardly tell the alcohol content in it. 

At Duffy's I was able to have the enjoyment of a full bar and restaurant quality foods. A bonus is that there are T.V Screens on about every wall space, so you won't have to worry about missing a big moment of any future games or events.
Duffy's whole idea was to reimagine bar foods, and they definitely delivered.
So here's to a wonderful season, Cheers!