American Q is a new restaurant located just outside of Downtown Disney, spawned as a collaboration between the new B Hotels & Resorts and the acclaimed New York City restaurateur Jeffrey Chodorow of China Grill Management, bringing a "Brazilian rodizio" take to traditional American barbecue.
With an industrial, farmhouse-chic vibe,  the flatbed of a 1950s cherry-red, Ford F1 pickup truck houses an all-you-can-eat appetizer and salad buffet with homemade soups and chili, a baked potato bar, peel-and-eat shrimp, a selection of hot and cold seasonal vegetables, and a variety of salads.
A delectable selection of smoked meats and poultry, from the Carolinas and Kansas City to Latin America, are carved tableside by "cowboy/cowgirl" servers.
We were recently invited to check out the new place and found some great barbecue, and lovely sauces, but also some areas that greatly needed improvement, particularly overall service and improving on the buffet bar.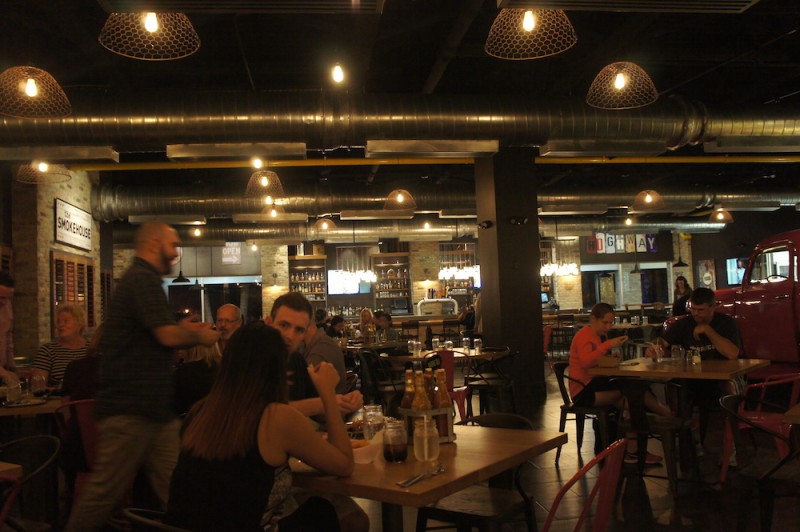 Upon arrival, we were greeted by our server, but were never explained the directions regarding the buffet vs. a la carte option. So we were a bit at lost what to do after sitting down and getting our drink orders in –  do we go to the buffet bar or do we wait to get our orders in so that the server knows what we are each getting?
Our server was very nice, though, and was very cordial throughout the evening, and I am guessing it is more of a management or procedural issue. Hopefully they will improve on this soon.
Another area for improvement – the flat bed truck was impressive but the salads and even the mac and cheese were rather pedestrian and uninteresting, especially when compared to other rodizio buffet style salad bars in the area.
The strongest aspect of dining at American Q: the smoked meats from the beef brisket to the turkey, all had great flavor, accentuated by the variety of barbecue sauces available at the table.
DEVILED CRAB STUFFED EGGS – blue crab & rémoulade – the yolk was a bit runny for what I was accustomed to for deviled eggs

JERK CHICKEN WINGS – mango chow and ALLIGATOR BOUDIN – roasted tomatoes, peppers & okra
TABLE SIDE CARVINGS
SLOW SMOKED TOM TURKEY DRUM WITH MAHOGANY GLAZE
BACON WRAPPED BONELESS CHICKEN THIGHS
HOUSE MADE SAUSAGES
SMOKED PORK SHOULDER WITH SPICED ONIONS
COLD SMOKED & GRILLED TURKEY THIGH WITH TURKEY CHORIZO STUFFING
CAROLINA STYLE FLANK STEAK
BRISKET OF BEEF WITH TEXAS BARK
PICANHA OF BEEF
VEGETABLE BROCHETTE
JAPANESE OLD FASHIONED
Hibiki whisky, chai simple syrup & Angostura bitters
HOUSE BAKED CORNBREAD – served at the end of the meal, apparently here at American Q it takes a while for cornbread to get to the table.

CROISSANT BREAD PUDDING – warm apple compote, another highlight of the meal – dessert