American Q is expanding their Rodizio ( aka all you can eat) style BBQ with Chef Leo. Adding new options  including smoked prime rib and whole roasted pig, as well as new selections on the 20+ item FLATBED BUFFET, which is served from the back of a signature '51 cherry red Ford F1 pickup.
I started off with some finger licking good appetizers….

Let's begin with one of their most well known items – the Maple Candied Bacon. The perfect harmony of sweet and savory, not to mention addicting.. and what more to say other than bacon?
This was featured recently at an annual local Orlando Yelp event, and of course it sold out immediately- definitely an iconic item of American Q.
The classic Deviled eggs stuffed with creamy mix of crab meat  with a hint of smokiness from the paprika. – I was worried I would get full from eating these little devils since I couldn't stop at 3…. I kept saying okay last one…and I'm pretty sure I went up to eating 5.
A simple house made appetizer that's always a crowd pleaser – Tater Tots. 
Next, I got to check out the flatbed buffet – featuring savory favorites like homemade soups and chili, a baked potato bar, peel & eat shrimp and hot and cold seasonal vegetables, pastas and potato salads
And of course – more notable starters…
 Cauliflower "steak"
I felt a little less guilty eating this one, I love vegetables- almost as much as I love steaks, and the simple preparation of the cauliflower made it super easy to enjoy.
Onto the main dish- the table side carvings.
The buffet included
The favorites included:
Starting with Chef Leo's personal favorite- The Brisket of Beef with Texas Bark
The meat is braised for 12 hours with a flavorful crust to hold together all the juicy meat within. Incredibly tender and fatty and requires NO SAUCE- or you could ruin the meat (according to Marcus- our professional meat carver)
Then we have Marcus' favorite- (also might be mine) The Picanha of Beef
There's a whirl wind of flavors in this super tender cut of beef- peppery, sweet, smokey.
A tie with the Picanha for me would have to be the Carolina Style Flank Steak
A little less fatty than the other two meats, but just as flavorful with notes of oregano and sweet brown sugar.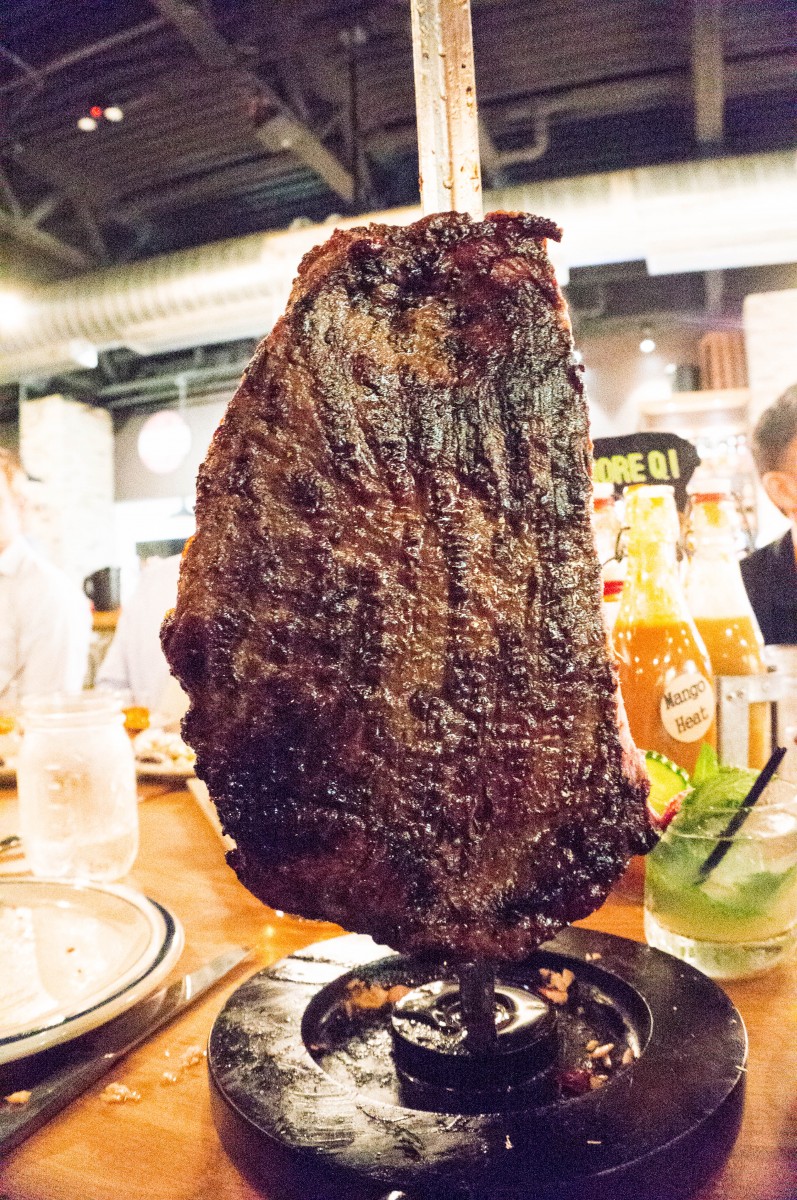 Here's Marcus with our table mates.
These are all house made sauces!
And of course what would BBQ be without a little alcohol?
Featuring a new kind of Whiskey- The Jameson,  A well known brand- however, this time it's not a true Irish. It's aged 12 years in charred Bourbon Barrels that's stilled for 3 times.  It's much sweeter, smoother, with a crisp ending. It has hints of Apricots and vanilla.
Pineapple Mojito
Flor de Caña, muddled pineapple & mint.
Dragon fruit Smash
Maestro Dobel tequila, muddled dragon fruit, basil simple syrup, lemon & mint
If you're looking an all you can eat BBQ American Q can definitely satisfy that craving without the crowd and price of other International Drive restaurants.
AMERICAN Q • LOCATED AT B RESORT & SPA •
1905 HOTEL PLAZA BOULEVARD  |  LAKE BUENA VISTA, FL 32830  
TEL: 407.827.3080