I had the opportunity to attend Heart of Florida United Way 23rd Annual Chef's Gala and the experience was incredible! For those who have not heard of Chef's Gala, it is historically United Way's largest fundraiser for education, income, health and basic needs programs, which serve thousands of Central Floridians in dire need.  Having raised nearly $300,000 in 2014, Chef's Gala features exquisite cuisine from more than 20 of Central Florida's top chefs, along with thoughtfully paired fine wines, live music and a silent auction.
When I arrived behind Disney's Epcot World Showcase, I felt so welcomed by the red carpet lined on the concrete floor that lead my guest and I into the event hall. Through the opened double doors you can see the rooms elegantly decorated with a soothing ambience set by blue and purple hues.


And of course, we were instantly invited to have a drink by the cordial staff.

We took a stroll through the first room, this is where you will find all the silent auction items being displayed. There were a wide range of items and prices so that there's something for everyone to bring home at the end of the night.

Finally, we were able to enter the very anticipated dining room. I was immediately overwhelmed the options and aroma from the restaurants that were set up around the room. However, I gathered my senses together and was able to try most of the restaurants.
Tusker House Restaurant ( Disney's Animal Kingdom)
Chef: Al Youngman
Sommelier: Mark Hoevenaars
Duka Crusted Lamb Loin with Root Vegetable and Jicama- Mint salad


Jiko- The Cooking Place (Disney's Animal Kingdom Lodge)
Chef: David 
Sommelier: Victoria Thompson 
Durban Seafood Curry and Pineapple-coconut Curry with Crisp Papadom

Soco Thornton Park 
Chef: Greg Richie 
Slow- Roasted Barbecue Pork Belly on a Biscuit with Jalapeño Jelly and Chow Chow 

Primo by Melissa Kelly
Chef: Mariano Vegel
Sommelier: Justin Jaret
Duck Confit, Foie Gras Mousse, and Kumquat Sandwich 
K Restaurant
Chef/Owner: Kevin Fonzo
Root Vegetable Gnocchi with Palmetto Creek farms Pork Ragu, House- Made Ricotta, Provolone, and sage.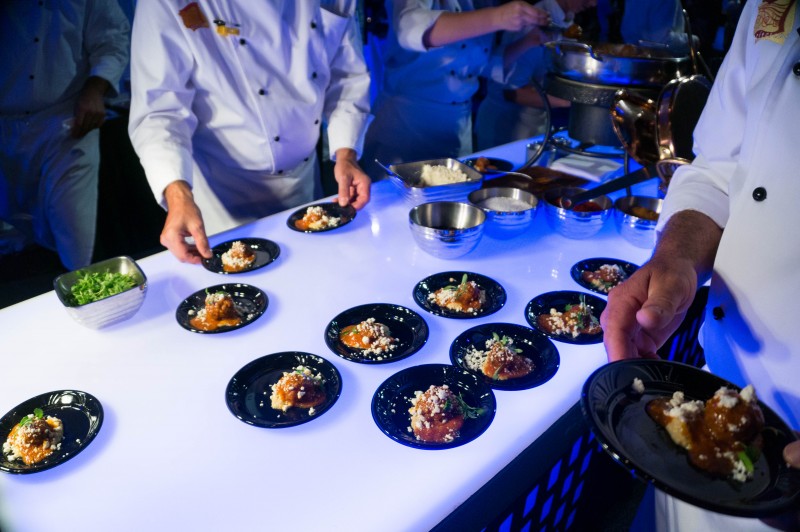 Citricos (Disney's Grand Floridian Resort & Spa)
Chef: Phil Ponticelli 
Sommelier: Keith Gimbel 
Slow-Braised Curried Lamb Meat Ball with Crushed Chickpeas and Crumbled Feta 

Le Cellier Steakhouse ( Epcot)
Chef: Dee Foundoukis
Sommelier: Rick deCicco
Soy- Braised Beef Tongue, Smoked Bone Marrow Mash, and Pickled Mustard Seeds
Disney's Animal Kingdom Lodge Bakery 
Pastry Chef: Amanda Lauder
Sommelier: Amber Schroeder 
Ghanaian Chocolate and Passion Fruit Milk Tart 
Everglades Restaurant 
Chef: Luc Akellino 
Chocolate Almond Wild Berry Torte with Lemon Mascarpone 
The night was even more festive with a live band and performers on a stage located in the middle of it all.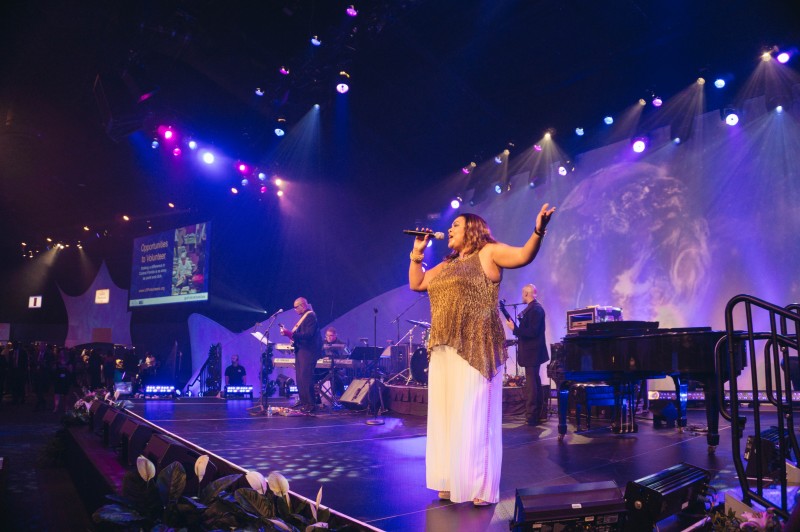 Maybe it was the Disney's touch, but my evening at the Chef's Gala was magical.  On top of food, drinks, music, and great company we're all here for a good cause. Reminding us to be grateful for what we have and to stay humble as we raise money to support our neighbors in need. Last year alone, United Way and its partner agencies helped more than 400,000 people in the tri-country region. Every year, the organization helps improve the lives of nearly 1 in 5 Central Floridian.
23rd Annual Chef's Gala
Saturday, May 16, 2015
Epcot® World Showplace

http://www.hfuw.org/Chefs_Gala.php
Heart of Florida United Way (HFUW) is Central Florida's most comprehensive health and human services charity and the largest provider of funds to the region's most critical health and human service programs. Last year, it raised and managed $26.6 million throughout Orange, Osceola and Seminole counties. HFUW is working to advance the common good by focusing on education, income, health and basic needs. It operates United Way 2-1-1, Central Florida's crisis, suicide and referral helpline; Volunteer Resource Center; Gifts In Kind Center; Emergency Homelessness Services; and the Ryan White Part B program, which administers more than $2 million to provide HIV/AIDS services and referrals. HFUW impacts more than 400,000 individuals annually through its direct service and funded programs. United Way partners with local businesses, government, other charities to increase awareness of local health and human service issues and to inspire hope, provide options and create possibilities for people in need. Visit www.HFUW.org for more information, or call (407) 835-0900.