Orlando Cat Café and South Lake Animal League (a nonprofit, no-kill animal shelter serving the community since 1988) are teaming up to fundraise and promote the adoption of some amazing feline friends.
We were more than happy to receive an invite for the Groundbreaking Ceremony. The hardest part of being at the Orlando Cat Café was not signing up to adopt all of the cats there!
The Cat Café is founded by Sandra Cagan, who hopes to draw in locals and tourists in for a cup of coffee, a pastry, and to spend time with (and possibly adopt) adoptable cats.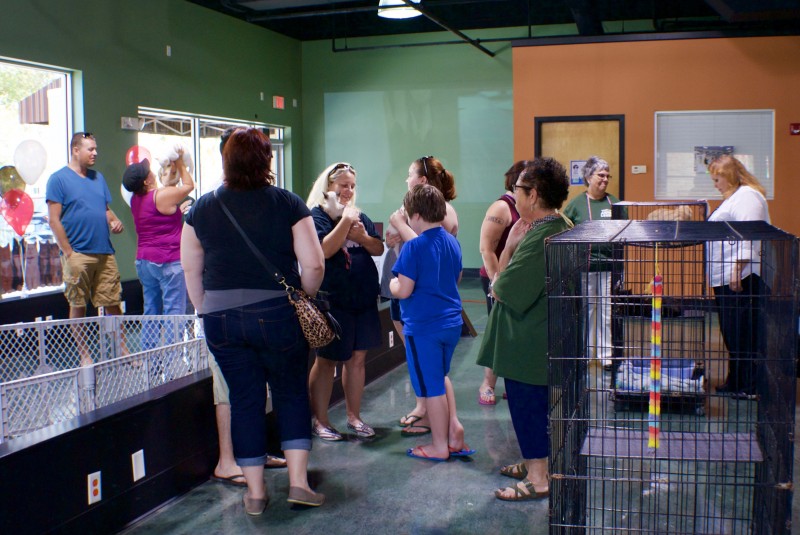 At the Groundbreaking Ceremony on October 14th, the Orlando Cat Café and South Lake Animal League kicked off the fundraising process.
Contributors to the project received incentives such as customized pet jewelry, an Orlando Cat Café stuffed plush, t-shirt, and access to an exclusive private party.
The Orlando Cat Café includes a cozy coffeehouse with comfortable furniture, premium coffee, and 12 to 15 cats roaming freely.
The cat café will have its own entrance to comply with any health and food safety compliance guidelines.
Between sips, customers will be able to pet and cuddle the critters at will.
The area will consist of a 750 square foot cat lounge, a hidden room for litter boxes, with the separate space where baristas prepare coffee and snacks.
Plans to serve wine and beer are also in the works.
All the cats will be provided by the South Lake Animal League and will be up for adoption, but if you are not ready to commit to a pet, that's no problem.
Volunteers from South Lake Animal League will assist with the daily care of the cats and processing adoption applications.
However, if you are planning to drive out to visit a specific kitty, please call the Adoption Center in advance (352-429-6334).
Hopi is a Long-Hair Balinese, Snowshoe that is up-to-date with her routine shots; she is also spayed. Hopi is one of the sweetest kitties we have ever met. She is very shy at first and will take a little bit to be comfortable with the new environment, but once she is comfortable, she will love you endlessly.
Milo is a Domestic Short Hair-Orange Tabby. He is up-to-date with routine shots and is neutered. He is very sweet and loving. He is the type that would love to play, but does not mind laying in your lap as you study or watch tv.
Sunshine is a Domestic Short-Hair gray and white. She is up-to-date with routine shots and spayed. She does not mind walking around with you, while on a leash. She is adventurous and likes to explore her environment as well as play with other cats. She is not too festive, but not lethargic at all.
In this photo, Hopi is sharing a snack with her sister Zuni. Also like Hopi, Zuni is a Long-Hair Balinese, Snowshoe. Zuni is up-to-date with routine shots and spayed. She is more comfortable roaming in new environments than Hopi, but do not hinder your choice if you would like to adopt Hopi over Zuni, vice versa, or both!
The Orlando Cat Café is located inside The Town Center at Cagan Crossings at 532 Cagan Park Avenue, Suites 201-203 in Clermont, FL.
For more information on making a contribution to the Orlando Cat Café's BackerU fundraising campaign, visit www.orlandocatcafe.com or stay up to date on the café's Facebook page https://www.facebook.com/OrlandoCatCafe For more information on South Lake Animal League, visit www.slal.org.