Did you know there is a "hidden" lounge area in the upstairs section of Morimoto's Asia at Disney Springs open till 2am? Complete with a late night dining menu and a diverse list of sakes as well as light bites and sushi, it's worth taking a look. Check out the press release below.
Press Release:
With a "hidden" VIP entrance along the side of the building, the Forbidden Lounge is a great place to hang, late-night, at Disney Springs.
An exclusive menu is featured upstairs from 10pm to 2am and features a variety of late-night dining options for those looking to eat a little lighter (sushi, raw bar, hamachi tacos, toro tartare) or for those looking to splurge on pan-Asian riffs of bar food (pork belly bao, five-spice wings, dim sum).
Those not in the mood to nosh have no fear, as Morimoto Asia is also doing its part to showcase one of the truly misunderstood spirits in the world, sake.
Morimoto Asia not only features a variety of Chef Morimoto's signature label sake, but also a vast offering of other sake that represent the different classes (gingo, junmai, daigingo, honjozo, junmai gingo and junmai daigingo) plus tokubetzo junmai and a variety of speciality sakes (including cedar aged, a sparkling and a sparkling rose) – something not commonly found in US restaurants.
For those not ready to drink the rice wine straight, just yet, the Forbidden Lounge cocktail menu offers several sake-cocktails including the Morimotini (Grey Goose vodka, junmai Morimoto), White Lily (sudachi shochu, calpico, yuzu), Ishikawa 75 (ginjo sake, plum wine and sparkling wine) and sake sangria (asian pears, apple plum, tangerine juice, sake, light white wine, plum wine) which is great for a group as it serves 3-4 people.
To add just a little more flair to the party, the Forbidden Lounge also features some unique entertainment in the form of an up-close magician and a palm reader, for those looking to be a little more adventurous. In the coming weeks they will also offer table-top shuffleboard, perfect for the guests looking to enjoy the cooler temps on the second-level outdoor patio.
Gift Card Special to Morimoto Asia
Morimoto Asia currently has a program in place where anyone that spends $100 or more on a Morimoto Asia gift card will receive an opening day and limited edition Morimoto Asia menu hand-signed by Iron Chef Morimoto.
As a part of this promotion, Morimoto Asia has partnered with us to do a giveaway of one of these limited edition Morimoto Asia menu hand signed by Chef Morimoto himself.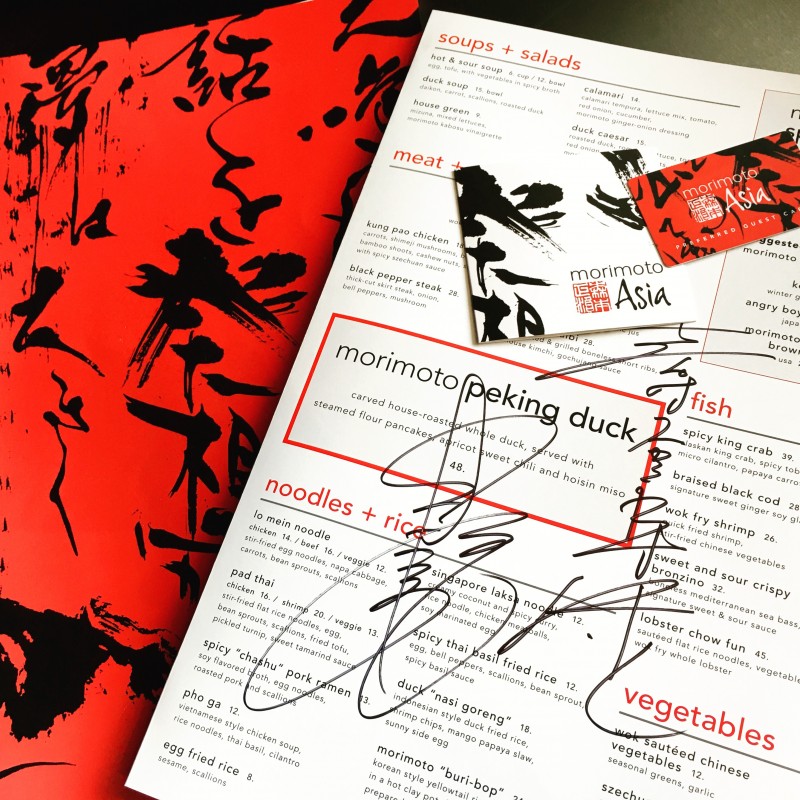 GIVEAWAY – Morimoto Asia Menu signed by Chef Morimoto
Enter by responding in the comments below. One winner will be chosen randomly from the answers. Contest Ends December 23rd, 2015 at 12pm. We will contact the winner via e-mail! Good luck.
Questions – answer all to enter to win.
1. What is in a Morimotini?
2. Where is Forbidden Lounge located?
3. What would you most want to eat at Morimoto Asia?