In many ways, the story of St. Augustine is the story of Florida.
With more than 450 years of history, the food culture of St. Augustine has been influenced by the early settlers from Spain, Britain, Greece, Cuba, Italy, and more – like the story of its datil peppers – it's all about becoming a melting pot of flavors and tastes with each new wave of immigrants.
With its proximity to the Atlantic Ocean and fertile Florida farmlands just miles away, St. Augustine has a dearth of local and sustainable resources for their food and culinary community to cultivate.
It's quickly becoming one of Florida's favorite spots to visit, as tourist numbers rise year after year to explore the Castillo de San Marcos fort and wander the along the tiny streets of the Colonial Quarter.
You can feel it in the air when you walk down the charming historic quarter of old St. Augustine – the lingering dreams of the Spanish explorer Ponce De Leon and his quest for the eternal Fountain of Youth and the lofty dreams of industrialist Henry Flagler who sought to transform Florida with his railway and luxury hotels.
Here is a suggested itinerary for a Food Lover's Weekend in Historic St. Augustine:
Friday Night
Check into one of the many local bed and breakfast inns like the historic St. Francis Inn, the oldest inn in St Augustine founded in 1791, and head out over the bridge to Anastasia Island for dinner at Terra & Acqua, a restaurant specializing in land and sea dishes from Northern Italian cuisine using local and seasonal ingredients.
Founded by chef/owner, Simone Parisi, the restaurant features a wood-fired oven that gives a wonderful smokey char to their breads, pizzas, and particularly the fantastic charred octopus salad.
Northern Italian food is different from cuisine usually found in Italian restaurants in America – the dishes here are accentuated with seafood, olive oil and fresh vegetables instead of heavy tomato sauces.
Their pastas are handmade in house, and it shows – the pappardelle cinghiale, a handmade pappardelle pasta is luscious and silky to taste, going well with the hearty wild boar and plum tomato sauce.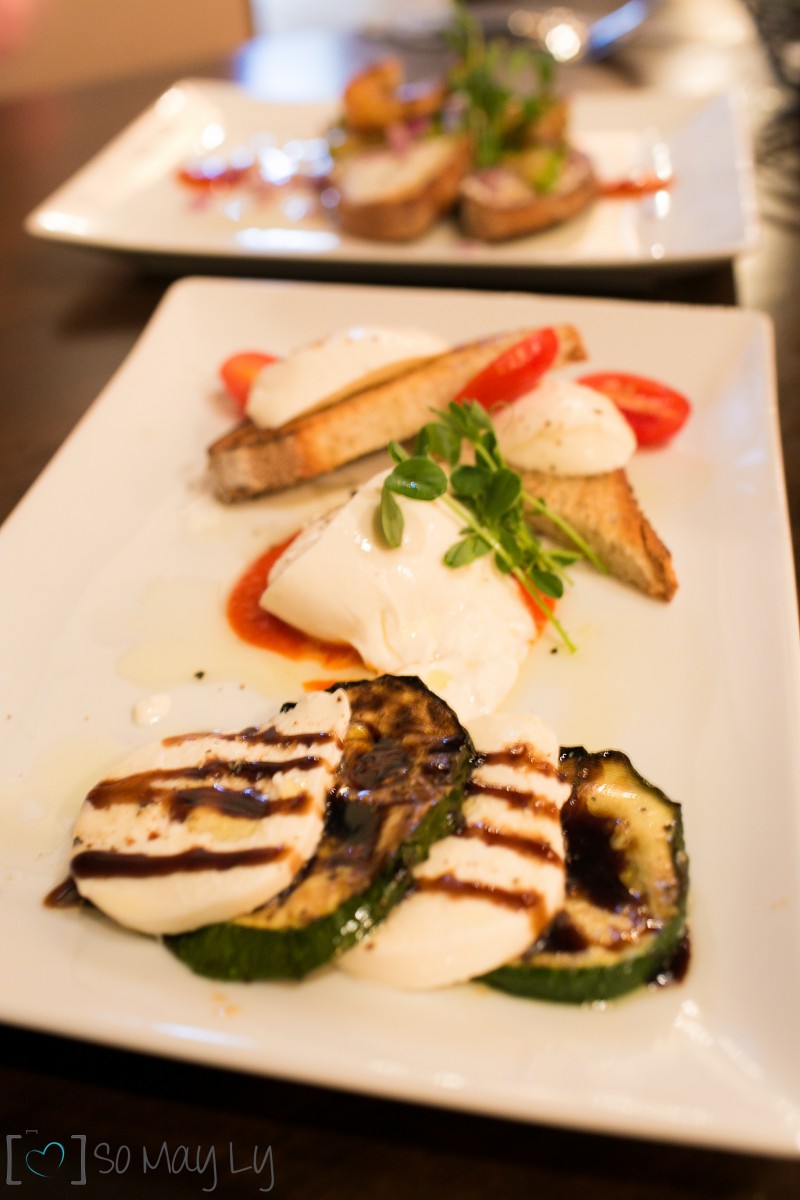 Bruschetta Mista
Variety of bruschettas with seasonal homemade toppings
Polpo Alla Griglia
Charred tender octopus, potato and green bean salad, EVOO
Bruschetta Avocado Gamberi
Sweet and spicy sauce, avocado, red onion, local shrimp
Insalate Pera
Romaine hearts, gorgonzola, pears, walnuts, EVOO, balsamic reduction
Insalata Barbabietole
Medley of organic beets, gorgonzola, watercress salad
Pappardelle Cinghiale
Handmade pappardelle, wild boar, plum tomato sug, fresh herbs
Aragosta E Crostacei
Grilled lobster,Frutti di Mare, vegetables
Saturday
Have a quick breakfast at St. Francis Inn, then head out to what some locals lovingly call the "Sin Quarter" – where you can find San Sebastian Winery, St. Augustine Distillery, and Whetstone Chocolates factory all a few steps away from each other.
Take a chocolate tasting tour of the Whetstone Chocolates factory, where you can learn about the process of chocolate making and sample some of their signature chocolates named after historic figures from St. Augustine's storied past like Aviles, Menendez, De Leon, and San Marco. Do get a bag of their "gator bait" to go – crunchy, deliciously addictive chunks of milk chocolate covered pretzel pieces, rice crispies, and corn flakes.
Next, visit the newly opened St. Augustine Distillery in the renovated historic Ice Plant for a free tour of their gin and vodka distillery which highlights locally sourced farms and sustainable ingredients.
The ice plant was first used in 1917 and there is a fantastic museum inside showcasing its history and role in bringing commercial block ice to Florida, transforming the cocktail forever.
Upstairs from the distillery, The farm to table Ice Plant restaurant and bar serves up grass-fed beef burgers, local seafood, and stunning cocktails.
Sip on a signature Lady Killer cocktail, made with St. Augustine vodka, lemon, pamplemousse, aperol, and tiki bitters.
After lunch, stroll down to Flagler College, once Henry Flagler's flagship Ponce De Leon Hotel and across the street to City Hall / Lightner Museum, formerly the Hotel Alcazar, for a historic tour highlighting Henry Flagler's visionary and some might say ruthless development and investment in St. Augustine at the turn of early 20th century.
Flagler College's cafeteria, once the dining hall for the luxury winter resort hotel, has one of the largest collections of Louis Comfort Tiffany stained glass in the world.
Afterwards, head over to Casa Monica Hotel, styled after the Moorish and Spanish Baroque architectural revival, which is today still a hotel and run by Kessler Collections.
Here you can order the signature Kessler calamari, first created by executive chef Rene Nyfeler here and now served in all of the Kessler hotels nation wide – it's crispy calamari served with kalamata olives, green olives, and a flavorful cumin and curry spiced aioli sauce.
Walk down the historic Colonial Quarter where you can find a bevy of local eats for dinner like Columbia restaurant featuring Spanish and Cuban cuisine, Harry's Seafood Bar and Grille, known for their take on New Orleans style cuisine or Michael's Tasting Room, small plate tapas and innovative cuisine with a modern Spanish flair.
For dessert, have one of the many unique fresh fruit, handmade gourmet popsicles like champagne mango and strawberry from The Hyppo.
With over 450 years of history, it's no wonder there have been more than a few lingering spirits with unfinished business in town.
After dinner, grab an EMF meter and hop on a hearse for Ghost Augustine's Haunted Pub Crawl, which brings you around to explore some of St. Augustine's more ghostly sites like Scarlett O' Hara's or the site of the mysteriously unsolved murder of St. Augustine socialite Athalia Ponsell Lindsley, who was hacked to death by a machete on her front door steps.
It's all quite an intriguing and macabre tour for those who enjoy stories of death and hauntings accompanied with a few pints of beer.
Sunday
Head on over for a stroll along one of the oldest public streets in America – Aviles Street – in downtown St. Augustine.
Tucked away on this tiny street are some of St. Augustine's best international restaurants as well as small boutique shops and antique stores.
It's also home to one of America's best breakfast dishes according to PBS – the guajiro at La Herencia Cafe, a local Cuban restaurant on Aviles.
The guajiro is a feast for the senses – an omelette on top of toasted Cuban bread, topped with black beans, pulled pork, salsa, and cheese – this dish is just fabulous.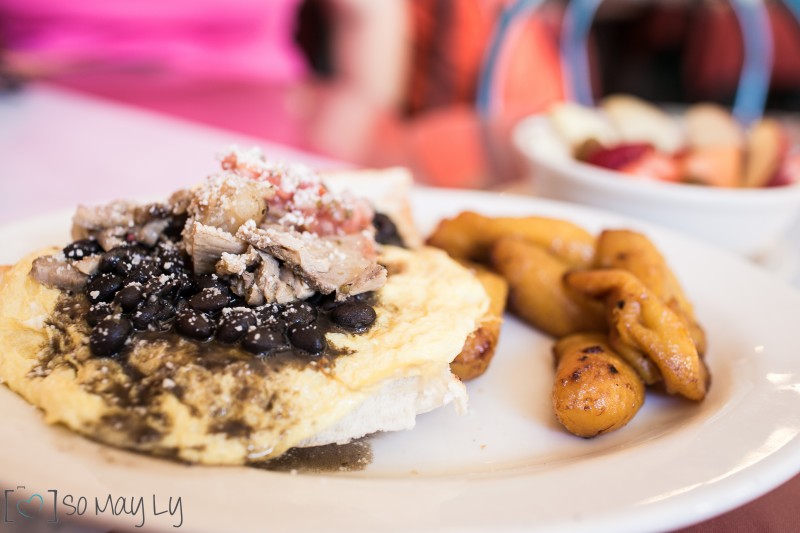 Around the corner on Aviles, next to the Antiques and Uniques shop – which may or may not be a haunted spirits portal – is the small and homey Greek and Polish restaurant, Gaufre's and Goods.
This is a must-try restaurant, particularly for some of the best Polish pierogies I've ever had the pleasure of tasting.
They are pan-seared crispy with sliced onions and bacon and had such great flavor, with a variety of fresh fillings from spinach, to cheese and potato and lamb.
This is how pierogie dumplings should taste.
There are also specials from time to time, like the yemista, delicious little Greek stuffed tomatoes and peppers filled with rice and meat.
Built in 1888 by Henry Flagler, the Alcazar Hotel and Casino was once home to one of the finest winter resorts for the wealthy New England elite, complete with the world's largest indoor swimming pool.
Today the Hotel Alcazar is now home to St. Augustine's City Hall and the Lightner Museum, a collection of Mr. Lightner's collection pieces from around the world including a shrunken head from South America and a programmable orchestrion.
It's also home to Cafe Alcazar, where diners can lunch on the floor of the indoor swimming pool where the elite once swam and dived between the columns.
Try the escargot, plump and freshly prepared with garlic butter and minced herbs and white wine, or the east meets west curried chicken salad.
You could almost imagine being back in the early 1900s when guests dived and swam around the columns where the pool once was, live classical piano music plays.
It's this timelessness that makes St. Augustine such an enchanting place.
There's so much to see, to do, and most importantly, to eat in St. Augustine, that when it comes time to leave, you'll want to return again and again to explore some more of the wonderful hidden eats and charms in St. Augustine.
St. Augustine's Food Festivals
March – St Augustine Lions Seafood Festival
April – Annual Rhythm and Ribs Festival, Taste of St. Augustine Festival
September – St. Augustine Spanish Wine Festival
October – Datil Pepper Festival, St. Augustine Independent Restaurant Association Food and Wine Fest, St Augustine Greek Festival, A Taste of the Beach, Oceanwise Sustainable Seafood Fundraiser for the Friends of the GTM Reserve
November – Annual St. Augustine Great Chowder Debate
Slow Food First Coast's Monthly Tour de Farm
Take a ride around the region for a first-look into the fall harvest and an opportunity to learn about our local food system. See where your food comes from and meet the farmers who produce it! The tour is from noon to 5 p.m. and includes farms in St. Augustine, Hasting, Elkton, Ponte Vedra and Jacksonville area. Chefs from area restaurants will be at each farm demonstrating cooking techniques and recipes using local-grown produce. A $20 car pass is required to participate. For more information and a list of participating farms, visit
http://slowfoodfirstcoast.org/event/tour-de-farm-2015
Follow St. Augustine on Social Media
FloridasHistoricCoast.com
facebook.com/officialstaugustine
twitter.com/flhistoriccoast
instagram.com/flhistoriccoast
Special Thanks to Barbara Golden, communications manager of the St Augustine, Ponte Vedra, & The Beaches Visitors and Convention Bureau for her invaluable insight and sharing with us her love for her city during our stay and to Kathy Catron, director of communications for the St Augustine, Ponte Vedra, & The Beaches Visitors and Convention Bureau for inviting us to visit!
Photography by So May Ly Photography of SoMayLy.com