PRESS RELEASE
Marlow's Tavern is bringing the tempting taste of the Big Easy to Central Florida with its annual Bayou 'n Bourbon menu, available through March 28.
"I have always been impressed by Louisiana's rich culinary heritage, which draws on French, German, Spanish, African and Native American influences," said John C. Metz, executive chef and co-founder of Marlow's Tavern. "We've been letting the good times roll in our kitchen creating appetizers, entrées and cocktails that show off that unique blend of flavors from New Orleans with a Marlow's twist. Let's just say we're throwing our own parade for the palate."
To kick up the local spice another notch this year, Metz's team has added Classic Creole seasoning from Woodstock-based GG's Fine Food to several of its recipes.
"Linda "GG" Gibson learned to cook Creole the old-fashioned way – from her grandmother," Metz said. "Her seasonings are very traditional in the classic Louisiana style."
When the Cajun craving strikes, the Bayou 'n Bourbon menu is ready for lunch and dinner. New items on this year's menu include the following:
· Bayou Lump Crab Dip – Creole-spiced lump crab, andouille, spicy mustard, Asiago, Parmesan crust and toasty French baguette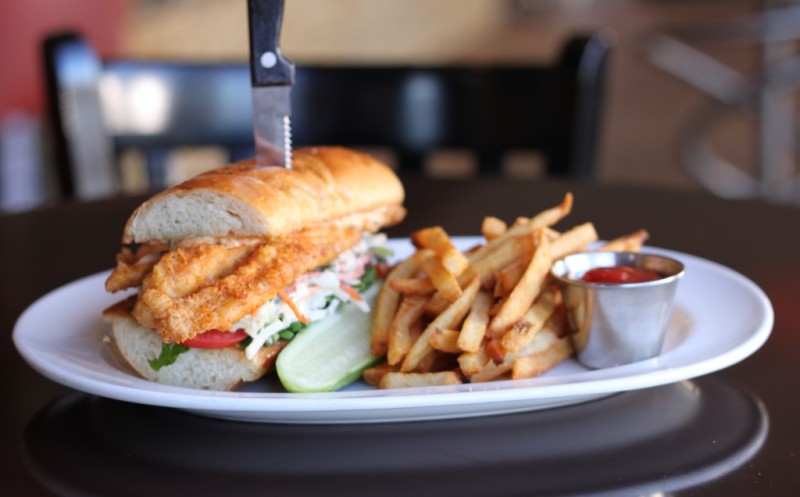 · N'awlins-Style Po' Boy – fiery spiced red fish, apple-cabbage slaw, shredded lettuce, Roma tomato and Creole rémoulade on toasted baguette
· "The Big Easy" Muffaletta – imported mortadella, Genoa salami, spicy capicola, GG's secret recipe olive salad, melting provolone on pressed ciabatta bread
· Sweet Bourbon St. Rib-eye – blackened Jack Daniel's Honey-blazed rib-eye, jumbo asparagus and a creamy crawfish pie
Plus, Marlow's signature Bayou 'n Bourbon menu favorites include Roasted Chicken & Shrimp Gumbo, Daily Flatbread from the Bayou, Deconstructed Jambalaya and Honey Bourbon Bread Pudding.
For guests who prefer to be spirited away New Orleans-style, Marlow's has crafted a special menu of drinks and handcrafted cocktails including:
· "Pat's" Marlow's Hurricane – a New Orleans tradition stolen from Pat O'Brien's. His secret recipe all "jazzed up" with Bacardi light rum, fresh orange juice and a floater of Bacardi. Hold onto your beads!
· Bourbon Rum Punch – Old Forester, Meyer's Dark Rum, vanilla, cream & nutmeg
· Bourbon Street Lemonade – house-made New Orleans original, Southern Comfort, lemonade, kiss of mint, fresh lemon & lime and a dash of simple syrup
· Sokol Blosser Evolution, Oregon 16th Edition – unique blend of nine different white grapes, produced and bottled in Oregon with hand-selected Oregon, Washington & California fruit, bright straw, exotic tropical citrus, hints of spicy apple with lush, crisp, bright finish
· ABITA® Turbodog-Draught – Turbodog Dark Brown Ale brewed with pale, caramel, chocolate malts and Willamette hops, rich flavors, perfect partner for all things Cajun!
· ABITA® Wrought Iron IPA-Bottle – Abita Wrought Iron IPA is the resilient, indestructible nature of New Orleans. India Pale Ale forged with intensity of apollo, equinox and mosaic hops, bright as iron from a fiery forge, perfect for a night on the bayou
During the celebration, one lucky grand prize winner and a guest will enjoy a weekend in New Orleans listening to music legends such as Stevie Wonder, Red Hot Chili Peppers, Pearl Jam, Flo Rida and many more at the New Orleans Jazz and Heritage Festival. Visit www.MarlowsTavern.com for contest details and registration.
Marlow's fans can also enter on the tavern's Facebook page for a chance to win Bayou 'n Bourbon prizes between February 19 and March 17. A prize winner will be randomly selected to win dinner for four ($100 value), with a second drawing for dinner for two ($50 value).
Finally, Instagram users are encouraged to share their Bayou 'n Bourbon experience and tag @marlowstavern. Lucky winners will have their image regrammed and receive a complimentary Honey Bourbon Bread Pudding.