With a recent visit to Ocean Prime, we enjoyed a heartfelt and elegant experience with their limited time Cooper River Salmon from the Alaska Seafood institute. This fish comes straight from Alaska's Copper River, which is the birthplace of some of the most renowned wild Alaskan salmon.
Aside from the food, the Ocean Prime family at the Orlando, FL location would be the main reason for us to return to the restaurant; the staff is very tentative and genuine.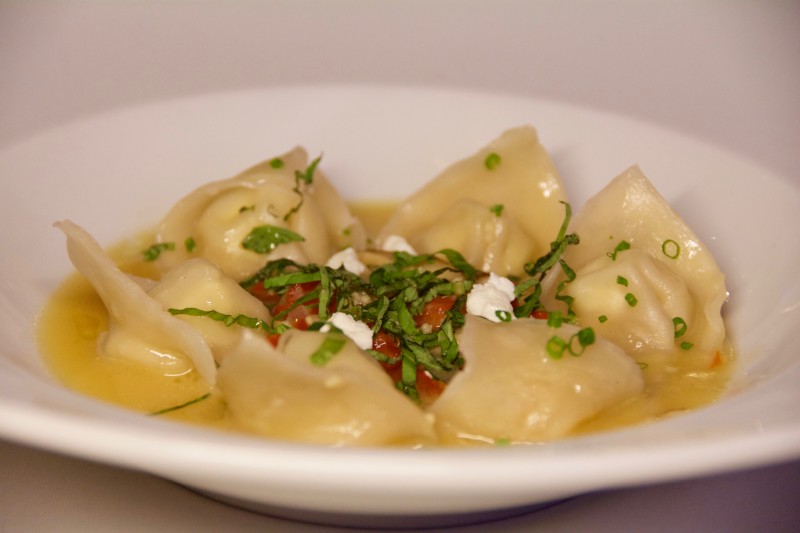 To begin our meal, we had the Sonoma Goat Cheese Ravioli with Golden Oak Mushrooms. Textures were fabulous, but it was a touch too salty for my preference.
Heirloom Tomato and Burrata Cheese was light, especially with the arugula salad. The Burrata cheese is very smooth and tasted a little sweet like cheesy whipped cream.
Colorado Lamb Chops with Arugula Pesto, Snap Peas, and Mint Vinaigrette was our favorite dish of the night. The lamb is tender and the flavors are on point, with the mint vinaigrette adding a sweet touch to each bite of lamb.
This is nicely done Yellowfin Tuna with Marble Potatoes, Fava Beans and Truffle Jus, with tuna itself accentuated by the sauce that brought out different flavor notes of the tuna.
The Copper River Salmon is served with Alaska King Crab Salad, Asparagus, Spring Peas and Lemon Vinaigrette and topped with Tomato Fondue. (Price varies by location.)
Salmon is rich in heart-healthy Omega 3 fatty acids and are a great source of protein and essential amino acids.
The salmon is nice and buttery, but can risk being dry if overcooked. The salad is refreshing with the lemon vinaigrette and served with a generous portion of Alaska King Crab.
Black Truffle Mac & Cheese and Creamed Spinach are two of the many sides on the menu at Ocean Prime. Both are smooth and creamy in their own way.
The Chocolate Peanut Butter Pie consists of Peanut Butter Mousse and Bittersweet Chocolate Ganache. The mousse had more of a cream cheese taste with a hint of peanut butter. The mousse is covered by a dark chocolate coating and placed on the bittersweet chocolate ganache.
The dark chocolate coating is nice, but the ganache did not make a big impression, though beautifully presented.
The Butter Cake is served with Vanilla Ice Cream, Fresh Berries, and a fruity wine reduction sauce. My favorite part is a bite of ice cream with the gooey center of the cake. Another twist is when we added a bit of the chocolate ganache from the Chocolate Peanut Butter Pie with that bite.
To find a location near you and for more information regarding Ocean Prime, please visit
Ocean Prime
7339 Sand Lake Rd #400, Orlando, FL 32819
Phone: (407) 781-4880
http://www.ocean-prime.com/locations-menus/orlando
Photographers: Ruby Sea and myself (Katherine Nguyen)