HOT OFF THE PRESS RELEASE PRESSES —
——
PRESS RELEASE: The Polite Pig, sister restaurant of The Ravenous Pig in Winter Park, Florida, to open in Disney Springs at Walt Disney World Resort

WINTER PARK, Fla. – Husband and wife chefs James and Julie Petrakis, who have won wide acclaim for their Winter Park, Florida restaurants Cask & Larder and The Ravenous Pig, will expand their Swine Family Restaurant Group to Disney Springs with a new concept, The Polite Pig. Partnering with the James Beard Foundation-nominated chefs will be Brian Petrakis, who owns and operates popular Orlando eatery Greens & Grille. The partnership unites the Petrakis brothers on a restaurant venture for the first time.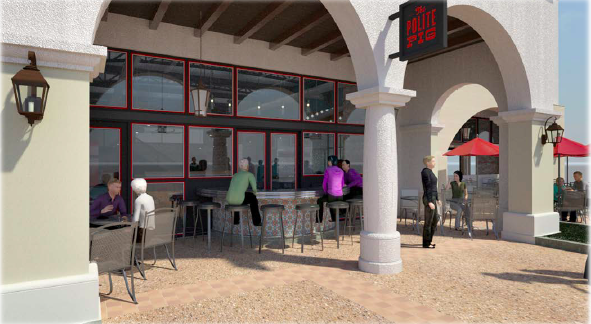 Scheduled to open in spring 2017, The Polite Pig will feature a variety of wood-fired smoked and grilled items. The restaurant will also introduce an innovative beverage program that serves all drinks on tap, including Cask & Larder beer, wine, and cocktails.
"As a locally-based restaurant group, it's great to bring our new concept to Disney Springs where we'll have the opportunity to showcase genuine Florida cuisine for guests from around the world," James Petrakis said. "With so many talented chefs opening new restaurants at Disney Springs, we're really excited to be part of a group helping Orlando distinguish itself as a world-class culinary destination."
The Polite Pig will be located in the Town Center neighborhood. The 5,000-square-foot venue will be open daily, with seating for about 200 guests. Construction will be led by Gomez Construction, and HHCP Architects will oversee the restaurant's overall design. Anna Schmidt Interior Design will handle interior design and Lure Design will spearhead branding efforts. All four firms are based in Florida.
Photos of the building and construction can be found at WDWMagic.com.
About The Swine Family Restaurant Group:
Since opening in 2007 as one of the first Florida restaurants devoted to seasonal and local food, The Ravenous Pig has won numerous regional and national awards, including multiple James Beard Foundation "Best Chef" nominations for the Petrakises. It has also served as a career launching pad for chefs who have moved onto leading roles at other restaurants. Likewise for Cask & Larder, which was named one of Esquire magazine's Best New Restaurants in 2014 and continues to garner acclaim not only for its Southern-inspired food, but for its brewery, under the direction of brewmaster Larry Foor, Jr. Swine & Sons, located just a few steps west of Cask & Larder, opened in 2015 under the direction of chef/partners Rhys and Alexia Gawlak. It serves breakfast, eat-in or takeout sandwiches and snacks, along with house-made charcuterie.
The Petrakises are also partners/consultants in a pair of much-anticipated restaurants that will open in the near future – DoveCote, in downtown Orlando, and a Cask & Larder location at Orlando International Airport.