When it comes to vacation resorts, Orlando is home to many, but few offer the level of luxury and impeccable cuisine as Reunion Resort. This world class resort which sits on 2,300 acres of beautiful Florida land, and offers some delectable choices when it comes to dining fare.
The Grande Lobby Sushi Bar is a prime choice for the casual sushi aficionado; from spicy tuna rolls to their signature Grande Reunion Roll, any choice is a good choice when deciding on sushi. Reunion also has plans to expand their sushi bar and selections in the near future.
Forte is one of Reunion's signature restaurants and is currently modernizing while maintaining focus on the culinary history of Tuscany & Milan. Chef Russell Stehle created his own taste of some classic pairings.
Compressed Watermelon with Feta and Mint was a delightful and refreshing way to start the meal. The sweetness of the melon paired with the balsamic reduction was a pleasurable contrast while coupled with the saltiness of the Feta and bright flavor of the micro mint.
The Panzanella Salad was a continuation of bright and bold flavor from the Heirloom tomatoes to made- in- house croutons that served as great vehicles for Forte's signature vinaigrette.
Braised Beef Short Rib with Mushroom Risotto, Grilled Shrimp and Fried Leeks was the main course for this meal. The risotto was cooked to delicate perfection and plated beautifully. This dish combined all the best tastes of umami and was by far my favorite.
Wine Pairings
Rosso Di Montalcino Col D'Orcia 2011
Château Montelena Chardonnay 2010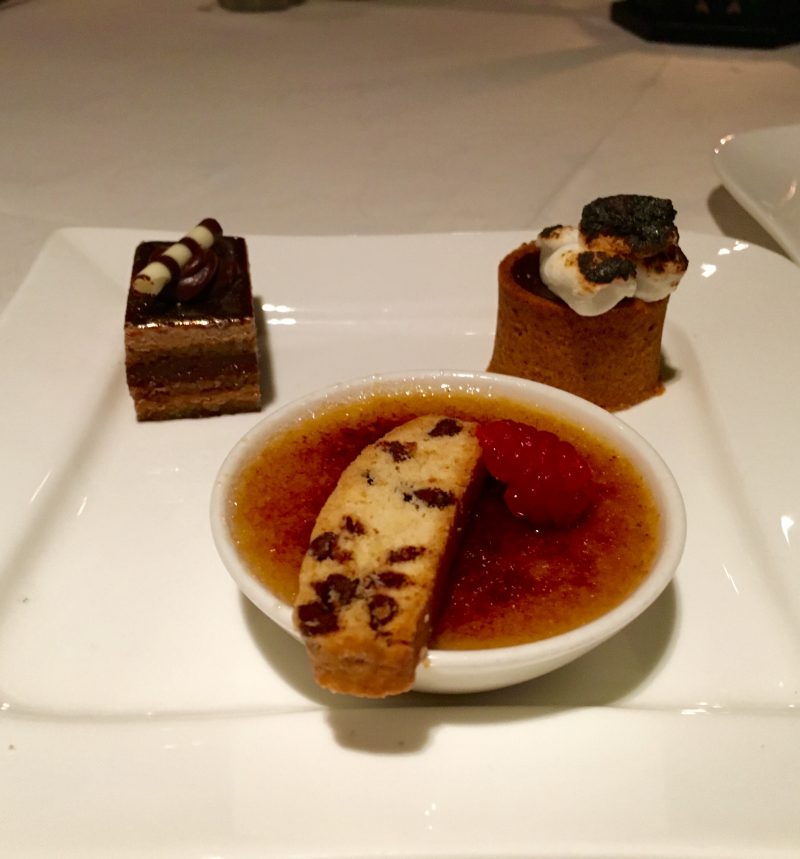 For dessert, Reunion Resort's flagship restaurant Eleven, located on the 11th floor, offered a selection of mini pastries including s'mores tarts, creme brulee and many others. My personal favorite was the mini fruit tart with a combination of sweetened cream and fresh fruits.
Reunion Resort is a hidden gem along Florida's culinary map. This is a worthwhile destination that offers a unique dining experience. I highly recommend visiting Reunion Resort on your next trip to the Sunshine State.
Reunion Resort
7593 Gathering Drive Kissimmee, Florida 34747
http://www.reunionresort.com/