Paramount brings Farm-To-Table dining that embraces the fresh and healthy flavors of the Mediterranean. Paramount says that they "care about what they put on your plate, which is why all of their meats are GMO, hormone and antibiotic free, grass fed and natural raised."
Paramount also "cares about the local community and how they impact the environment." They source their produce locally. They use plates and other materials made from recycled materials and vegetable fibers that are 100% biodegradable throughout their store.
The Falafel is completely vegetarian, but thick in texture. It tastes better with the creamy sauce that comes with it at Paramount.
Grape Leaves – rice and seasoning wrapped in grape leaves. This was my favorite item on the menu. Simply made, yet the flavors are very refreshing.
Yale Special (top left) – Chicken Shawarma on a bed of French Fries, topped with shredded Lettuce, pickled Cucumbers & Turnips, Tomatoes, Parsley, covered with Tahini and Garlic Sauces.
Mezzo Plate (top right) – Tabbouleh, Baba Ganoush, Falafel, hummus with pita. Tabbouleh is a salad we would choose if we wanted a light and quick lunch from Paramount.
The taste is light, lemony and minty. As fun as it is to say Baba Ganoush, the eggplant dish is far from being our favorite; it is very unique and the flavors are very strong, even for an experienced palate.
Sampler Plathe (lower center) – Chicken Kebab, Kafta Kebab, Chicken or Beef Shawarma, Rice and Fries or Salad.
The grilled chicken is very tender, juicy and moist.
Kafta Kebab is a grilled skewer of ground beef mixed with exotic Arabic spices. It is very similar to meatloaf (on a stick).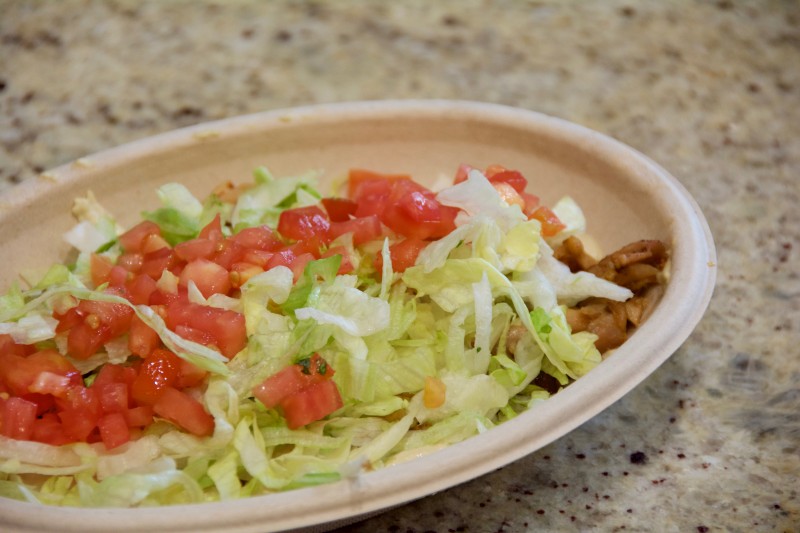 Aside from dishes with pre-determined ingredients and items, Paramount allows you to create your own saw, bowl, pita, and salad similar to Chipotle. At the very bottom of this post, you can find an image of the steps.
The hummus bowl is made nicely and the hummus itself is smooth. The bowl is very filling and you can save the leftovers for a second meal, possibly with some pita.
This is a pita with beef shawarma. Beef shawarma is grilled steak seasoned with Paramount's blend of unique spices. It is grilled on a rotating spit before being shaved off to be served accordingly.
The Nutella Saj looks tasteful, but we were unable to try it due to allergies.
Lebanese Kinafe – A Mediterranean cheese dessert drizzled with sugar syrup. This is unique, savory and sweet that most cheese and dessert lovers will enjoy.
Baklawa – Stuffed with pistachio or cashew nuts. Although you may believe it is healthy due to pistachio and cashew nuts, think again. This dessert is packed with more sugar than you may believe. It is delicious and best in small portions.
Fresh Juices – Mango, Strawberry and Cocktails (strawberry, mango and banana). The juices are liked by many, but we did to fancy it too much. The lemonade is not your typical lemonade you may find at a farmer's market, etc. It had a unique taste to it that we did not recognize. If we had to choose, we prefer the mango and strawberry blend.
For more information, please visit Paramount Fine Foods.