Chef Emeril Lagasse, of all chefs, really needs no introduction, with his signature proclamations of spice "Bam!" and having hosted literally thousands of shows on Food Network. Most recently he has been the host of "Emeril's Florida" on the Cooking Channel, bringing attention to many great local Florida chefs and food purveyors.
Emeril Lagasse is also the chef/proprietor of 13 restaurants, including two here in Orlando – Emeril's Orlando at Universal CityWalk and Emeril's Tchoup Chop at Loew's Royal Pacific Resort at Universal Studios.
Douglas Braselman was named Chef de Cuisine of Emeril's Orlando in April 2015, equipped with more than 14 years of experience in the culinary arts.
Braselman, a New Orleans native, joined Emeril's Orlando after spending nearly 10 years under the guidance of some of the best chefs and restaurantuers New Orleans has to offer including Chef David Slater, Chef Gregg Collier, Chef Susan Spicer, Chef James Wong of Trey Yuen and Roy Barre.
These experiences led to opportunities in award-winning restaurants such as Redfish Grill, Ralphs on the Park and then in 2011, at Chef Emeril Lagasse's flagship restaurant in New Orleans' Warehouse District.
Braselman brings with him the flavors of his Louisiana heritage, while being hands-on in the kitchen, using only the best-quality local and regional ingredients to drive his seasonal menu and nightly specials.
"I'm excited to continue Chef Emeril's tradition of 'New' New Orleans cuisine featuring the great products available here in the state of Florida."
We were recently invited to try their new menu out at Emeril's. It was a brisk walk to the restaurant from the parking garages, wading through the crowds at Universal's Citywalk coming and going from the parks. It is undoubtedly the most high scale restaurant on the strip, though dress code is definitively more lax than the typical fine dining restaurant due to the locale.
If you are looking for something different from the traditional New Orleans Barbecue shrimp, try out the wonderful crispy duck wings, glazed with a sticky chili sweet sauce and blue cheese vinaigrette. The wings are lip smacking good and leave you wanting for more.
CRISPY DUCK WINGS
sticky chili glaze, blue cheese vinaigrette
14
Salads here are more than your typical caesar or house salad – but change seasonally with the freshest ingredients available. During our visit, we had a lovely strawberry and grapefruit arugula salad with prosciutto and a lovely vinaigrette dressing.
The entrees from the pan seared scallops to the chargrilled ribeye and double cut pork chop are all crafted with finesse and deep flavors, but our favorite dish of the evening was a pan roasted duck dish with dirty wild rice and collard greens – absolutely delicious with a great cajun southern flair.
Desserts like the signature Emeril's Banana Cream pie and red velvet cake are classic mainstays here, but if it's available – do try their fantastic rendition of the Mardi gras classic – king cake!
PAN SEARED DIVER SCALLOPS
creamy corn moque choux, wilted greens, local tomato jam
34

PAN ROASTED BELL & EVANS CHICKEN BREAST
foie gras dirty wild rice, wilted greens, maple jus
29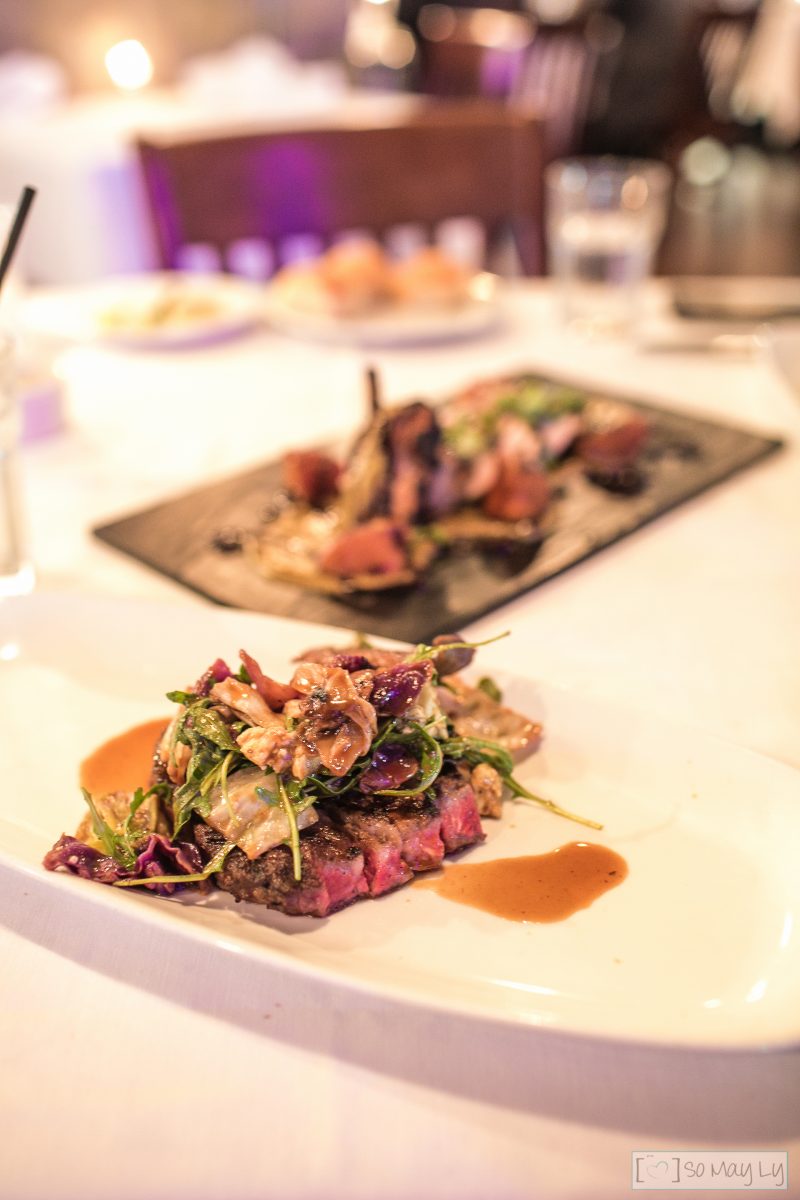 CHARGRILLED RIBEYE*
rosemary charred cabbage, onion jam, roasted oyster mushrooms, buttermilk bleu cheese, arugula
48

GRILLED DOUBLE CUT PORK CHOP*
caramelized sweet potatoes, tamarind glaze, green chili molé
32
Desserts
EMERIL'S BANANA CREAM PIE
Graham Cracker Crust, Caramel Sauce, Chocolate Shavings
10
LEMON CHEESECAKE
blueberry sage compote
9
RED VELVET CAKE
cream cheese frosting, candied almonds, chocolate sauce
8
KEY LIME PIE
toasted meringue, berry coulis
10
FLOURLESS DECADENT CHOCOLATE TORTE
butter pecan sauce
10
KING CAKE
During Mardi Gras Season
Emeril's Orlando
6000 Universal Blvd.
Universal CityWalk
407-224-2424
emerilsrestaurants.com/emerils-orlando