ORLANDO, FL — Earls Kitchen + Bar recently opened at The Mall at Millenia on Wednesday, September 21, 2016. The opening will mark the second Florida location and 68th restaurant overall for the iconic restaurant group, which had its beginnings in Vancouver, Canada and started an expansion into the eastern United States in 2014 in South Florida.
Earls Kitchen + Bar marries "modern, made-from-scratch cuisine and a world-class beverage program with beautifully designed dining rooms offering a relaxed culinary experience."
According to Earls founder and CEO Stan Fuller, the company is "more a collective of individually compelling restaurants that share core values than a traditional chain."
Overseen by Executive Chef Simon Zanotto the Orlando menu will be tailored to the local market, relying on regional and seasonal products that showcase the restaurant's commitment to quality and sustainability.
In addition to sourcing local ingredients where possible, Black Angus Beef is Certified Humane® (raised without antibiotics or added growth hormones and fed a natural vegetarian diet) and all seafood is sustainable certified.
We started off with some house cocktails.
Marilyn Monroe (10)
Skyy vodka, passion fruit, vanilla, fresh lime and prosecco.

Old Fashioned (12)
Maker's mark bourbon, demerara sugar, and rootbeer bitters.

Grapefruit Negroni (10)
Bombay dry gin, campari, aperol, carpano antica, fernet branca and grapefruit.
There were a variety of drinks that celebrated the classics and introduced the twists.
I was quite drawn to the architecture and the design of the restaurant so I asked for a little tour.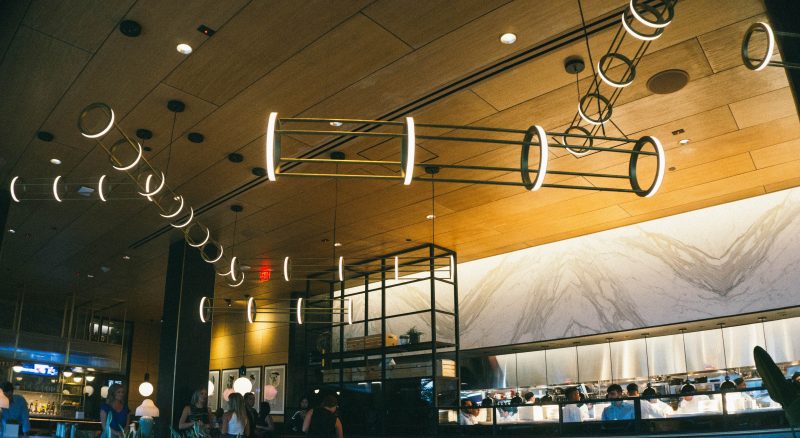 Thrush Holmes: Anarchy (2015)

Pascal Vochelet: Punk Attitude (2015)
Andrew Spear: Juice Birds (2016)

We continued the night over about 10 dishes served family style.
Starting from top left to right
1. Korean Spicy Wings
2.California Roll
3. Spinach Artichoke dip with 3 cheese blend 
4. Sicilian Calamari 
Starting from top left to right
1.Hunan Kung Pao (11) 
2.Bibimbap (12)
3.Fresh Atlantic Salmon (20)
4.Steak with Chimichurri and grilled cherry tomatoes (26-40)
The dish that won me over the night was this pefectly cooked beauty below
Bronx Burger (14.75)
Battered onion rings, red pepper relish, aged white cheddar, citrus arugula, on a freshly baked brioche bun.
Overall, the architecture and design elements of Earl's impressed me more than the food.
However Earl's Kitchen + Bar definitely achieved the sense of being independent from the overcast of Mall Of Millenia.
Also look for to Happy Hour at Earls with twice daily sessions Monday through Friday – from 3PM to 6PMand again from 9PM to midnight offering specials on wine, beer, cocktails and appetizers.
But if that weren't enough, there are also "Weekly Rituals" – tempting promotions running Monday through Thursday with nightly specials on kitchen offerings, different craft cocktails, craft beers and even "That's How We Roll Tuesdays" featuring $3 sushi rolls and half-priced bottles of wine.
Earls Kitchen + Bar is located at The Mall at Millenia,  4200 Conroy Road in Orlando. The restaurant will offer lunch and dinner daily along with weekend brunch. Ample parking will be available.
Telephone:  407-345-8260; Website: www.earlsrestaurants.com
Facebook: facebook.com/earlsrestaurants
Instagram: @earlsorlando
                  @earlsrestaurant