Bahama Breeze is geared up for its fourth annual Rumtoberfest, a celebration of all things rum and fun. Throughout Rumtoberfest, Bahama Breeze will have games, prizes, specials, live music, fortune tellers, and other activities at all of their locations every Friday until November 4, 2016.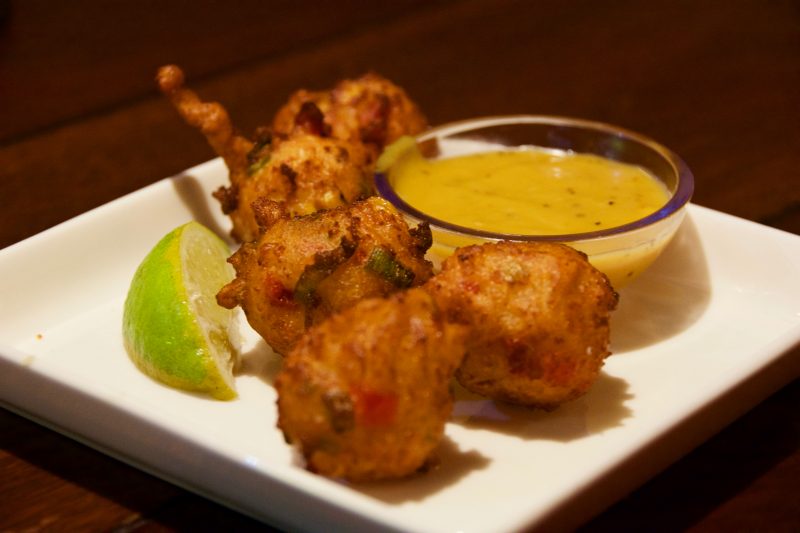 Conch Fritters made with the original Key West-inspired recipe. Served with a citrus-mustard. These fritters were delicious with or without the sauce. Along with the conch fritters, you can find corn and a few chopped vegetables according to their textures and flavors. I prefer to have a larger conch portion than add-ins for the price.
Jumbo Stuffed Crab Shells consists of jumbo lump crabmeat, sweet peppers and scallions gently stuffed into three crab back shells. Served with yellow rice, green beans and a light citrus cream sauce. The crabmeat was flavorful and balanced when mixed with the yellow rice and light citrus cream sauce. The green beans were cooked well; they were not too soft or undercooked.
Rum & Coke Ribs features tender baby back ribs tossed in the restaurant's signature rum and coke glaze.
The Rumtoberfest menu features new cocktails crafted in the spirit of those served at islanders' favorite neighborhood bars. This year's selections include:
Pirate's Paradise – This cocktail gets its name from Port Royal, Jamaica's infamous pirate city. Served in an exclusive take-home glass, this drink features lime, passion fruit, ginger, vanilla and bitters, with an upside-down 50-ml bottle of Captain Morgan.
Rum Thyme – This drink was created in the spirit of Prohibition-era rum runners who brought ships of whiskey and rum into the U.S. from the Caribbean. It features Zaya Rum, Old Overholt Rye, orange juice, lime juice and thyme syrup.
High Tide Swizzle – The swizzle pre-dates the cocktail and is one of the Caribbean's original rum drinks. The word "swizzle" comes from the stick (literally a stick from a tree) that was once used to mix the cocktail and add bittering flavors.
Rum Cocktail Flights – Can't decide which rum cocktail to try? Choose between three options that highlight the most popular Bahama Breeze selections, including:


Mama's Hooch and Holler, featuring Bahamian Sunset, Bahama Mama and the Goombay Smash.
Shark Attack Shack, featuring Yaka Hula Hickey Dula, Zombie and Painkiller cocktails.
Float My Boat Bar, which includes the Curly Tail, Painkiller and Zombie cocktails.
Pick Your Own Rum Flight … served with a side of Coke, or treat yourself to three world-renowned Caribbean rums, like Barbancourt 15 Year Estate Reserve, Flor de Cana 18, and Don Q Gran Anejo.
Visit Rumtoberfest.com for more information, as well as rum tips, recipes, videos, interactive games and to be eligible for our sweepstakes.