Scungry [skhuhng-gree]: additive for being scary and hungry. This describes the new line of doughnuts at Krispy Kreme.
Tasty Chomps is lucky enough to be invited to Krispy Kreme Millenia, which is open 24 hours, to try some of these scungry doughnuts, drinks, and design our own doughnuts. Please note, these doughnuts are usually designed by professionals, but they thought it would be fun for us to get a feel of what it is like to ice some doughnuts. This is harder than you think.
Krispy Kreme Doughnuts classic fall flavors including the Pumpkin Spice Cake Doughnut, the Salted Caramel Latte Doughnut and Pumpkin Spice Latte are available at all Central Florida Krispy Kreme shops through November 24.
The Zombie Doughnuts are a Kreme™ filled shell dipped in either electric blue or green icing. The spooky faces are hand-decorated with black icing and topped with candy eyes. This little one loves these donuts the most, not only because of its creative design, but because of how tasty it is.
A fan favorite is back! The Pumpkin Doughnut is filled with Chocolate Kreme, dipped in orange icing and decorated with black icing. This is my favorite cream filled for this season. Who doesn't like Chocolate Kreme?
The Spider Web Doughnut is filled and dipped in rich chocolate icing. This doughnut is finished off by creating a hand-decorated Spider Web using a white icing.
The Pumpkin Spice Cake Doughnut is an old-fashioned doughnut with pumpkin spice and Krispy Kreme's classic glaze. If you like something simple, yet delicious, this is the doughnut for you. This is my choice of the Fall season doughnuts when I do not fancy a doughnut with a filling. It is soft, fluffy, and sweet.
The Pumpkin Spice Latte features a pumpkin spice blend and is topped with whipped cream and pumpkin topping. This beverage can be enjoyed hot, iced or frozen. This is super sweet and perfect for the Florida life with its iced and frozen options.
The Salted Caramel Latte Doughnut is an espresso Kreme™ filled doughnut and topped with a salted caramel icing and salted sugar blend. An espresso icing drizzle tops off this perfect fall treat.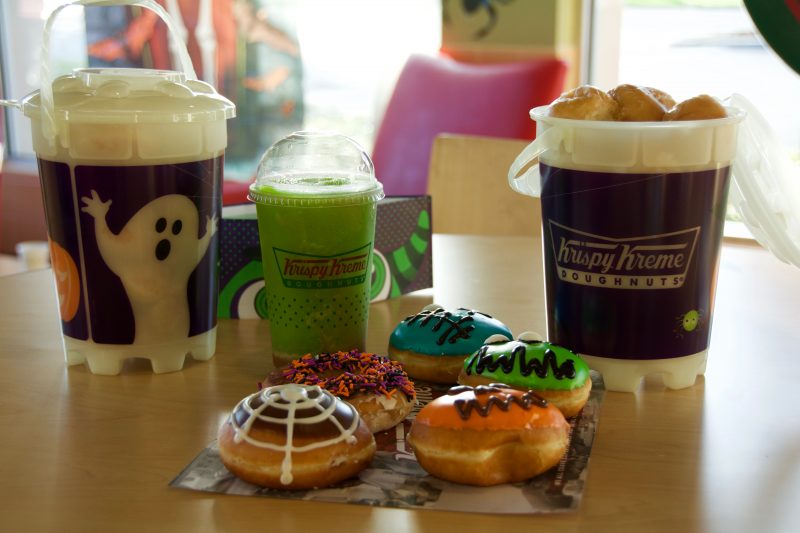 The Caramel Apple Chiller is the sweetest addition to your Halloween costume this year. The tart green apple chiller is swirled with indulgent Ghirardelli caramel sauce to create an impeccable fall treat. It is nice to have in your hand at the beach as you enjoy the sun (after putting on some sunscreen).
Krispy Kreme's Halloween doughnuts and beverage are the perfect addition to your costume party this October. Share your favorite Halloween moments using #Scungry and #KrispyKreme on social media.
On Halloween (October 31), all guests in costume receive one complimentary doughnut of their choice.
Central Florida Krispy Kreme Shops 
Krispy Kreme Winter Park – Drive thru Open 24 hours

1031 S. Orlando Avenue (17-92), Winter Park, FL  32789

Krispy Kreme Millenia – Open 24 hours

4080 Millenia Blvd., Orlando, FL 32939

Krispy Kreme Kissimmee – Open 24 hours

5310 W. Irlo Bronson Memorial Highway, (192 / Mile Marker 11.5), Kissimmee, FL  34746

Krispy Kreme Daytona Beach – Open 24 Hours

980 W International Speedway Blvd., Daytona Beach, FL 32114
In the mean time, enjoy this video of freshly glazed Krispy Kreme doughnuts.