Hello Sweeties Candy & Confections is a sweets shop created by Desiree Kurtz in Lakeland, FL. We contacted Desiree with a initial order of English Toffee with Almonds and Pecans because of a craving after trying the Epcot Canadian Pavillion Maple Bark. Desiree added samples of other treats for us to photograph and taste.
English Toffee with Almonds and Pecans – delicious and balanced between flavors and textures. The toffee sweetness was offset by the semisweet chocolate; however, the toffee is a bit overwhelming when the chocolate dissolved.
Peanut Brittle – will stick to your teeth. It is a great job security for Dental professionals. Some may say it is too sweet, but I don't believe it is. One of my favorite treats of all time! I even bring it to class to munch on during lectures and have it as a snack during study sessions.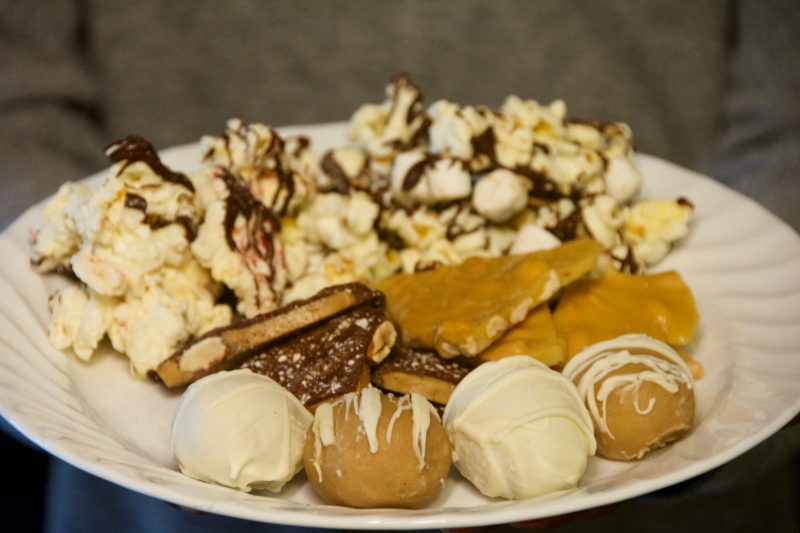 White Chocolate covered Peanut Butter Fudge and Peanut Butter Fudge with White Chocolate Drizzle – these are dense, sweet, and creamy. A perfect gift for your significant other, best friend, or business associates to let them know you're by their side.
Double and Triple Chocolate Cake Pops – tasty and dense, yet fluffy. Make sure you don't leave it out too long if you have refrigerated it. It will become soggy. For many of those who do not know, chocolate is not meant to be refrigerated because condensation will form and alter the appearance and texture. Chocolate keeps best between 65 and 70°F, away from direct sunlight, and protected from moisture. However, if you do refrigerate chocolate, allow the chocolate to come down to room temperature before enjoying it because cold chocolate doesn't melt or disperse flavor as nicely.
Peppermint Bark Popcorn and S'mores Popcorn – sweet and fluffy. The texture will remain crunchy if kept in the fridge to maintain freshness. It's a unique twist to have for movie nights or a stroll in the park.
When we asked Desiree how she came about and decided to create her own sweets company, she replied saying, "A few years back we were pretty short on funds for Christmas so I decided to make candy as gifts for my mom and sisters. It was a hit with all of them so each year for the past few I have made their gifts. I decided to turn it into a business this past Christmas when I realized how much I actually enjoy making sweet treats."