Ocean Prime's Orlando and Tampa locations teamed up with The Dinner Party Project to host a sushi pop-up dinner on Sunday, April 9 at 1010 West in Orlando. A percentage of proceeds were donated to The Human Experience (THE) Orlando, a non-profit, private middle school .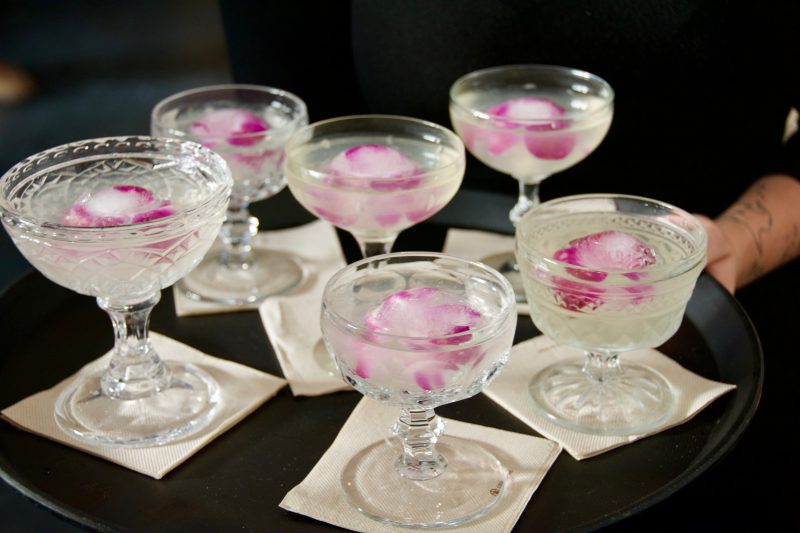 Cocktail hour consists of hors d'oeuvres by Ocean Prime and drinks based off of Tito's Vodka.
Gravlax and caviar with spring pea, cured lemon, fennel, shiso and crispy skin – delicious, smooth and flavorful.
Ocean Prime's Ahi Tuna Tartare with wasabi avocado and ponzu – very fresh, but it would have been better if it was at a colder temperature. Room temperature tuna tartare is not my favorite. The wasabi avocado was smooth and balanced one another. The ponzu was just right with its seasoning.
Hamachi Duo with beet infused rice, red onion pickle and watermelon radish – Hamachi (Pacific Yellowtail) is my favorite when prepared well as it was done by Ocean Prime. The red onion pickle and watermelon radish gives it a nice twist in flavors.
A selection of popular Ocean Prime sushi rolls including the lobster roll, spicy tuna and prime roll – the flavors of each roll are very balanced, thanks to all the ingredients used. Many will say the prime roll is their favorite because it's a good choice when you can't decide whether you'd like some surf or turf for dinner, so why not both?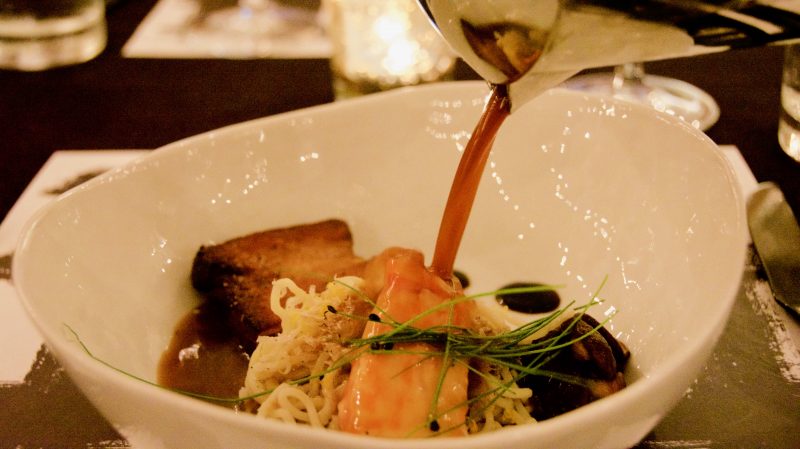 Ramen featuring king crab, pork belly, mushroom and black truffle – the pork belly was more fat than meat in my bowl. It was also dry without allowing it to soak up some broth. The ramen was slightly overcooked. The broth was delicious on its own.
Kobe beef with crispy rice gomae, mirin butter and unagi – the flavors of the Kobe beef were excellent, but were a bit too well done. The greens were delicious as long as they did not get soaked in the broth because it expressed overpowering flavors.
Coconut sorbet with toasted dashi flakes and shaved micronut – the sorbet was smooth with the right amount of sweetness. It was paired with a Bailey's liquor drink that can knock you off your feet. For others, there was coffee. The sorbet tasted great with a splash of the coffee as well. It's a little turn towards Australian coffee.
About The Human Experience Orlando: The Human Experience is a non-profit, private middle school dedicated to the belief that every child deserves the dignity, respect, and honor that comes with his or her humanity.  They reflect their gratitude for life and its potential in our daily pursuit of academic excellence, community investment, and love for all people.
About Ocean Prime: Ocean Prime is a modern American restaurant and lounge from renowned restaurateur Cameron Mitchell. The award-winning Ocean Prime delivers an extraordinary experience with stunning settings, an impressive menu of seafood and prime cuts of steak, signature cocktails, a Wine Spectator-honored wine list and truly genuine hospitality.  From the kitchen and bar, there is an appreciation for ingredients that comes through in every dish. The menu is classic and yet there is a modern sensibility to the preparations which range from lighter fare to indulgent seafood presentations, juicy steaks and decadent desserts.  Each Ocean Prime location is dramatically designed and inspired by the unique energy of the city where it's located.
About The Dinner Party Project: The Dinner Party Project (TDPP) started simply as a gathering of friends, new and old, in Founder Dana Marie Roquemore's home. Through word-of mouth and social media, The Dinner Party Project has quickly become a favorite way for Orlandoans to connect, in welcoming settings complete with local food and great conversation. While the TDPP brand has grown, each dinner maintains its original intimacy and character—with only eight guests who are randomly selected to attend.