by Hoang Nguyen
We were invited to try out one of Ruth's Chris Tastemaker Dinners featuring an assortment of Johnnie Walker. The atmosphere was very casual, but I felt that was what really made the night memorable.
I have to be honest, my first time visiting Ruth's Chris was not great, and the main reason for it was the atmosphere. This experience completely changed my perspective.
The dinner was quite informative, with the history of Johnnie Walker and their whisky. Two characteristics of Johnnie Walker bottles is that it has the iconic square bottle, which was established by Johnnie Walker's grandson, Alexander Walker, in 1860. With this shape, it meant more bottles fit the same space and resulted in fewer broken bottles. The other characteristic is the label, which is placed at an angle of 24 degrees. This allows the text to be more visible and allows text to be made larger.
We were escorted to our table and immediately served our first drink of the night.
The Scottish Standard, which comprised of Johnnie Walker Black, Cointreau, Cardamom, Prosecco. This drink was paired with Stuffed Shrimp Scampi, Lasagna Roulade Spinach Ricotta, and Tomato Basil Sauce. The dish was a refreshing way to start off the night. The Prosecco did well to mask the sometimes intense flavor of the Johnnie Walker Black. The shrimp was made well with a zesty lemon flavor and garlic, which was not overpowering. The lasagna was not packed with as much flavor as I was hoping for, and the pasta was also on the dry side, even with the marinara sauce.
The second course was a balsamic roasted pear salad with caramelized pecans and blue cheese, paired with Johnnie Walker Black, served neat. The salad was refreshing, where the sweetness of the pear and pecans helped ease the strong bite of the Johnnie Walker Black. The pear had just the right amount of sweetness, without tasting like it was soaked in syrup.
The third course was a red lentil and cauliflower soup with cilantro and tomato chutney. The drink that accompanied the entree was called the Tiki Scotsman, which was made with Johnnie Walker Black, Fassionola Syrup, Fresh Squeezed Lime Juice, Mint, and Nutmeg. The soup had a strong curry flavor, which I enjoyed. The drink was a little too sweet for my taste. However, this drink would be great for a person who does not regularly drink scotch/whisky.
The fourth course was the Petite Filet Mignon Oscar with Lyonnaise Potatoes, Roasted Asparagus and Mushrooms. This entree was paired with Johnnie Walker Platinum, served neat. The platinum had a very smooth flavor, which complemented the heaviness of the filet and crab meat. The steak was cooked to perfection and just melted in your mouth.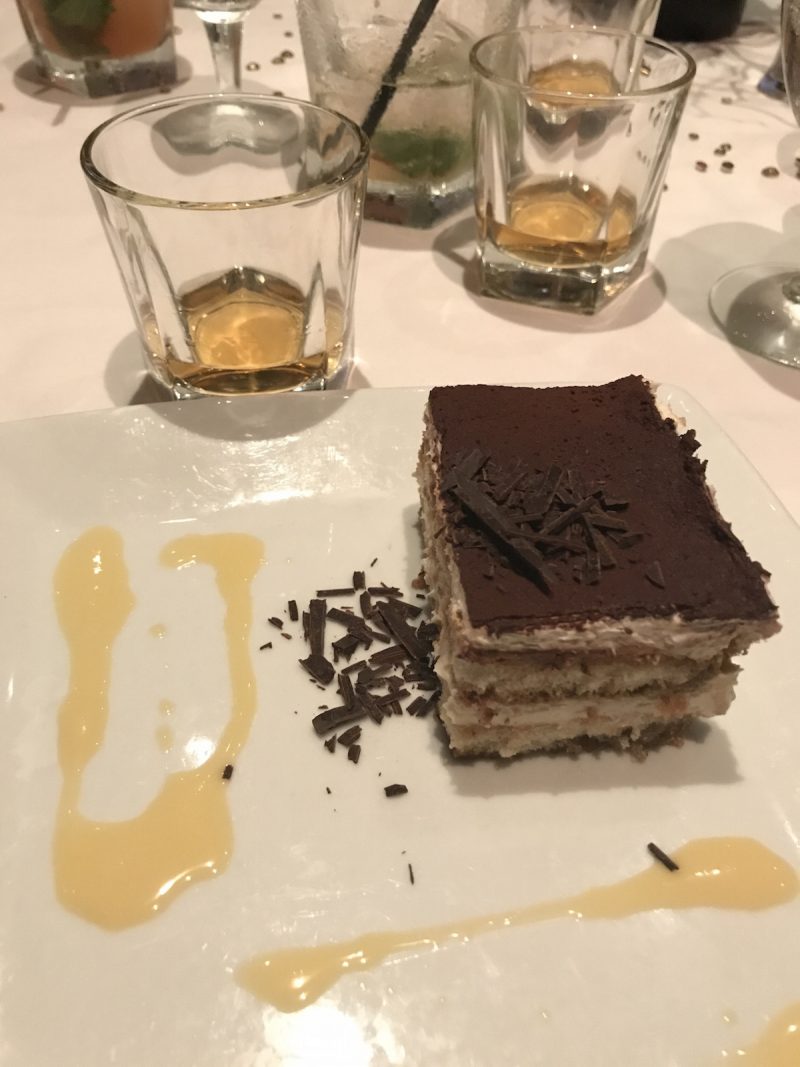 The night ended with tiramisu and a glass of Johnnie Walker Blue served neat. The tiramisu was very light, not overly sweet. The tiramisu lacked more of the espresso flavor. Other than that, the creaminess of the dessert enhanced the flavor of the exceptional blend of the Johnnie Walker Blue. I highly recommend this experience for anyone. Not only was it a very fun night, but you might learn a few interesting tidbits. If you would like more information on upcoming tastemade events, such as their Chateau Montelena wine dinner next month, please check out the following link:
https://www.ruthschris.com/promotions/taste-maker-dinners?utm_source=WDPR&utm_medium=Various&utm_campaign=WDPR