"We are thrilled to open another restaurant in Orlando," says Huey Magoo's President and CEO Andy Howard. "Huey Magoo's is debuting a fresh new design and introducing wonderful new programs like our 'Random Acts of Kindness'. Restaurant Row in Dr. Phillips in one of the most bustling dining destinations in the area. We are proud to be the latest edition to Plaza Venezia and look forward to building lasting relationships with our amazing customers in Central Florida."
Buffalo sandwich: hand-breaded buffalo tenders, Iceberg lettuce, tomato, pepper jack cheese, and jalapeño ranch dressing. Served on warm Texas toast or a toasted bun and crinkle-cut fries. I suggest trying this sandwich with Texas toast as the crispy toast adds a new texture to the sandwich. Eating toast instead of the bun will not overwhelm you with the feeling of having it stuck in your mouth while trying to enjoy your chicken.
Magoo's favorite: hand-breaded or grilled chicken with mixed greens, cranberries, walnuts, grape tomatoes, and raspberry walnut vinaigrette dressing. Very light and fresh for Spring or Summer seasons, especially with grilled chicken. It is a nice meal for lunch and very filling with the amount in each bowl.
Garden Salad: hand-breaded or grilled chicken with mixed greens, grape tomatoes, cucumbers, and mozzarella and cheddar cheese. I prefer this salad with ranch dressing and a smaller portion as a side. If ordered, I suggest ordering another dish so you can eat half of this salad with another dish, while saving the other half of the salad for a later time. This works because of the large amount they give you and it will be fresh to have later that day or the next day. More Magoo's for later!
Garlic Parmesan: self-explanatory. Uniquely delicious. It tastes even better as leftovers.
5 Tenders meal: marinated chicken tenders served with crinkle-cut fries, Texas toast and your choice of a dipping sauce. You can choose from hand-breaded, grilled or buffalo; no matter what you choose, it will be delicious. My favorite sauces for the tenders include Magoo sauce and ranch. Not only will the sauces are great with the tenders, but they are delicious with the fries. Forget ketchup!
If you are not in the mood for fries, you may substitute it for Huey Magoo's freshly made chips. Share them with friends! I know I have and they think the chips are some of the best. Eat them fast because they will get stale the next day.
Desserts include fabulous cookies. Each cookie is soft and chewy, just how I like it. The chocolate chunk may be my favorite. Huey Magoo's cookies are freshly baked in-house every day. If you're not interested in cookies, there are also apple slices. The apples are fresh and sweet.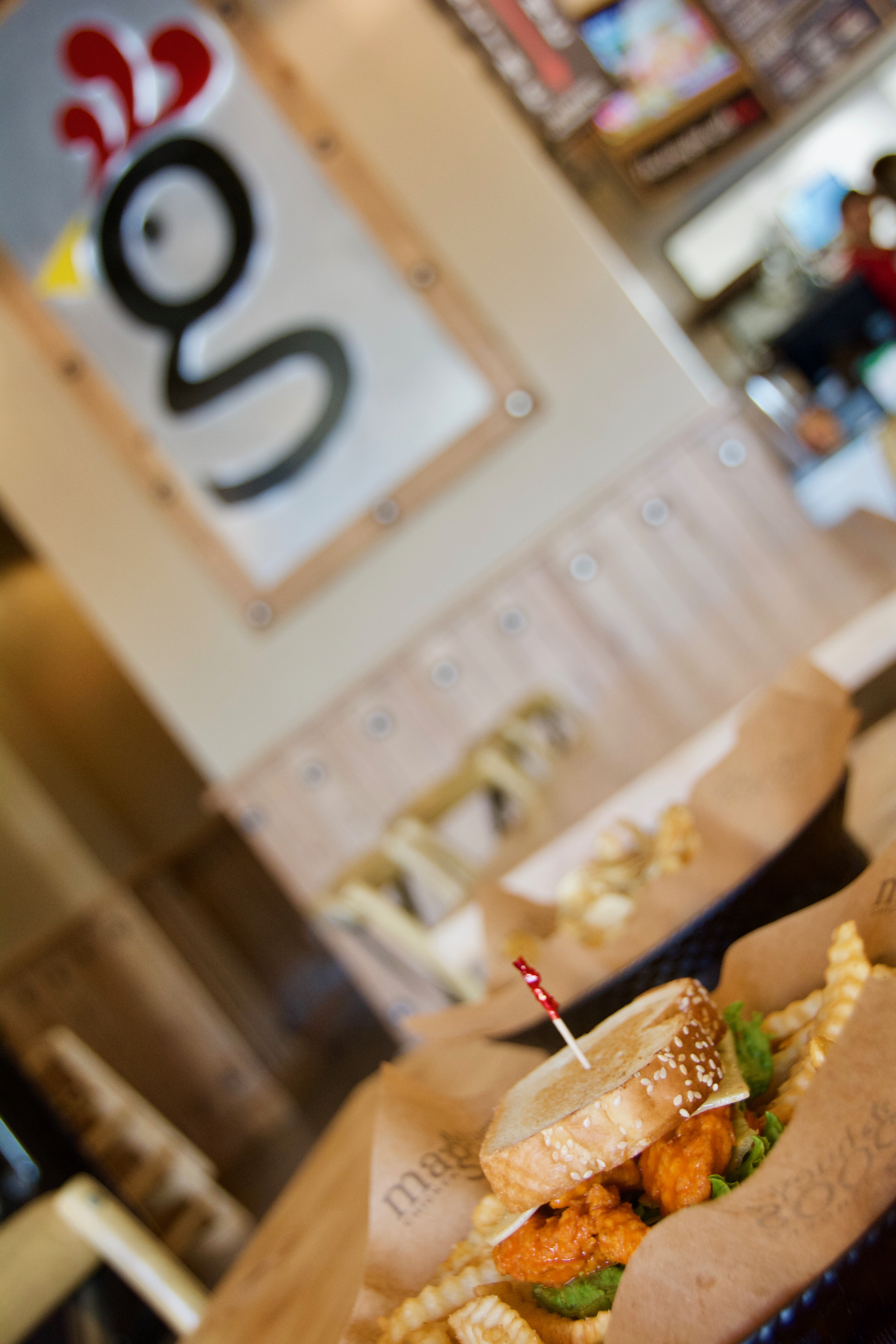 Background information
Huey Magoo's was founded in 2004 by Matt Armstrong and Thad Hudgens, two southern boys with a passion for quality chicken and a penchant for serving others. Huey Magoo's prides itself on providing great tasting chicken tenders in a clean, friendly environment, while showing their love for people. Huey Magoo's delivers delicious, fresh, cooked-to-order chicken tenders, and they do it to perfection. Huey Magoo's also gives back a portion of profits to not-for-profit organizations and community groups. Committed to building a culture of excellence in service and food quality by serving only premium hand-breaded or grilled chicken tenders dipped or "sauced" in uniquely flavorful signature sauces, Huey Magoo's attracts a cult-like following of Millennials, families and neighboring businesses desiring quality, delicious food at reasonable prices.