Yuki Hana Sushi in Oviedo recently underwent some changes from menu to the culinary team.
Here are some new updates at Yuki Hana: 
New Chef's Team at Yuki Hana
Shane Stinnett- his expertise is in Edo style Japanese cuisine as well as French techniques, was trained along Iron Chef Morimoto as part of opening team for Morimoto Asia, Orlando.
Steven Phan – well experienced sushi chef, great team player, self-motivated. Worked as sushi head chef at Sushi Pop for 2 years, and Kabooki for 2 years.
Albert DeSue – Formerly Jr Sous Chef & Head Sushi Chef at Dragonfly Sushi Gainesville & Orlando FL from April 2007 to January 2014. Worked at Paris Bistro and other French restaurants around town previously.
Kitchen manager – Eduardo Mena has been with us for more than 2 years, keeping things well organized in the kitchen.
Ping Jiang is the owner of Yuki Hana, tells us "It gives me great energy when I see the whole team work together to bring our guest a memorable dining experience." She is the mother of two beautiful girls, a student at Seminole State College, and a self described food lover.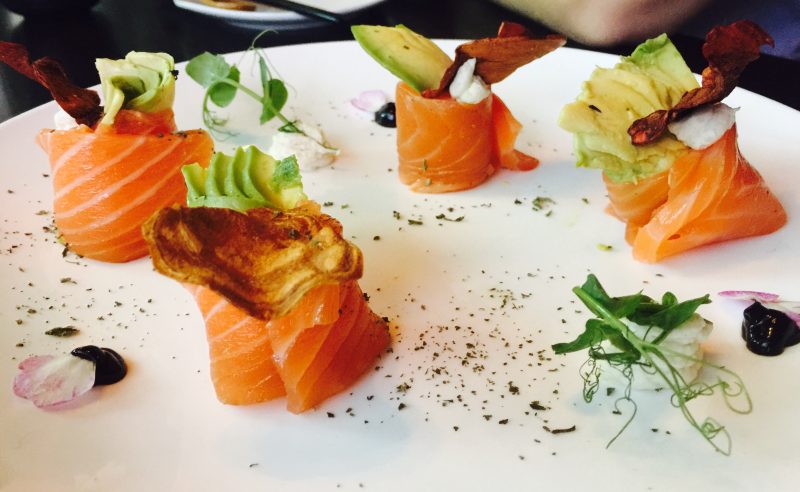 – New Robata Grill – Japanese bbq grill style with finest Japanese white charcoal- Binchotan charcoal, they are smoke free, create high temperatures to sear in all the juiciness.
– Special menu on the weekends – different fish comes in every week, such as Amber Jack, flying fish, Cobia, Madai, Hirame…..Specials in the past have included Otoro Tartare ( Bluefin tuna belly, blue crab, avocado crema, crispy shallot, served in dashi soy, with a cloud of applewood smoke). House Cured Salmon ( house cured salmon, edamame crème fraiche, pickled shallots, house beet chips, cilantro dust, micro herb). Wagyu Carpaccio ( wagyu thinly sliced, served with charred negi vinaigrette, ginger salt, and organic greens). Ginger Scallion Rock Shrimp ( Cape Canaveral rock shrimp wok seared with ginger and scallion). Citrus Roll (Yellowtail, avocado and shallots inside, topped with cobia, finished with orange bail vinaigrette, serrano garlic salt). Also including new local organic produce from Frog Song Organics.
Custom Omakase
If you are looking for a extraordinary sushi/ Modern Japanese cooking experience, come to Yuki Hana, call their team with your preferences, and they will custom design a dinner just for you, give three days notice.
New Ramen
– Ping tells us, "Ramen is something on our bucket list, we so glad we finally started serving it. The key is the broth as everyone knows, ours is tri-broth made with chicken, pork and beef. We also made the noodle in house fresh as well, with squid ink currently ( the one in the picture from last month was with green tea). The toppings are braised pork belly, six-minutes egg, roasted corn, beni shoga, pickled bamboo shoots, enoki. scallion, nori, and miso dust."
Yuki Hana Sushi & Japanese Fusion
3635 Aloma Ave #1033, Oviedo, FL 32765
http://sushiyukihana.com/
Facebook page at https://www.facebook.com/YukiHanaFusion/
Instagram – https://www.instagram.com/yuki_hana_sushi/