Krispy Kreme Doughnuts is bringing back its popular fall treat, the Pumpkin Spice Original Glazed® doughnut, for a limited time in October, answering customers' calls for more opportunities to enjoy this delicious fall indulgence.
On Friday, October 13 and 20, the Pumpkin Spice Original Glazed® doughnut will be available only after 6 p.m. for "Friday Night Spice."
On Thursday, October 26, customers can enjoy the Pumpkin Spice Original Glazed® doughnut all day in celebration of National Pumpkin Day at participating Krispy Kreme shops across Central Florida:

Krispy Kreme Daytona Beach – Open 24 Hours

980 W International Speedway Blvd., Daytona Beach, FL 32114

Krispy Kreme Winter Park – Drive thru Open 24 Hours

1031 S. Orlando Avenue (17-92), Winter Park, FL  32789

Krispy Kreme Millenia – Open 24 Hours

4080 Millenia Blvd., Orlando, FL 32939

Krispy Kreme Kissimmee – Open 24 Hours

5310 W. Irlo Bronson Memorial Highway
(192 / Mile Marker 11.5), Kissimmee, FL  34746
"Guests were so enthusiastic about the Pumpkin Spice Original Glazed doughnut when we first brought it back for one day last month. But their enthusiasm on social media and at our shops has only intensified since then, so we're pleased to bring it back – again," said Jenny Bellanca, vice president of operations for Florida Family Foods LLC, an authorized franchisee of Krispy Kreme Doughnut Corporation.
The Pumpkin Spice Original Glazed doughnut is the same Original Glazed doughnut that Krispy Kreme customers know and love, but with a hint of cinnamon and pumpkin spice flavor, transforming the classic into the perfect fall treat. To find a participating shop in the U.S. or Canada, visit www.krispykreme.com/pumpkinspiceog.
Celebrate the return of the Pumpkin Spice Original Glazed doughnut by using the hashtag #PumpkinSpiceOG and tagging @krispykreme.
Not only were Pumpkin Spice Original Glazed doughnuts are making an appearance, but a few Halloween themed doughnuts have come out of the closet as well in these dark nights.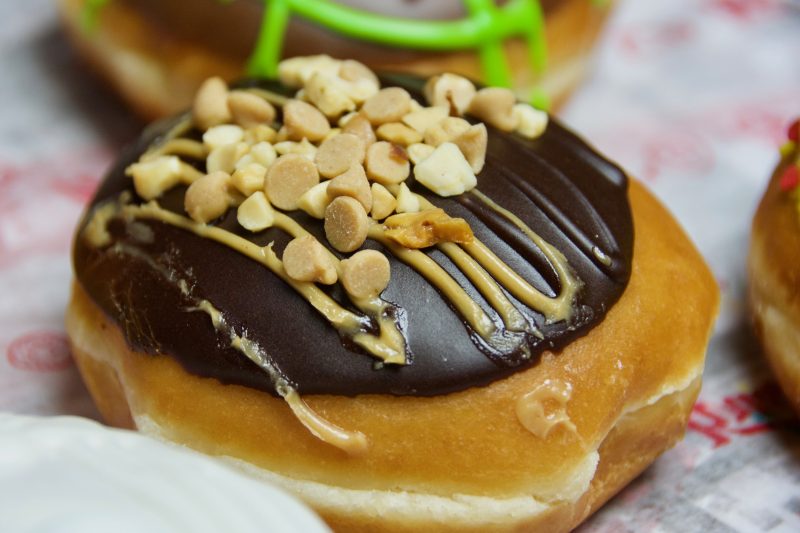 Reese's join with Krispy Kreme on a peanut butter crunch of an adventure this season.
The Birthday Cake doughnut has a delicious filling similar to frosting on a birthday cake, but it is not overpoweringly sweet as you may think. Want to eat a birthday cake, but not interested in buying an entire cake? Take a bite of this doughnut instead.
Don't forget to grab a Pumpkin Spice drink while you're there for a doughnut. Krispy Kreme offers iced, frap, and hot versions of Pumpkin Spice coffee. Our favorites include the frap and iced versions…mostly because it is still 90 degrees in Central Florida.