We were invited to BRIO Tuscan Grille to try the new Happy Hour menu along with some of their classics and it was an AMAZING experience.  The food was delicious and the highest quality, the presentation was beautiful and exceptionally-executed, and the customer service was SUPERIOR from start to finish – the hostess, server, managers and chefs all were flawless.  It was the best happy hour that I've ever been to.  You will get the biggest bang for your buck if you try their new happy hour menu.  The day I visited BRIO Tuscan Grille at their Millenia Mall location there was also a Christmas event going on with live entertainment, Christmas tree stilt walkers, a Santa Clause appearance, and a fireworks show.  That was just the cherry on top after an amazing happy hour experience!
Guests can enjoy the new additions to the Happy Hour menu available weekdays in the bar from 3:30pm – 6:30 pm including:
Shishito Pepper Hash: Crispy fingerling potatoes, feta, green onions, and Sriracha aioli ($5)
House-made Pickles: Fried crisp, with chile lime ranch ($4)
Potato Skins: Cheddar cheese sauce, Applewood bacon, green onions, and lime crema ($5)
Pair with a delicious selection of cocktails, including:
Red Sangria: Black raspberry liqueur, lime juice, lemon juice, simple syrup, soda water, raspberries, and orange ($5)
French Gimlet: Pineapple infused vodka, St. Germaine, lime juice, and diced cucumber ($6)
Tropical Cosmo: Pineapple infused vodka, Malibu Coconut Rum, cranberry juice, and lime juice, up ($5)
Wild Island: Pineapple infused vodka, moscato, lemon and pineapple juice, and pineapple garnish ($5)
Very Berry Margarita: Jose Cuervo, orange juice, triple sec, wildberry syrup, sweet and sour, soda water, fresh lime, blackberries ($6)
Cucumber Basil Gimlet: SVEDKA Vodka or house gin, fresh basil, crushed cucumbers, Angostura bitters, and fresh lemon and lime, rocks ($6)
Complimentary bread
Potato Skins – Cheddar cheese sauce, Applewood bacon, green onions, lime crema $5.00 (NEW!)
Beef Carpaccio – Field greens, capers, mustard aioli, Parmesan Flatbread $5.00
Tomato Mozzarella Salad – Tomatoes, Mozzarella, field greens, basil, balsamic, lemon vinaigrette $5.00
Black Pepper Shrimp – Romano crusted eggplant, spicy black pepper cream sauce $6.00
BRIO Burger – Provolone, special sauce, house-made chips $6.00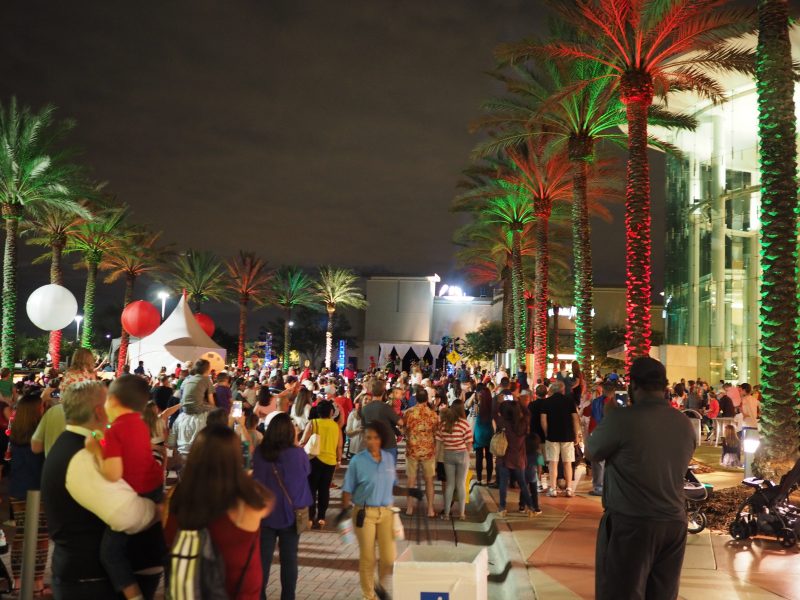 Spectators watching Santa Clause's special appearance on the roof top at Neiman Marcus
Quick fireworks show
Christmas tree stilt walkers
Be sure to check out BRIO Tuscan Grille soon for their new happy hour menu!  If you visit the Millenia Mall location, you will enjoy seeing all the Christmas decorations already up!
BRIO Tuscan Grille – Millenia
4200 Conroy Rd, Orlando, FL 32839
(407) 351-8909
BRIO Tuscan Grille – Winter Park
480 N Orlando Ave, Winter Park, FL 32789
(407) 622-5611