On Monday, Dec. 11, K Restaurant launched their first, monthly, Yappy Hour. To inaugurate this series of tail-wagging fun they have partnered with Woof Orlando from 5 p.m. to 8 p.m. Orlando locals are invited to bring their furry four-legged friends out and enjoy free spent-grain dog treats made from local breweries and enter-to-win two raffles with prizes including gift certificates for a free grooming.
We were able to experience what "Doggie chaperones" can expect when it comes to tongue-in-cheek Yappy Hour dishes from Chef Ryan McLaughlin as well as drink specials as K Restaurant is excited to share that they just received their full liquor license.
Crispy Pig Ears are fried with dates pepper hot sauce and herbs. The pig ears are sliced thinly to make them crispy like a chip. They are lightly salted and delicious with or without the hot sauce. Be careful, the hot sauce is thick and has a major kick to it.
"Pawsta" is fried ravioli with ricotta filling. Served on marinara with pecorino cheese and herbs. The fried version of ravioli is very airy like a puff pastry. Each ingredient subtly blends well together upon the palate.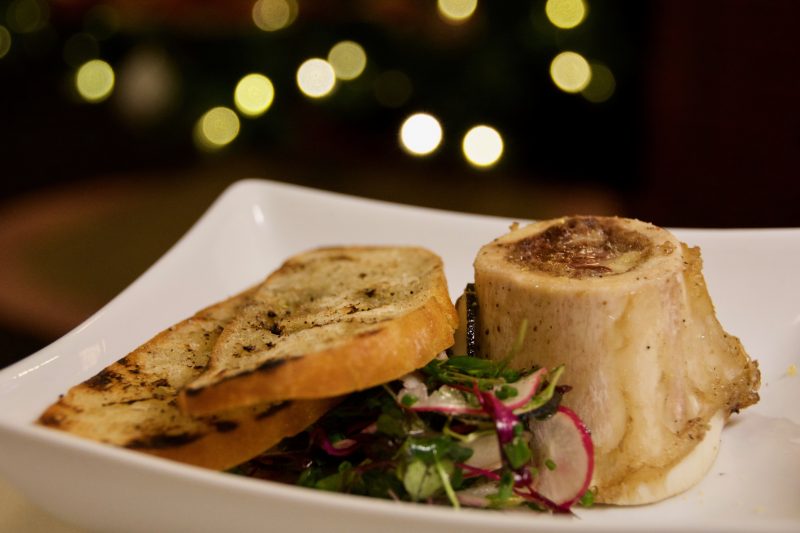 "Milk Bones" are veal bone marrow bones with charred bread and radishes. The bone marrow is very smooth and works well with the bread and radishes. The charred bread adds a saltiness to each bite. We almost ordered a second round of this dish!
The Cosmo-paw-litan (left) is made with vodka, orange shrubb, lime, and cranberry juice. A simple drink to socialize with. The Snoop Dog (right) was our favorite out of these two. The Snoop Dog is made with gin and pineapple juice; it is like a tropical version of a Screwdriver.
Since we were still slightly hungry after all the samplings, we ordered the Ricotta Gnocchi off the main menu, which changes up from time to time so you can come back to try new items all the time. The Ricotta Gnocchi is made with duck confit, butternut squash, garden greens, brussel sprouts, and sage veloute. Everything is made in-house and as fresh as possible for each order. Our specific plate was a tad more salty than I would prefer, but the dish is still delicious nonetheless.
The Ricotta Gnocchi was paired nicely with a 2014 Carmenere made in Valle Del Maule, Chile. This wine has a smooth and solid flavor with notes of spices, black cherry and blackberries.
For more information, visit the K Restaurant & Wine Bar Event Page.