Chef Trina Gregory-Propst is amazing.  She was the one who recommended my family's restaurant, Saigon Noodle and Grill – Bumby to the Food Network producers when they asked her if she knew of any good Vietnamese restaurants in Orlando to be featured on an episode of "Diners, Drive-Ins and Dives".  My family had no idea that Triple D was coming to our city (for the first time ever) so we did not expect to be contacted by them, however, when they reached out to us we knew that it was truly a blessing sent from God.  We accepted the offer to film an episode of "Diners, Drive-Ins, and Dives" and it has changed our lives for the better.  We are now recognized worldwide and we have met so many loyal Triple D fans from all across the world.  Chef Trina's restaurant SE7EN BITES was featured on "Diners, Drive-Ins and Drives" and both of our restaurants are located in the Milk District, so we are actually neighbors.  What an honor it is to put our city and district on the Triple D map with Chef Trina.  My family cannot thank her enough for what she has done for our small restaraunt business.  We are so grateful for her and her awesome wife's friendship!
Chef's Night is an evening at the food bank featuring some of Central Florida's best chefs and cuisine, all to benefit their Darden Foundation Community Kitchen's Culinary Training Program.  The Culinary Training Program provides qualified, at-risk and economically disadvantaged adults with the culinary and life skills training needed to pursue a sustainable career in the food industry.  When you support Chef's Night, you are helping to change lives, and help pull your neighbors in need out of poverty.
SE7EN BITES specializes in nostalgic southern comfort food with a modern twist.  Chef Trina has loved to bake since her Grammy first introduced her to baking when she was a child.  Grammy helped develop Trina's love for all things sweet.  Add in a professional culinary education, talent and passion and the result is a great recipe for local Orlando Goodness.  Chef Trina created a 5-course "Brinner" menu, a delicious combination of breakfast served at dinner.  Special thanks to SYSCO for donating all of the food to Chef's Night to make the event a success.

Bloody Mary and Mimosa Bar
Deviled eggs with candied bacon (best deviled eggs that I have ever had in my life!)
Pimento Cheese Biscuit bites with sweet red pepper butter (so yummy!)
Appetizer Course – Fried grit cake with tomato jam, Andouille and dressed Arugula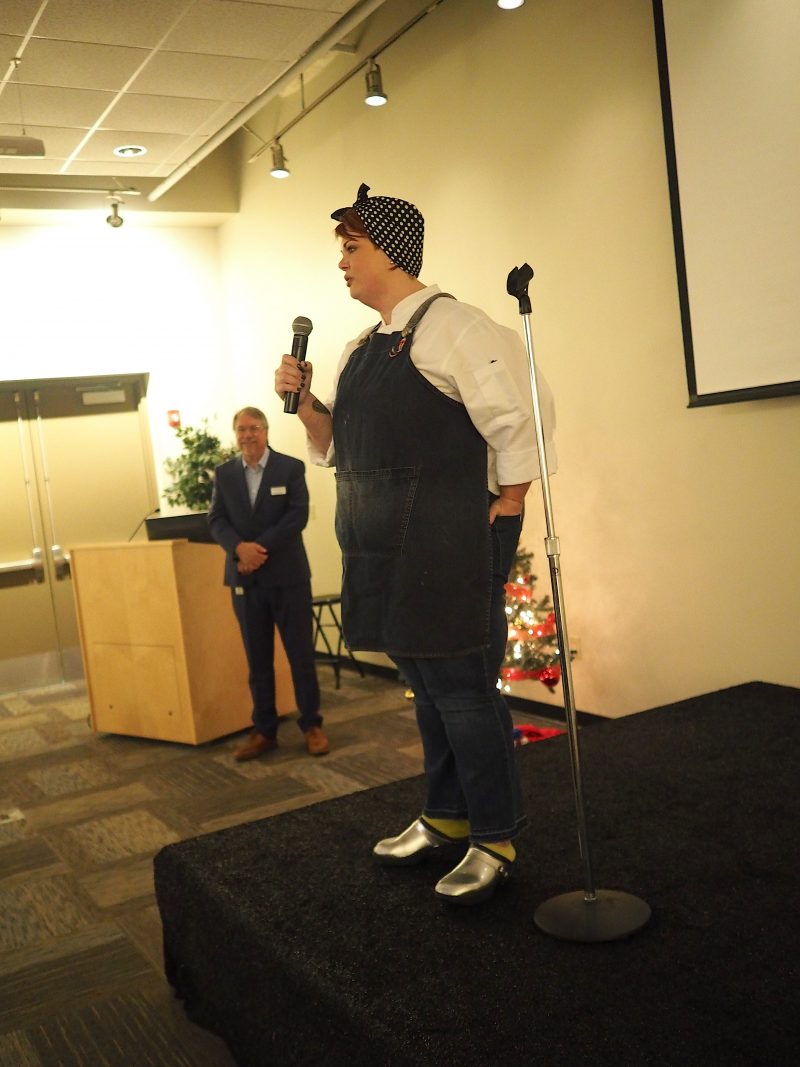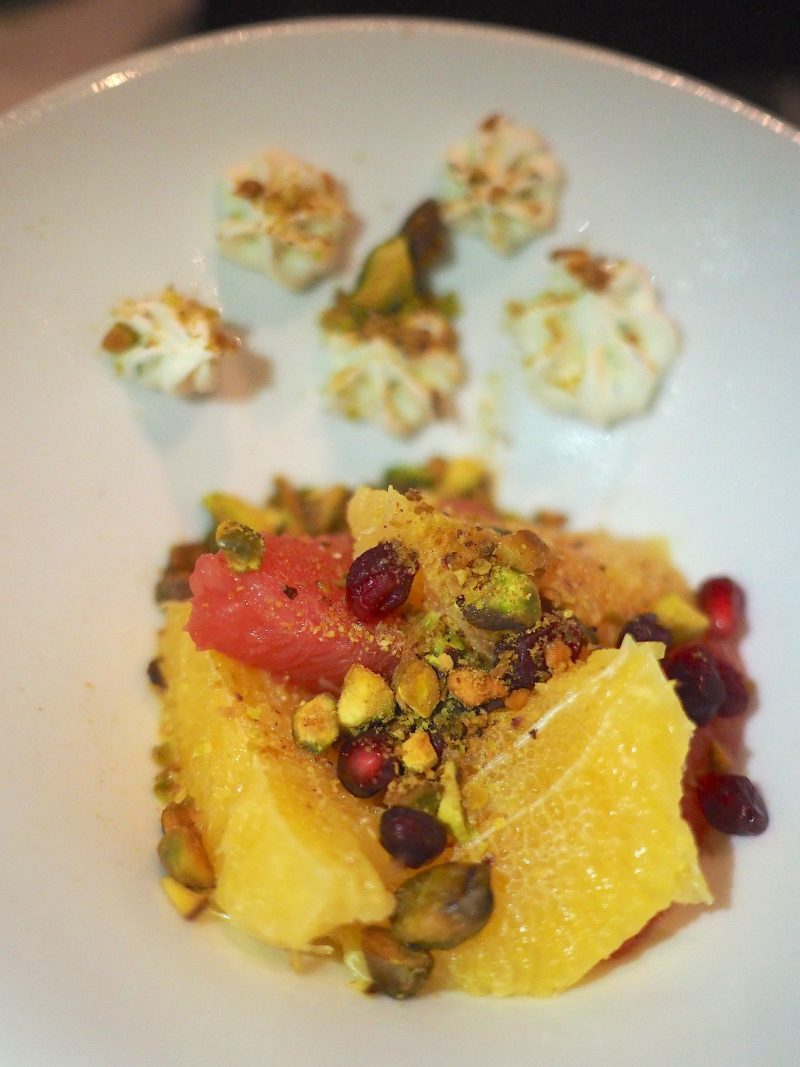 Salad Course – Citrus Pistachio Salad
Main Course – Colonel Marmalade in the Kitchen with a Knife.  Biscuit stacked with Pimento Cheese, Buttermilk Fried Chicken, over medium egg, sausage gravy and finished with a dollop of Orange Blossom Marmalade (so delicious!)
Dessert Course – Cinnamon Roll Sundae Grammies, Cinnamon Roll topped with Vanilla Ice Cream Espresso Maple Caramel, Garnished with Milk & Salted Caramel Crumble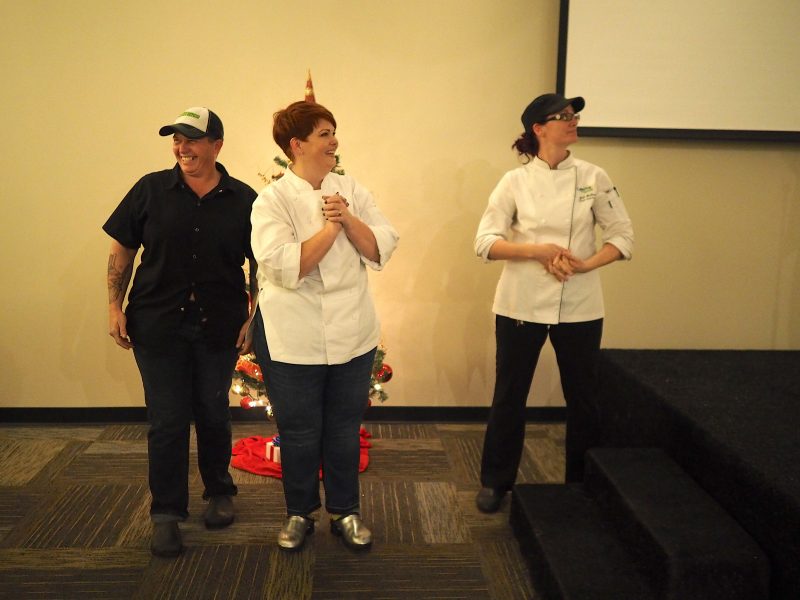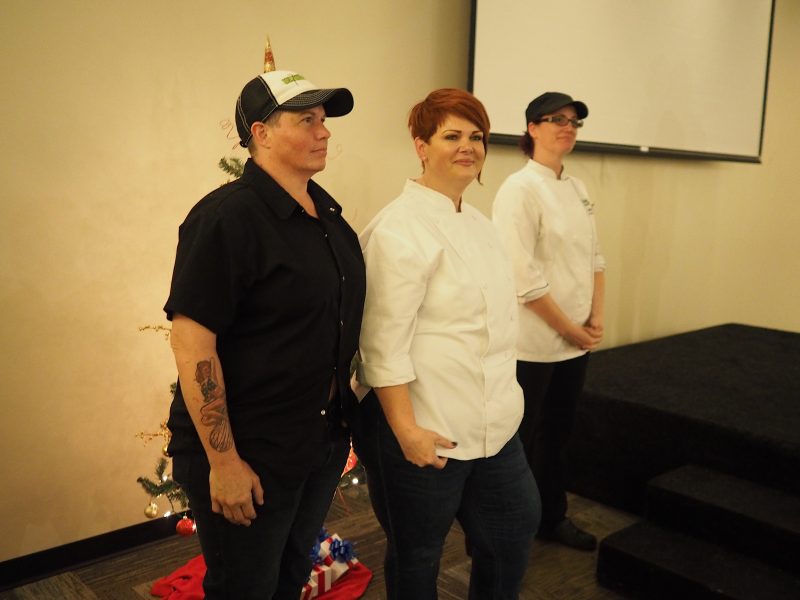 Chef Trina with her awesome wife, Va Propst.
The talented Se7en Bites staff
This lovely lady just got hired by Chef Trina to work at her restaurant, SE7EN BITES!  Big congratulations!!  (P.S. – She looks familiar.  I think we went to high school together.  So cool!)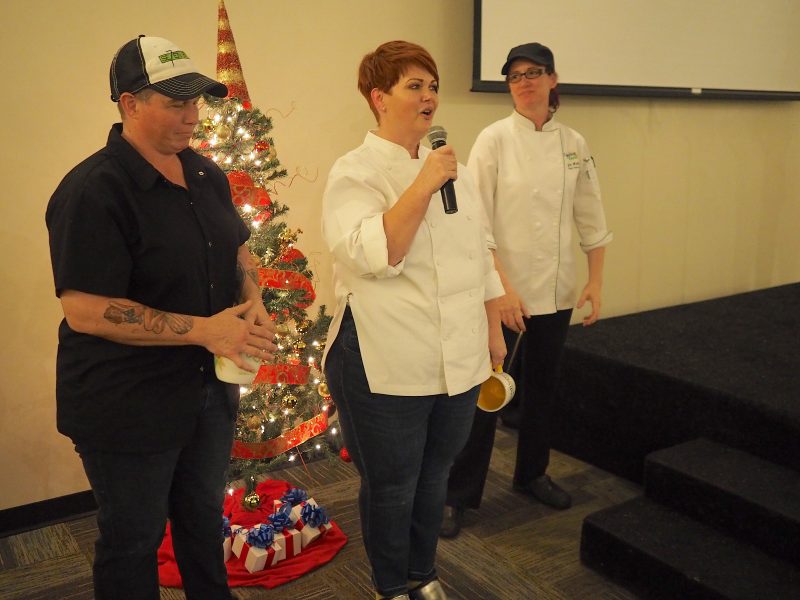 Follow @themichaeljavier on instagram – he's a cool dude, I want his charisma!
If you missed out this year, be sure to join us at the next Chef's Table at Second Harvest Food Bank!  Details will be posted on their website so keep an eye out for it.
(Source credit: Second Harvest Food Bank)
Second Harvest Food Bank
411 Mercy Drive Orlando, FL 32805
(407) 295-1066
feedhopenow.org
Se7en Bites
617 N Primrose Dr, Orlando, FL 32803
(407) 203-0727
se7enbites.com