*Secret Menu Item* The Mexican Pizza – A fried flour tortilla is topped with your choice of protein, cheese, lettuce, tomatoes, tomato sauce, jalapeño and a drizzle of sour cream.  This was my favorite!
We were invited to Tijuana Flats near Millenia Mall to try items from their "Secret Menu" as well as some classic items.
Tijuana Flats was was founded in Winter Park, FL in 1995 by University of Central Florida graduate Brian Wheeler with $20,000 in loans.  Tijuana Flats now has 136 locations in 6 states.
The Tijuana Flats Manifesto is their Declaration of Independence, their Dead Sea Scrolls.   It's everything they believe in expressed in a single stream of madcap consciousness.  You'll find it displayed in every Tijuana Flats location.
Tijuana Flats' regional manger, Joey.  He has been with the company for 19 years.  He is super nice.  To the right is our wonderful host, Sarah.
The store manager for their Millenia location, Mike.  He is a super cool guy!
The talented kitchen staff!  They did a great job with everyone's food!
Chips & Dip – A basket of warm chips, with a side of handmade salsa, queso or guacamole.
*Secret Menu Item* The Double Stack tacos is available in chicken or steak.  Queso is spread across a soft flour tortilla then wrapped around a hard-shell taco – filled with cheese, lettuce, tomatoes, jalapeño and sour cream.
*Secret Menu Item* The Bangin Chicken Tostadas – crispy fried chicken cubes tossed in a buffalo sauce with refried beans, tomatoes, cheese, and a drizzle of ranch.  Served with a side of salsa.
Cookie Dough Flauntas – Chocolate chip cookie dough loaded into a flour tortilla, lightly fried & topped with powdered sugar.  Served with a side of chocolate syrup.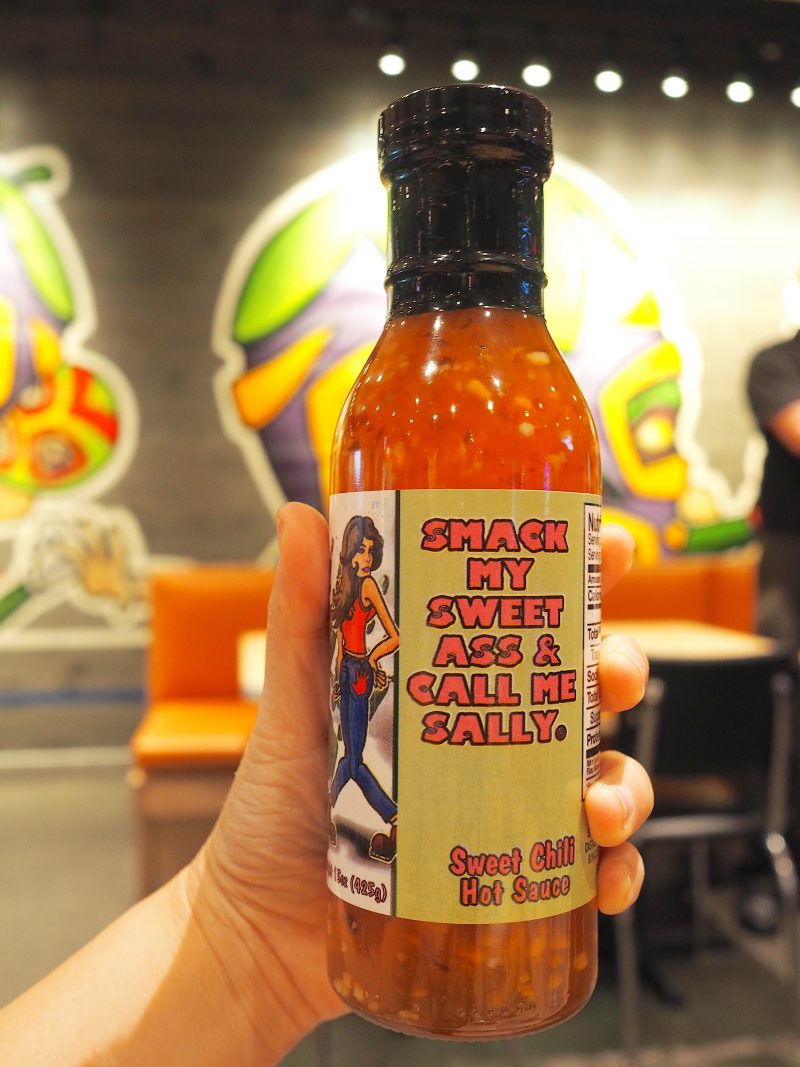 I won a free bottle of sweet chili hot sauce during trivia!
Founder Brian Wheeler created his own line of hot sauces.  The "Smack My Ass & Call Me Sally" brand includes some of the hottest sauces in the world.
Be sure to check out the Tijuana Flats location near the Mall at Millenia!  They did a wonderful job hosting us and providing great Tex-Mex food!
(Source credit: Tijuana Flats)
Tijuana Flats
94693 Gardens Park Blvd., Orlando, FL 32839
(407) 965-5090
https://tijuanaflats.com