Cocina 214 can be found in Winter Park of Orlando, FL and a new location opened in Daytona Beach, FL. Tasty Chomps was happy to make a stop into the Winter Park location to see what they have to offer us.
Margaritas at Cocina 214 are high-quality, fresh and strong. Cocina 214 serves their margaritas on the rocks or frozen with a rim of salt. The frozen margarita was my favorite of the two.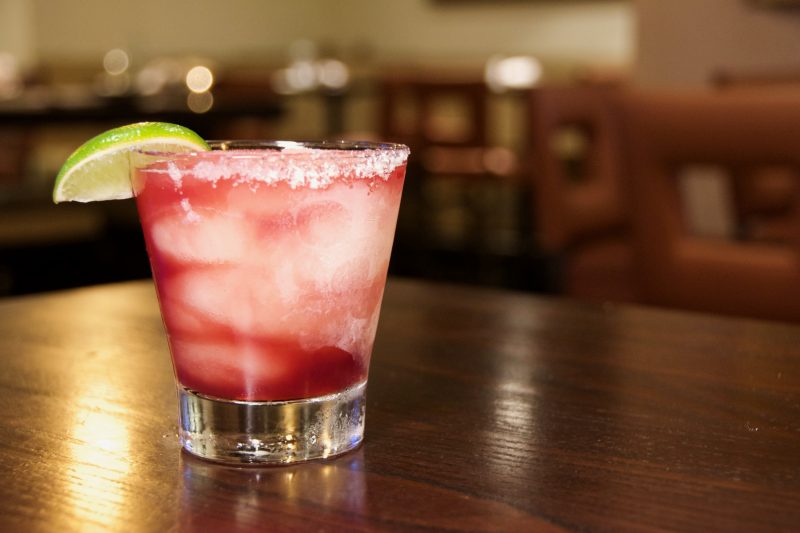 What's great is how the margaritas made at Cocina 214 is extremely fresh and high-quality as they don't use high-fructose mixes or low grade tequila. All citruses used are freshly squeezed with a juicer on site. If you'd like a sweeter option, try the frozen margarita mixed with sangria that is served at Cocina 214.
Start with the Cocina Trio and a fresh batch of tortilla chips. The Cocina Trio includes guacamole, queso blanco, and a fire-roasted salsa. Each of these, as well as other ingredients and items, at Cocina 214 is prepared daily and throughout the day as needed. Each of the Cocina Trio items were delicious and I cannot seem to decide which is a favorite.
The Fried Avocado Bites are lightly breaded and fried sliced hass avocados served with a chipotle cream sauce. The fried avocado slices are a tad bland if not dipped into the chipotle cream sauce, but the sauce is slightly spicy so be warned.
When ordering tacos, each option on the Taqueria menu comes with 3 tacos; rice and beans can be added for $2. We tried two types of tacos – the Rotisserie Chicken and Brisket. The tacos can be served on flour, corn, or wheat tortilla shells. Cocina 214 prides itself on being very flexible with patient dietary needs.
The Rotisserie Chicken tacos included veggie rice, queso fresco, roasted corn, and sautéed poblano salsa on the side. This dish is slightly bland, but the chicken itself is very moist and tender.
The Brisket tacos consists of beef brisket, pico de gallo, sautéed onions, and Monterrey Jack cheese on flour tortillas with a side of fire-roasted salsa. The brisket is flavorful, yet a little dry. This has to be my choice of tacos at this location, with extra lime because I love a touch of citrus.
Tex-Mex & Mexican Essentials include a number of options, which includes Chicken Tamales. The order of Chicken Tamales comes with 2 Tamales with rice, beans, serrano peppers, tomatillos, chicken, cilantro, garlic, and topped off with a ranchero sauce. The Chicken Tamales were delicious and full of flavors. The rice is more on the soft side, but comes with a number of different flavors you wouldn't taste in the Tamales and beans.
For more information, check out Cocina 214.