There is nothing better than playing hooky.  Leave your responsibilities, your obligations, your worries behind and go play!  This is exactly what my husband and I did on a Friday afternoon while the kids were in school.  Granted, my husband took the day off from work and I work from home, but still, it felt delightfully naughty of us to take some time for just us two.  Especially, time spent at Disney Springs, "hiding out" at Enzo's Hideaway. Sometimes you just need an escape, and that's how we felt dining at Enzo's, an old rum-running underground tunnel during the prohibition era, that was later turned into a restaurant by Enzo himself when he accidentally stumbled upon it. Maria and Enzo, a lovely, Italian couple, new to Orlando straight from Italy (Enzo literally flew in on his airplane), here to bring us three divine places to eat: Maria & Enzo's Ristorante, Pizza Ponte, and Enzo's Hideaway.  All three eateries located in Disney Springs, but Enzo's Hideaway is not as obvious to find, given the mystery of its origins.  This "secret location" can be found below Maria & Enzo's Ristorante, underground, giving it a very cozy and romantic feel, but also perfectly welcoming to families and friends of all ages.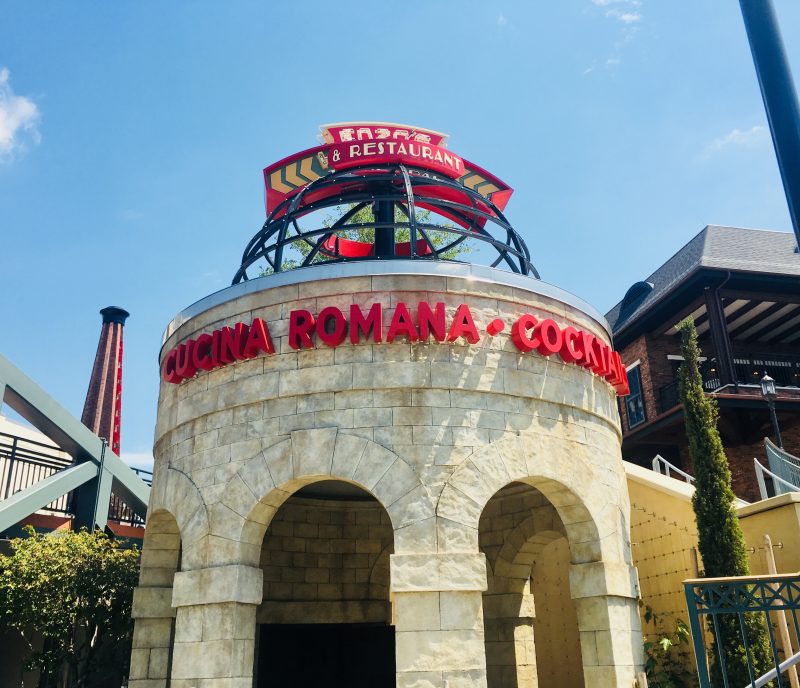 Our amazing waiter told us this heart-warming backstory about Maria and Enzo, and how their three restaurants came to be.  Personally, I love when Disney does this with its establishments.  It makes the dining experience even more special (that might be my own opinion, but I am a storyteller after all).  Rumor has it that the original concept of this speakeasy included a password-only entrance; hence, the window in the top-center of the door.  The idea was scrapped, but the door remains.
Once inside, diners are whisked away to another time period, listening to popular music by classic Italian crooners (Frank Sinatra, Dean Martin, and more), seated under vintage-style Edison bulb lighting, at mahogany wood tables and booths with red-cushioned seats, while curiously reading the graffiti decorating the "tunnel" walls.  I couldn't help but feel we stumbled upon an old, Italian restaurant on the streets of the Bronx or Brooklyn.  Any minute Martin Scorsese is going to walk in and start filming.  I can see my Italian relatives scurrying around their deli and restaurant in Toms River, New Jersey, while I hang-out behind the counter with my accordion-playing, great-grandfather who calls me bella.  I'm home.
Now, on to the best part of our secret date – the drinks and food!  I'm a sucker for anything with Prosecco in it (Prosecco by itself too), so, it didn't take long for me to notice the Luciano Spritz on the menu, made with Solerno Blood Orange, Aperol, blood orange juice, and Villa Sani Prosecco.  However, the Sangria, also caught my attention.  What is a girl supposed to do with this dilemma?  Order two drinks when it's barely past noon?  Sadly, this is not an option, when picking up kids from school is involved.  I got it!  Demand, no, politely ask my husband to order the Sangria – problem solved.  Enzo's Sangria made with a house blend of Malbec, Burgundy, Apricot and Peach Brandy, seasonal fruits, and cinnamon spice simple syrup is refreshingly sweet and smooth. It complimented the bubbly, soured-sweetness of my Luciano Spritz nicely.  Both drinks were the perfect accompaniment to our appetizer – Salumi e Formaggi for two.  This antipasto platter is made-to-order, with fresh cuts of meat and cheese sliced in front of you at Enzo's very own "deli counter".  The platter consists of 24-month-cured Prosciutto, Salame Piccante, Finocchiona, 24-month-aged Parmigiano-Reggiano, Pecorino Romano, Fontina, olives, pickled vegetables, bread sticks, and a mustard fruit spread.  The meat, cheese, pickled vegetables, breadsticks were all delicious, but the mustard fruit spread really took me by surprise.  A spread I have never seen or tried before, but can't wait to have again.  Sweet from the fruit, but spicy, almost like the taste of horseradish – a perfect pairing with each of the three cheeses.
As we fork-fenced over our antipasto, a truce was called just in time to peruse the lunch menu.  Another quandary – everything looks good!  My husband ordered the Polpettine – classic meatballs with polenta, and I chose the Porchetta and Provola Panini – pork roast, provolone, grainy mustard, pear aioli, spicy cherry peppers, and arugula.  If you like the combination of salty and sweet, this panini is for you.  The pork and provolone was tender, the aioli tangy, with peppery arugula, and a zesty kick from the mustard and cherry peppers.  As the loving wife I am (sharing is caring), my husband and I exchanged plates halfway through the course, as he finished my panini, I enjoyed the meatballs and polenta. The polenta was so soft it practically melted in my mouth, and the meatballs were delicate, yet hearty, gently swimming in a luscious tomato sauce.
Our secret lunch almost complete, our waiter asks us if we will be having dessert.  As they say, when in Rome – yes! He recommends his favorite dessert on the menu – Maritozzi con Panna.  Imagine a sweet roll stuffed with cream and Nutella, sprinkled with powdered sugar – forget imagining it, have it now!  I don't think my explanation can clearly justify how fantastic this dessert is, but, I'll give it a try.  The bread reminds me of a dense dinner roll that has been dusted with powdered sugar, while the cream is velvety, but not overly-sweet, which makes sense when paired with the Nutella, whose job is to make everything sweet.
We left our secret rendezvous with huge smiles on our faces, and full stomachs to match.  I am absolutely in love with Enzo's Hideaway and plan to return very soon.  The dinner menu has even more delectable entrees to pick from, including a pasta dish with a thick meat sauce made with beef short ribs (I'm having that).  Enzo's Hideaway also offers a late-night dining experience on Thursdays through Saturdays through 2am, featuring prohibition-style cocktails and a special late-night menu (I'll need an afternoon power nap to enjoy this).  In conclusion, whether you're playing hooky or not, Enzo's Hideaway is the perfect spot to get "lost", leave the stresses of life behind, and unwind, speakeasy style.
https://disneyworld.disney.go.com/dining/disney-springs/enzos-hideaway/
https://www.patinagroup.com/enzos-hideaway