We were recently invited to visit Clearwater Beach by the lovely folks at Wyndham Rewards to check out their Ocean Hai restaurant at Wyndham Grand Clearwater Beach, recently awarded Four Diamonds by AAA.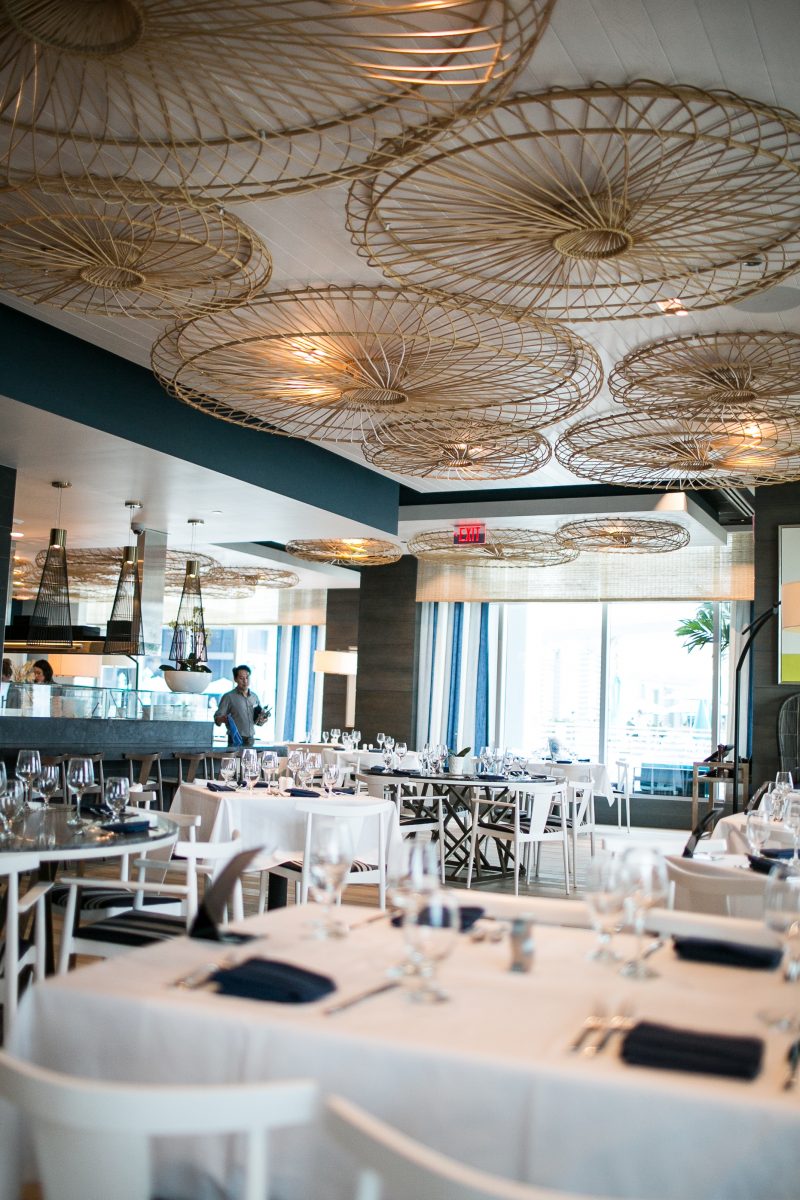 The restaurant has a strong emphasis on seafood and pan-Asian cuisine featuring sumptuous sushi and sashimi platters to succulently pan-seared sea bass, all prepared under the culinary eye of Executive Chef Sean Ragan. Dishes are prepared with fresh, locally-sourced ingredients, including seafood and farm-raised meats and poultry.
Chef Sean Ragan has over 25 years of professional experience in the hospitality and restaurant industries, previously working at Caretta on the Gulf at the Sandpearl Resort.

Throughout his career, he had been handpicked to train with highly regarded chefs such as Julia Child, Paul Prudhomme and Martin Yan, and cooked for other top restaurants including Oystercatchers under Chef Hans Hickel and Innisbrook Golf Resort and Spa as Executive Sous Chef. Most recently, Chef Ragan was named the 2015 Best Chef of Clearwater Beach – and the fine dishes at Ocean Hai live up to his curriculum vitae.
Born in New York, Chef Ragan was exposed to a melting pot of flavors and cultures, developing a passion for cooking and global cuisine. He received his degree with honors in Culinary Arts and Hotel Restaurant Management in 1994 from Johnson & Wales University in Providence, Rhode Island. He is also ACF Certified, a recipient of the honored Le Cordon Bleu Medallion and belongs to the historic and distinguished Chaine des Rotisseurs and Societe Mondiale du Vin.
On our visit, we experienced the Omakase – "Chef's Choice" – multi course tasting menu designed to allow guests to experience a sample of all of Ocean Hai's cuisine. The cost is usually $75 per person with an optional $25 add on for wine pairings to go along with the dishes.
The first dish of the evening: Lobster Fried Rice, a decidedly elevated take on the traditional fried rice, with delicate pieces of lobster, saffron rice, crispy shallots, and topped with a sunny side up egg. I could not get enough of this dish!
Our second dish of the evening was the Tetsubin Miso Soup – the humble miso soup is brought to new heights here, with smoky charred tofu and smoked mussel, and finished tableside with a pour over from a hot kettle with dashi miso broth miso.
The next course, a delightful compressed watermelon salad that was truly a work of art – cubed, pressed watermelon, heirloom tomato, marinated feta cheese, slices of cucumbers, dollops of basil pesto, and some soy gastrique drizzle. It sings of summer.
To highlight their sushi, we tried their nigiri sushi sampler, with ultra-fresh slices of tuna, salmon, and yellowtail fish that had me reminiscing some time ago in Tokyo, Japan.
For the entree, my dining partner had the pan-seared then broiled Asian Sea Bass, a succulent flaky sea bass with a nice crisp from the pan sear, on top of black Forbidden rice with some sugar snap peas, shiitake mushrooms, and microgreens.
My entree was the Mongolian Lamb Chops, perfectly seared and delicious chops of lamb, accented by a dash of Chinese five spice, and served alongside roasted eggplant, baby bok choy, and crystalized ginger.
The evening ended on a high note – dessert that was playful and delightful – ube / purple yam "twinkie" and deconstructed strawberry cheesecake. Art on a plate. From start to finish, Ocean Hai soared to new heights in Asian cuisine.
Lobster Fried Rice | Saffron Rice | Peas & Carrot | Sunny Side Egg | Crisp shallot | Sweet Soy 20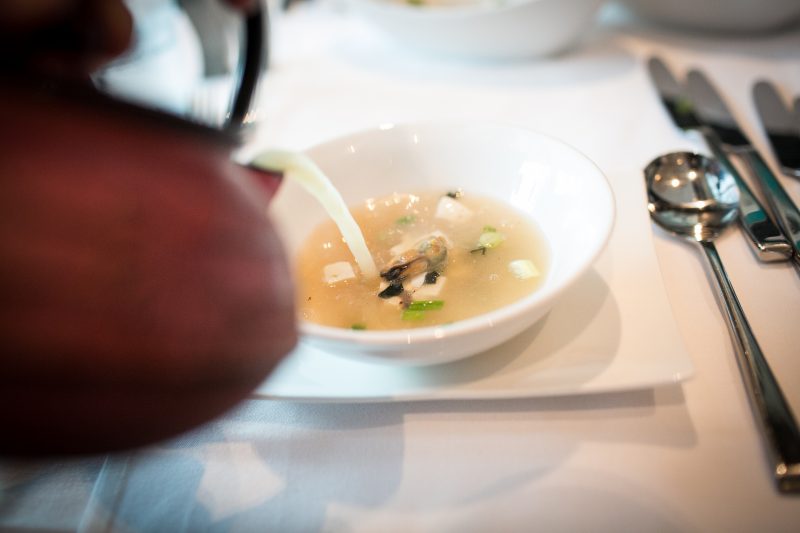 Tetsubin Miso Soup | Dashi Broth | Smoked Mussel | Charred Tofu | Wakame 9
Compressed Watermelon | Heirloom Tomato | Marinated Feta | Cucumber | Basil Pesto | Soy Gastrique 11
Nigiri Sampler – Tuna, Salmon, Yellowtail Nigiri Sushi
Asian Sea Bass | Forbidden Rice | Sugar Snap | Shiitake Mushroom | Micro Green 38
Mongolian Lamb Chops | Roasted Eggplant | Baby Bok Choy | Edamame Yogurt | Crystalized ginger 42
Deconstructed Strawberry Shortcake Dessert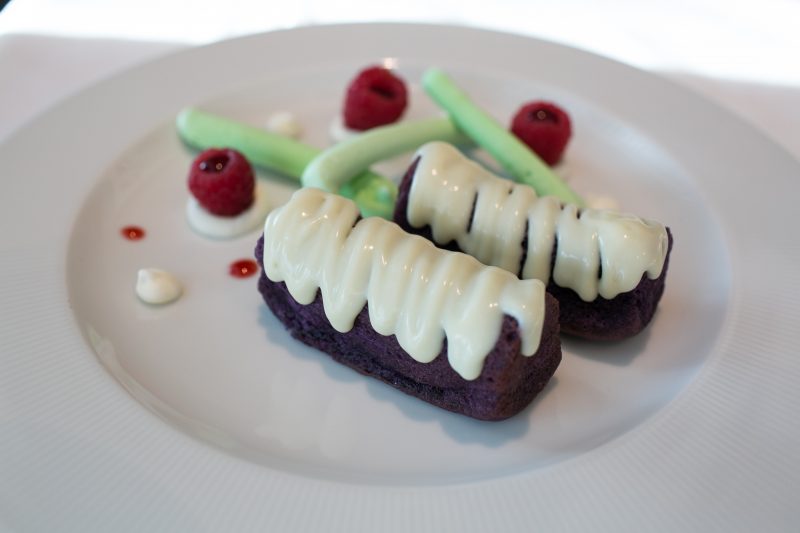 Purple Ube Twinkies
If you do come to Ocean Hai, make sure to plan to have dinner while the sun sets over the shimmering waters of the Gulf.
From Wyndham Rewards
Wyndham Rewards recognizes ordinary, hard working men and women for what they do every day. From the annual vacationer to the frequent traveler, no matter how often our members stay with us, they are all united under the same loyalty program.
Go free – With just 15,000 points, you've earned a free night at any Wyndham Rewards hotel. 15,000 points = a free night. It's that simple.
Go fast – Get a room night at a Wyndham Rewards hotel for just 3,000 points, plus some cash.
Go get 'em – For every qualified stay you'll get 10 points for every dollar or 1,000 points, whichever is more.
Wyndham Rewards: Instagram, Twitter, Facebook, Official Website 
Wyndham Grand Clearwater Beach: Instagram, Twitter, Facebook, Official Website 
Official Hashtags: #WyndhamGrand, #WyndhamGrandClearwaterBeach, #LiveGrand, #GrandLife
Stay and dinner at Ocean Hai provided by Wyndham Rewards and Wyndham Grand Clearwater Beach. All other views are my own.