K Restaurant invited us to taste a sample menu of what you can expect to receive during Visit Orlando's Magical Dining Month. Here is a look at the menu we got to try.
The evening began with three appetizers. The first on the list was Deviled Eggs. It contains mustard egg yolk, tomato jam, bacon lardons and herbs.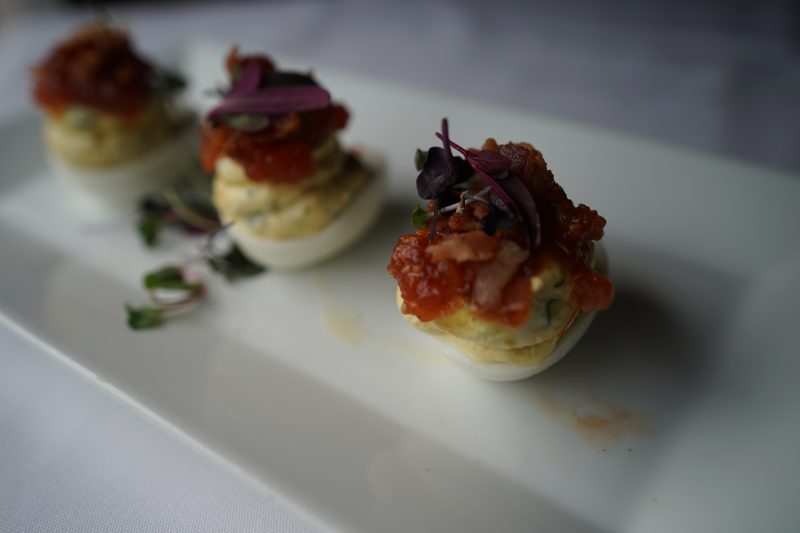 We then moved onto Crispy Brussels Sprouts containing hot sauce honey, bacon lardons and herbs. 
The last appetizer was Duck Liver Mousse. On it was seasonal accompaniments, grilled chiabatta bread and herbs. This item is not always served on the menu.
Just like the appetizers, we were served three entrees. We hit the ground running with Eggplant Parmesan as the first entree served. It contained panko breaded eggplant, tomato and eggplant ragu, fresh mozzarella, parmesan cheese and basil. 
Afterward, the Seasonal Fish was served. It was a fresh serving of Cobia fish. According to the restaurant, they caught it the previous day at New Smyrna Beach. The fish was plated with vegetable risotto, herb butter and micro green salad. 
The very last entree was called Pork Porterhouse. It had creamy polenta, seasonal vegetables, and cider barbecue sauce. 
Afterward, we were served three desserts – Chocolate torte, Chefs Choice Cheese Cake (seasonal)and French Toast Bread Pudding. 
Shown below is the Chocolate torte with salted caramel buttercream. It is actually flourless (gluten free)!
Next up was the Chefs Choice Cheese cake. The cake is seasonal and does vary. Our cheese cake had more of a chocolate base and was very delicious. 
We also got to taste this amazing French Toast Bread Pudding. It had pecan streusel, cinnamon maple glaze, and vanilla ice cream. 
K Restaurants Executive Chef, Chad Phelps says, "I ate here during magical dinning month several years ago and enjoyed it and came back on and off throughout the years and eventually bought it when I heard the restaurant was for sale."
As for how the menu is put together, it depends on what's growing locally and what's available. Phelps' favorite menu item is the pork chops. He also has a liking for the brussels sprouts. After being fried, they are tossed in honey and sriracha sauce. The restaurant is well known for them.
Magical Dining Month continues now through September 30! Make sure to check this place out. In addition, one dollar from each meal goes towards Best Buddies and Down Syndrome Association of Central Florida through Visit Orlando.
K Restaurant is located on 1710 Edgewater Dr, Orlando, FL 32804. You can also check them out on their website at https://www.krestaurant.net/
Go to MagicalDining.com to view more menus and restaurants.