We were invited to join Firehouse Subs for lunch to taste their *NEW* Spicy Cajun Chicken Sub!  It's a delicious hearty sub with Cajun-seasond grilled chicken breast, zesty cherry peppers, melted Pepper Jack cheese, lettuce, onions, deli mustard, and house-made Cajun mayo, all steamed to perfection and piled high on a toasted sub roll.  This flavorful sub is available now at all locations for just $5.55 for a medium (what a deal!) for a limited time so don't miss out!
Try the new Spicy Cajun Chicken Sub today.  It's just the right amount of spice at just the right price.  Only $5.55 for a medium.
Be sure to also try their Smokehouse Beef & Cheddar Brisket – USDA Choice beef brisket smoked for 16+ hours, cheddar, mayo, Sweet Baby Ray's BBQ sauce.
My personal favorite is one of their bestsellers: Hook & Ladder – smoked turkey breast, Virginia honey ham, Monterey Jack, served Fully Involved.  Delicious!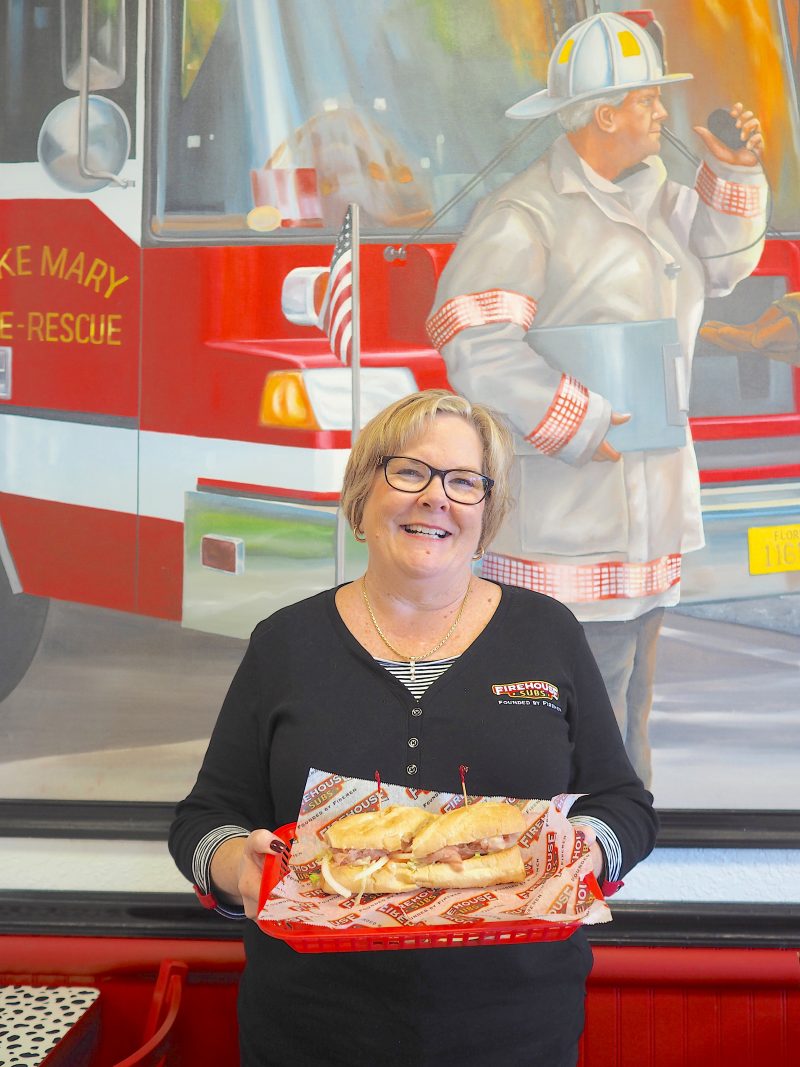 Thank you Suzanne Kelly, the sweet franchise owner of Firehouse Subs in Lake Mary for having us!  Check out that amazing mural behind her – that's actually her husband in the painting!
It doesn't get any better than helping save lives by eating amazing food.  Did you know that every sub they sell helps Firehouse Subs Public Safety Foundation raise money to provide lifesaving equipment to first responders all over the country?  The Foundation has awarded more than $40 million in grants in 48 states, Canada and Puerto Rico.
Firehouse Subs – Lake Mary
3587 Lake Emma Rd., Lake Mary, FL
(407) 833-8447
firehousesubs.com