Yuki Hana is found near the junction of Oviedo and Winter Park. It's in a quieter part of Orlando, but a treasure to find. Eating at Yuki Hana is not merely another meal. It's an experience to keep in your memories forever with the very humble Chef Ping Jiang. We stopped in for a tasting one evening with a number of friends and Yuki Hana brought their A-game with new flavors and combinations.
The amuse bouche was crispy peking duck is served with hoisin and scallions delivered by cucumber. It is a fun dish to enjoy and eat with your hands as if you're eating a taco. The vegetable deliverance creates a light touch to the dish and crunch to the bite.
Kanpachi Crudo in charred negi vinaigrette with strawberry gel, sea grapes, sunflower sprout, and garlic oil. This dish was a taste of the sea. Some may say it's a little chewy, but that makes it fun. The vegetables served with the octopus are mostly crispy and adds that diverse texture to each bite of the octopus.
These dumplings are flavored well. The meat is cooked tenderly and moist with every bite.
Chef Ping and her team can whip up quick bites for you and your friends/family to share while she works on your entrées. This dish is served chilled to ensure freshness of the seafood.
Another starter dish created by Chef Ping and her team served chilled after being slightly seared.
One of the most beautiful and simplistic dishes on the menu is this dish. There are three pieces of fish rolled up with crispy onions and micro greens in a soy sauce reduction as well as strawberry vinaigrette droplets on the rim.
Chef Ping proudly serves fresh fish flown in from Japan for each seafood dish you enjoy. The Nigiri Tasting consisted of…
Kanpachi with citrus sauce, serrano salt, micro cilantro
Bluefin tuna with tare, yuzu koshi and bonito
Trout belly, blow torched, honey miso
Aji, kombu cured, ginger scallion oil, lemon confit
Tamago,housed made sweet egg omelette
All of the fish are extremely fresh and this first one (in focus) is my absolute favorite of the ones on this plate. It is the Kanpachi with citrus sauce, serrano salt, micro cilantro. Although, that was a tough choice to make in deciding a favorite.
As the team makes dishes as fresh as possible, it may take some time so order up some tea and clear your palate.
Tea not your thing? Order some sake. Try the Sho Chiku Bai Nigori Unfiltered Sake. It is as silky and smooth as mentioned on the label.
A dish where the sauce is served at the table. It's a soy sauce mixture to dress the greens below the flavorful pork belly.
Don't be alarmed, this unique dish is served chilled instead of hot like you would normally find with pork belly dishes.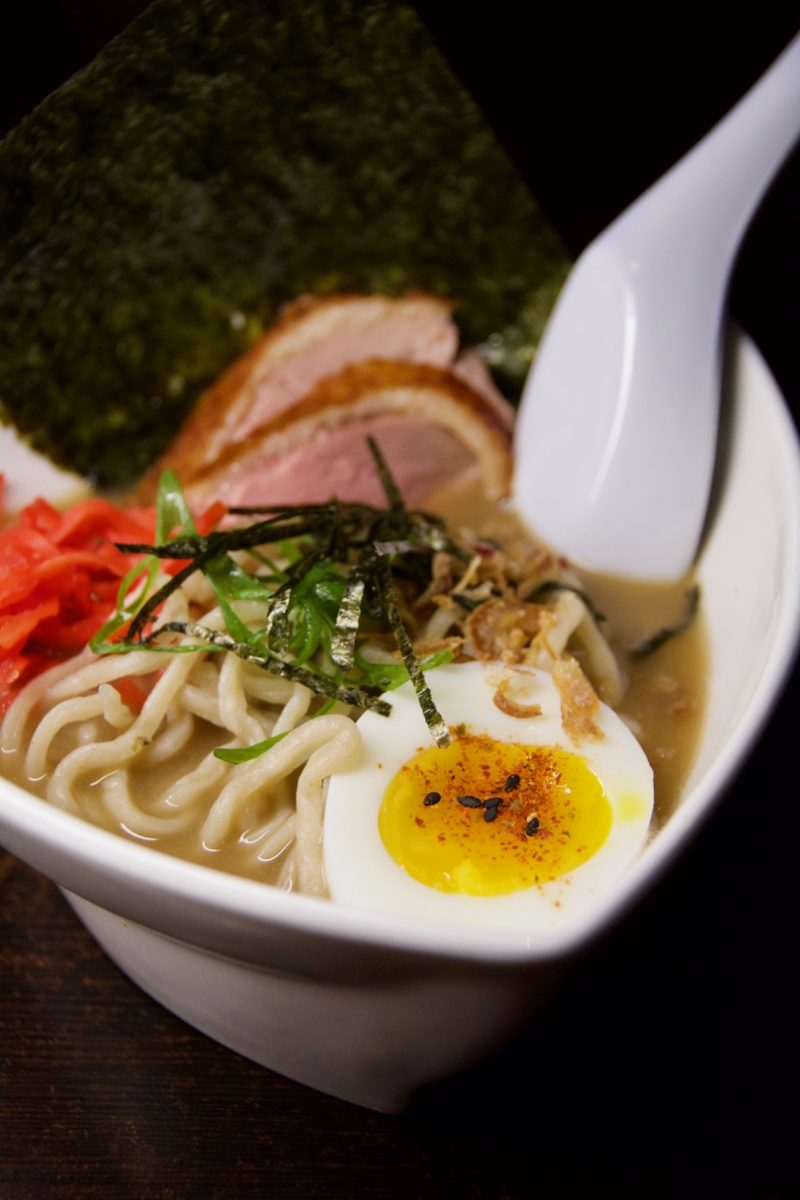 Not many may know, but Yuki Hana makes their ramen noodles in-house and it shows. This is another dish where the broth is poured over the ramen in front of you chair-side. Crispy Duck Ramen consists of peking duck with house made noodles, negi, nori, benishoga, 6" egg, and crispy shallots.
Chef Ping makes her desserts similar to her meals – from scratch, with love and fresh ingredients. With it being strawberry season, she and her team went strawberry picking for this dessert. Chef is not a fan of creating desserts that are overly sweet so her desserts have a subtle sweetness. This Soy Panna Cotta is served with strawberry sauce, matcha macaroons, and ginger foam.
For more information, visit the Yuki Hana website and stop by for your own experience.