Conveniently located on Par Street just off Edgewater Drive, the Tap Room at Dubsdread is the gathering spot for all.  You'll enjoy the friendly and upbeat atmosphere, while you relax in their beautiful and unique woodsy setting, nestled among the high trees with hanging moss, overlooking the historic Dubsdread golf course.
Although Tap Room is located on the 95-year-old Dubsdread golf course, the restaurant is open to the public.  Every Sunday, they host brunch from 10 a.m. to 2:30 p.m. where they're serving up a delicious twist on the classics, with everything from Steak Benedict to Chicken and Waffles with Peanut Butter Syrup.
Gotta love the Tap Room's house-made biscuits.
Tropical Mimosa – Malibu Rum, pineapple juice and Champagne – ain't no brunch without a mimosa and this one hits all the right notes – a tropical breeze in a glass.
The Tap Room at Dubsdread recently unveiled a new brunch menu. Chef Stewart Barney, who has been with the Tap Room for over 10 years, tells us about his inspirations, his food philosophy, and some of his favorites on the new brunch menu. You may remember chef Stewart as the owner of The Brisket Bus food truck, famed for their house-cured pastrami.
Chef Stewart's Brunch Faves on the new Brunch Menu: "The Corned Beef and Hash – it's a very rustic dish made with all the love and soul that should be expected. We also have an authentic Huevos Rancheros, that our chef Jose Martin from Mexico City has prepared for us and it's been a show stopper. Finally, is a dish made in fat boy heaven and that is our Country Fried omelet, which is fried chicken and sausage gravy."
Here Are Five Fabulous Classic and New Brunch Dishes at Tap Room at Dubsdread:
1. Crab and Lobster Omelette

Get your fancy on with this omelette filled with fresh lump crab, lobster meat, chopped tomato and asparagus topped with hollandaise and served with breakfast potatoes or grits. It's a classic dish full of quality ingredients and flavors.
2. Croissant Stuffed French Toast
This dish is as tasty as it is beautiful with vibrant blueberries and raspberries and savory sweet cream cheese – a whole Fluffy French croissant stuffed with sweetened cream cheese, topped with warm berry compote and topped with powdered sugar, served with bacon.
3. Huevos Rancheros
Huevos Rancheros is a rustic breakfast dish popular on rural Mexican farms. We had some recently in Mexico City and can tell these were very similar – a delicious crispy tortilla, topped with black beans, avocado, jack cheese with salsa, sour cream and cilantro.  I just loved the flavors and crispiness of the tortilla, and it's also a great vegetarian option.
4. Tenderloin Steak Benedict
There's several varieties of the classic Eggs Benedict here at Tap Room, including salmon and crab cake benedicts. Here we have an eggs benedict served topped with tasty tender filet medallions with mushrooms and an English muffin – served with breakfast potatoes or grits.
5. Corned Beef Hash and Eggs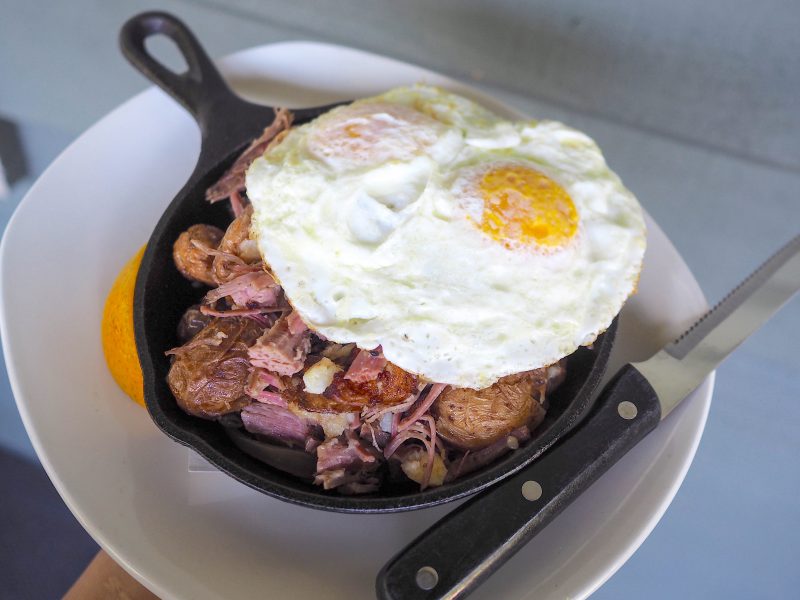 Power through your Sunday Funday with one of the newest brunch items on the menu, the hearty corned beef hash and eggs. You can tell Chef Stewart put some TLC in this dish, making the corned beef in house served topped with over-easy eggs and hearty potatoes and sauteed onions.
6. Avocado Toast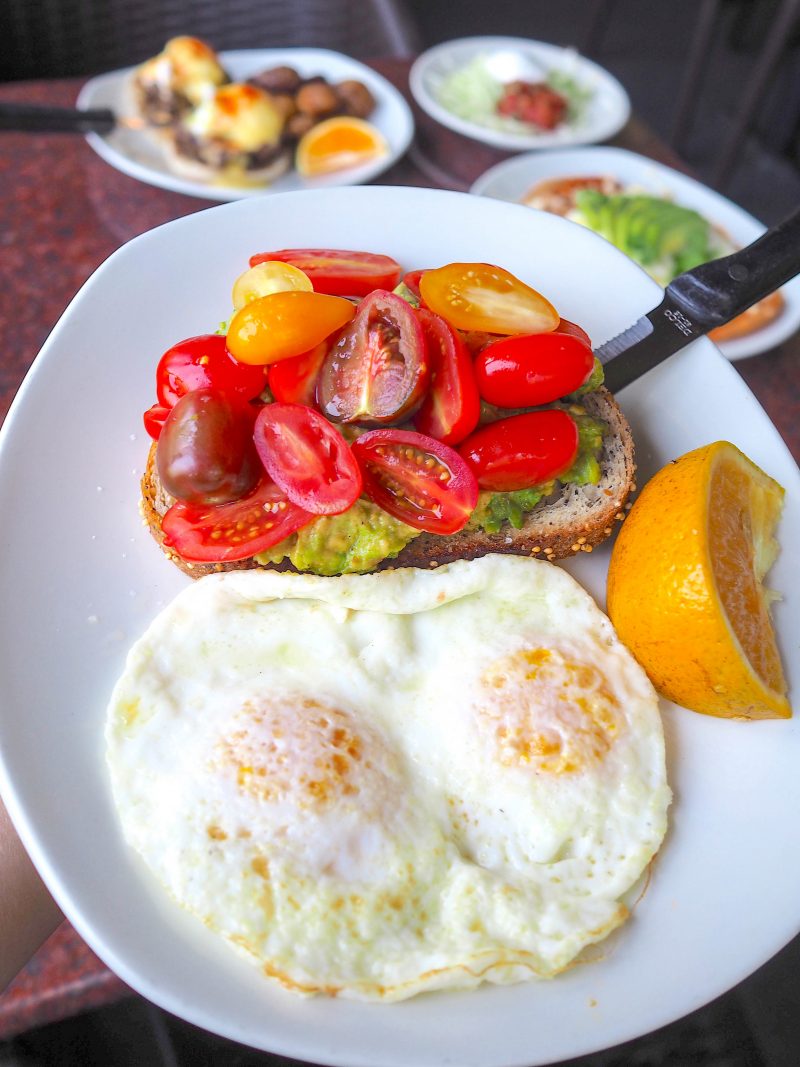 Loved the vibrant and fresh flavors on this avocado toast – spread on whole grain millet and heirloom tomatoes that just pop with real tomato flavor, and served with 2 eggs.
Full brunch menu below:
Interview with Chef Stewart Barney: 10 years with Tap Room at Dubsdread
What are some childhood memories around food that inspired you to become a chef?  
It started with my dad watching Julia Child every weekend and I just sat and absorbed as much as I could without realizing it.  My mother and I would make a menu every Sunday for the week and we would go shopping together and I would help her every night make dinner and do the dishes.  We did this until I moved out and it was something different every night and we wouldn't leave the dinner table until it was done.  We also had to tell my mother "great dinner, mom" before we ever even touched the food, lol!  It just ended up being my thing and that's what put me on this journey.
Tell us about your culinary background and education/experience: 
My father had gotten me a job at a Country Club when I was 15 and I started washing dishes and just being the runt of the kitchen trying to figure out what the h*ll I was doing!  I moved to South Carolina in my early 20's and started absorbing all the Southern Soul from Ms. Darlene.  I ended up going to University of South Carolina to get my Culinary Degree where I worked 3 jobs and still had time for school.  After that, I was fortunate enough to take a job with the Governor of South Carolina and just continued to grow and expand my knowledge.
Brisket Bus was one of my favorite food trucks of all time, are there any dishes on the Taproom menu that people can try that would remind them of the old bus?
Oh, the good old Brisket Bus, just hearing the name brings back such memories and nightmares!  We did some great items on there and one of the most prideful items was our pastrami.  You can find our house cured Pastrami in the form of a Rachel on Tuesdays at the Taproom!  Nothing like it in Orlando!
 What is your "food philosophy"?  
I have learned that the culinary world we live in today has turned scientific with everyone wanting to push the limits of what you can do with food and how you can make something stand out based on looks and flavors.
I want people to understand that for me food is about family, heart, soul and just making people smile.  I am always grateful for the people that want to cook for me, it's a sign of acceptance into their family, heart and soul.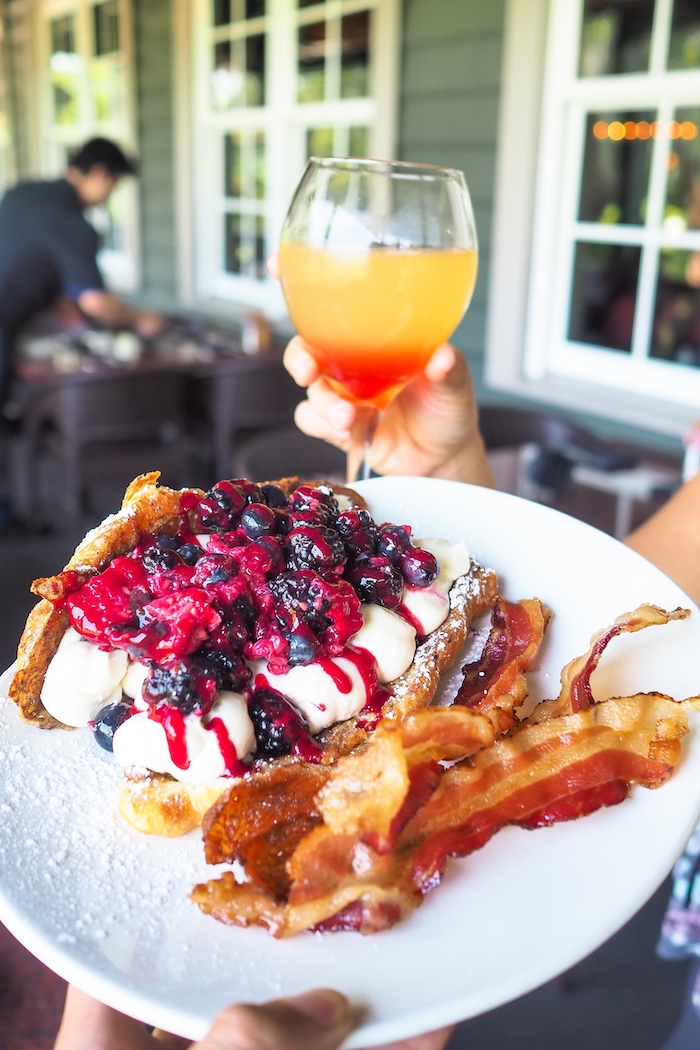 What is something people should know about the Taproom's offerings?  
The Taproom is a scratch kitchen that will keep every person interested in the amount of offering we have.  We have something for everyone and if we don't, we will make it!  We are a "yes ma'am" kind of kitchen and are willing to make you whatever you want based on what we have available.  The Taproom also offers a very comfortable family setting where you can feel comfortable coming off the course or coming here for date night. 
What are your upcoming plans for summer?  New dishes coming?  
Summer is a time for us to regroup after such a long season.  We will be revamping the menu slightly towards the end of summer and then we will go right into Magical Dining Month and that is a beast all of its own.
If you could eat one dish for the rest of your life, what would it be?  
It would be a toss up between Turkey Tetrazzini and Taco Pie, both dishes I craved as a fat kid!  Simple, but made with love, heart and soul.
Taproom at Dubsdread
549 W Par St, Orlando, FL 32804
(407) 650-0100
taproomatdubsdread.com