Cheddar's Scratch Kitchen added a few new and limited time items to their menu and we enjoyed our chance trying a handful. This includes their limited time Chicken & Waffles.Stop by now through July 21st to get yours!
This dish comes with 4 crispy tenders on top of 3 mouthwatering waffles with powdered sugar and a side of syrup for only $8.99.
The chicken is tender, moist and coated with a crispy coat. It balances out the sweet waffles that is slightly dry. The waffles soaks the moist savory bite of the chicken…as well as your drool at the thought of Cheddar's Scratch Kitchen Homestyle Chicken & Waffles.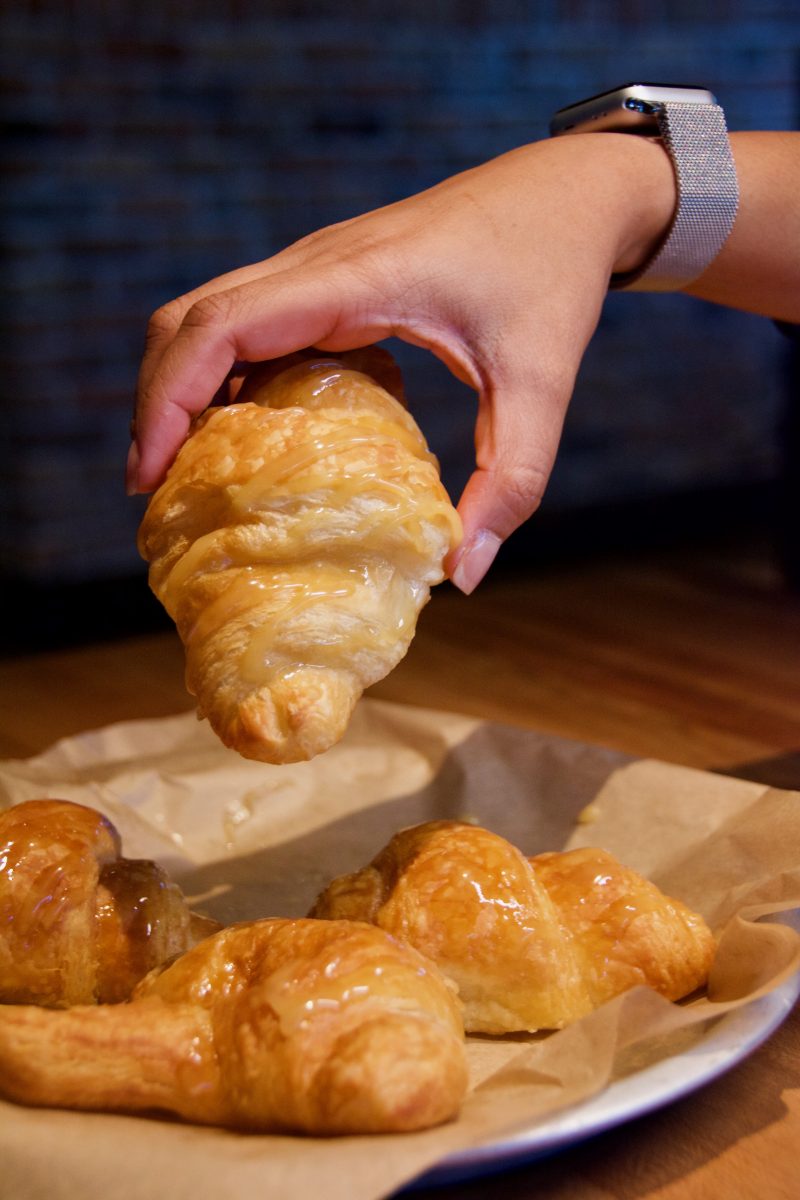 Aside from chicken & waffles, we tried more delicious dishes. Who wouldn't want a plate of Honey Butter Croissants after a long day? I'd love it any day – long or not. Golden brown and drizzled with house-whipped honey butter is my favorite way to enjoy a buttery croissant that melts in my mouth with each bite.
The Texas-Sized Nachos is a new appetizer on the menu. You get a choice of chicken or ground beef with queso, black beans, jalapeños, cilantro, corn, fresh pico de gallo, and a drizzle of honey BBQ and ranch. It is served with queso and salsa on the side. We decided to make it a vegetarian friendly dish and opted out of having chicken or ground beef. Each bite, with or without dipping a loaded chip into queso or salsa, was an explosion of flavor. The honey BBQ adds a surprisingly enjoyable sweetness to the dish.
The Blackened Salmon Salad is a lighter option from the fried dishes on their menu. It consists of blackened salmon, fresh greens, tomatoes, carrots, Parmesan cheese, glazed pecans, and homemade croutons served with pomegranate vinaigrette. The salmon is a flavorful protein that was made well. The greens add a nice crunch and the glazed pecans add a sweetness. Each ingredient adds its own uniqueness like a texture and/or flavor.
My not so favorite new dish I tried was the Better Than Mom's Meatloaf, but that's because I am not too fond of meatloaf or sweetness on my meatloaf. Two thick slices of tender meatloaf is baked with a tomato glaze served over a bed of mashed potatoes and one side.
Two new mini cakes hit the dessert menu – the Chocolate Raspberry Mini Cake and this Cheddar's Painkiller Mini Cake. The Cheddar's Painkiller Mini Cake is a homemade coconut cake filled with Pusser's Rum-Butter sauce and topped with whipped cream, freshly toasted coconut and a cherry. This mini cake is like a bread pudding with how warm it is, but with whipped cream instead of ice cream. I'm not fond of sweets, but I'd love this again!
When you've reached your maximum limit of 2 Cheddar's Painkiller cocktails, try another craft cocktail. Tito's Watermelon Vodkarita (left) is another limited time item that can be served on the rocks or as a slushy. It comes with a fresh and sweet slice of watermelon. Spicy Mango Mojito (right) is Cruzan Mango rum with fresh mint and lime juice. Both are on the sweet and refreshing side for a hot summer day that's basically year round in Florida.
For more information on Cheddar's Scratch Kitchen, visit their website and find your location for a visit.