Established in 2002, Shari (formerly known as Shari Sushi Lounge) has been known for their combination of classic and unique creations from the kitchen and behind the sushi bar as well as our craft cocktails, wine, and beer selections.
To celebrate 16 years in bustling Thornton Park, they have debuted a refreshed Shari.  Not only does the restaurant have a new look, they are also switching things up in the kitchen.  In addition to their beloved classics, their new menu showcases a collection of Asian & Latin fusion dishes created by their new Executive Chef Jose Joubert-Torres from Puerto Rico.
Not to fear, their local beer and curated wine list, cocktail menu, and daily happy hour are not going anywhere.
Here are Our Favorite Dishes from the New Happy Hour at Shari:
1. Yuca-Poe Spicy Krab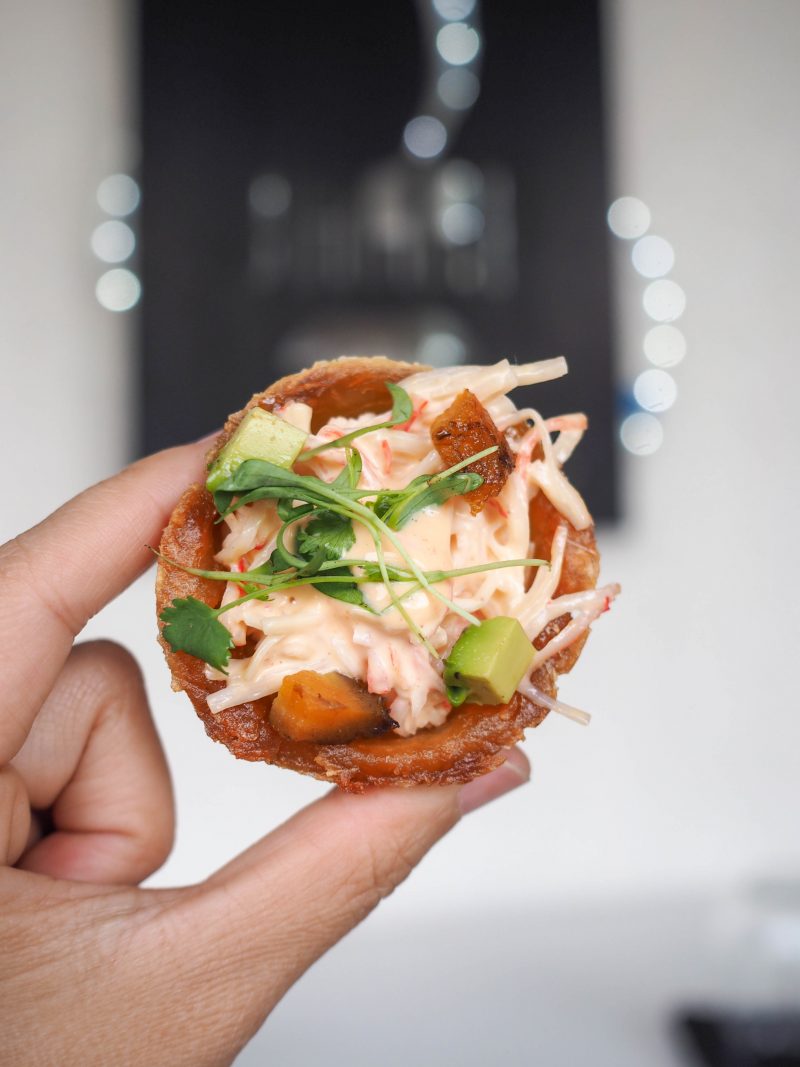 Krab, spicy mayo, avocado, sweet plaintain & micro cilantro.  A small bite with a big crunch.  A burst of flavors!
2. Yuca-Poe Ropa Vieja
Shredded skirt steak, cilantro aioli, micro cilantro, sweet plantain & avocado
3 & 4. Miami Roll & Especial Roll

Miami – Salmon, tuna, hamachi & cucumber.  The Especial roll changes daily.  On this particular day it was made with sweet plaintain, avocado, tempura shallot, spicy mayo, krab, shisito pepper.  So good!
5. Eola Roll

Tuna, escolar, avocado & sriracha.  I always love Orlando-themed dishes.
6. Soy Vegano
Beet flavored rice, fried tofu, vegan sundries aioli, avocado, crispy garlic & micro cilantro.  This is a great roll for vegans and non-vegans.
7. Triple Tail
Salmon, tuna, escolar, spicy mayo & tempura flakes
Here are Our Favorite Dishes from the New Dinner Menu at Shari:
1. Mis steak
An assortment of sashimi – from tuna to escolar to yellowtail – with chips & guacamole spread – very "meaty" indeed and also quite delicious!
2. Yellowtail Firecracker
Yellowtail, sliced serrano pepper, shichimi pepper & spicy ponzu.  The acidic and tart dressing with the sashimi was perfect, creating a "firecracker" for your tastebuds.
2. Dorado ceviche

Mahi Mahi, orange-lemon-lime juices, vinegar, cilantro, sugar & salted malanga chips.  Who doesn't love ceviche?  This mahi mahi ceviche hit all the right notes and the sugar & salted malanga chips were also tasty.
3. Hulk roll
This was a special roll created for us called the "Incredible Hulk" made with salmon, tuna, esolar, lump crab, spicy mayo, masago, spicy tuna tartare, red tobiko, micro cilantro, yuzu sauce, thinly sliced lemon & green soy paper. Loved the tart slices of lemon with the tender sashimi fish and tobiko roe.

You can find the exact same roll on the dinner menu called the "Pink Panther", made with pink soy paper instead of green soy paper.
4. Drama Queen
Spicy tuna tartare, avocado, wasabi topped with hamachi, kichee sauce & scallions – this is a classic Shari sushi roll that  customers could not get enough of – so it is here to stay!
5. The Fountain
Gushing with flavors, this spectacular roll is filled with tuna, asparagus, cream cheese, tempura flakes, and topped with avocado, cajun baked langoustine, scallions, spicy mayo & kabayaki sauce – my personal favorite!


These are the popular menu items from their old menu that are still available to guests.
CHEF JOSE JOUBERT-TORRES
Born and raised in Rio Grande, Puerto Rico, Jose's passion for food began when he joined his parents in the kitchen.  They would put together typical Puerto Rican dishes daily like: Mofongo, Arroz guisao, and Sancocho.  Jose began in fast food chains and made his way up to a St. Regis hotel working for Fern, a Jean-Georges fine dinning restaurant.  Jose then started his own restaurant, Sauté Spices. After two years, Jose opened his second restaurant, Masago, and at the same time he became the Executive Chef at Dos Aguas Bed & Breakfast.  Jose created an a la carte fine-dining breakfast menu and offered personalized dinners for guests based on their needs & preferences.
On July 2017, Masago opened its doors and it was a hit until two catastrophic hurricanes paralyzed the whole island in September 2017.  Jose was forced to leave Puerto Rico and leave everything he had worked for behind to provide stability for his family.  In 2018, Jose began working at The Grand Floridian & Hilton resorts until he found Shari, where he is now Executive Chef.
Jose is very proud of being the first chef to introduce Shari to a new concept, new flavors, & a new experience that he is sure everyone will enjoy.
Shari Sushi
621 East Central Boulevard Orlando, FL 32801
(407) 420-9420
sharisushilounge.com