The culinary team behind the acclaimed sandwiches at Orlando Meats have taken their talents to inventive new pizzas at Recess Pizza. After taking over the kitchen inside Orange County Brewers in May, the team have refined their unique dough and are ready to celebrate on Saturday, June 22 with their grand opening.
Culinary Director Eliot Hillis and Head Chef Seth Parker have developed an alkaline dough for their pizza crust which will be topped with the same high-quality ingredients from local purveyors used at Orlando Meats.
In the same vein as ramen or pretzel, the shifting transition from base into acidity lends itself to an interesting combination of textures and great flavor. The crust is crisp, yet airy like a baked cloud.
The menu at Recess Pizza will also include a selection of hot sandwiches and salads. Brunch items will be available on weekends and will be featured at the grand opening. The restaurant will also offer online ordering via Slice and delivery through Uber Eats and Grubhub.
Special limited-run pizzas will be available for the grand opening along with beer specials by the brewery. Guests can also participate in a raffle featuring prizes from local partners.
Kya consists of hallumi, chimichurri, crema, and usually pork belly (unless you're vegetarian). Tasteful and seems healthy enough, right?
Tammi is a pizza with pulled pork, slaw, cheddar, and spicy white stuff. That's literally the description if you don't believe me. This slaw is TO DIE FOR with it's slight heat, fresh flavors, and crispiness.
Beverly consists of spicy pork, broccolini, ricotta, mozzarella, and pomodoro. In my opinion, these are all the ingredients you could ask for to make a well rounded pizza in each bite. The pork isn't overwhelmingly spicy so you can taste how savory it is. This may be my absolute favorite.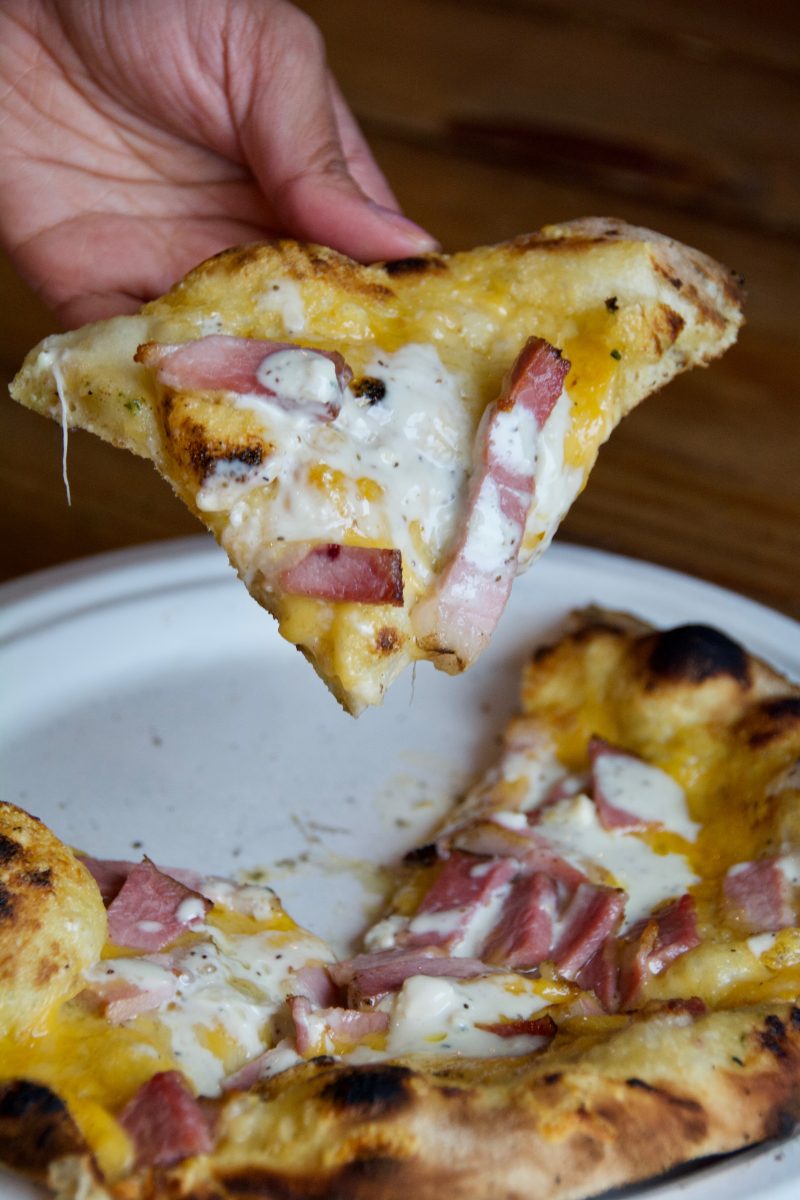 Steph includes ham and cheddar, blue cheese, and garlic puree. Each bite is absolutely smooth to the palate with mellow flavors that blend together. If I could change one thing, I'd add more garlic… I love myself a whole lot of garlic.
The name Lily is a perfect one for this spring tomato, basil, fresh mozzarella, and focaccia combo. Fresh ingredients over an airy crust is like riding a cloud to that healthy body in no time.
Stacks on stacks on stacks – how I like my sandwiches. From top to bottom: Melissa, Venus, then Petunia.
Melissa consists of roast beef, provolone, pickled onion, and horseradish. Horseradish isn't my cup of tea so I'd order it without the horseradish the next go around.
Venus is my favorite with the smoked turkey, cheddar, and honey mustard. The turkey is light and flavorful on its own and I could go for another.
Petunia is like an alternative of a Cuban sandwich with its ham, swiss, and dijon. Add some pickles, spicy slaw, or pickled veggies and I'd be a happy camper… OR you could add all of these. That would be heaven.
For more information or to learn more about Recess Pizza, please visit www.recesspizza.com or follow @recesspizza on Instagram.