On Monday I enjoyed a Sobremesa hosted by El Tesoro Tequila and La Floresta Café at Luma on Park. Sobremesa literally means "over the table" but it represents a much more meaningful translation. It's the time spent after a meal- digesting, conversing, relaxing, and enjoying the company of family or friends. Tequila has always struggled to shed the stigma of being alcohol that causes painful reactions and leads to bad decisions. "I get a headache and angry when I drink tequila" was said to me by a guest, and the lyrics "tequila makes her clothes fall off" were referred to by another. My personal experiences with tequila changed when I was working at a Mexican restaurant and befriended a bartender who expanded my education of the spirit through many, many shots.
I was pleased to have been able to join many of the area's top bartenders as a media guest for this event. Carlos Camarena, Master Distiller for El Tesoro Tequila, personally guided us on a special tasting with a tequila-paired dinner. We were introduced to tequila neat and through cocktails, as well as educated on the transformation of tequila from the agave plant to the final spirit in our glass.
Camarena is a third-generation Master Distiller and his passion for tequila was palpable as he spoke. As an agronomist, he has studied the planting and harvesting cycles of the 100% estate-grown blue agave he uses. Camarena is also leading efforts to the conservation of bat species that aid in the pollination of tequila plants around the region. As a distiller, he maintains quality by instilling a patient, taste focused philosophy in everything he touches. Finally, as he describes himself, a "caretaker of tradition," he champions traditional tequila-making methods that have been passed down for generations, such as using a Tahona wheel to extract the flavor and juices from the traditional oven-baked agave.
Camarena's excitement for tequila was, dare I say it, intoxicating. By the end of the night, I only wanted to drink tequila for all occasions. An interesting thought he shared was how his competition wasn't other tequila brands, but other liquors and spirits. If he can convert one vodka, whiskey, or gin drinker to drink tequila, he views that as a win for the industry overall. With so many different kinds of tequila available, there is an El Tesoro tequila for all tastes. Camarena thinks about tequila from morning to night (literally, he even suggested having tequila for breakfast), and this dedication to his craft shines in the product he creates. Below is a table of the many varieties of El Tesoro tequila.
Blanco
Aging: Un-aged and bottled immediately
Aroma: Fresh agave, honey and a touch of green olive
Taste: Sweet taste balanced with agave, white pepper, and subtle green notes
Finish: Sweet with hints of white pepper
Reposado
Aging: Aged in ex-bourbon barrels for nine to 11 months
Aroma: Fresh agave mixed with honey and a touch of green olive
Taste: Robust blend of oak and agave with smoke and pepper
Finish: Pepper-forward with oak notes
Anejo
Aging: Slowly aged in ex-bourbon barrels for two to three years
Aroma: Floral jasmine and oaky character with agave back notes
Taste: Sweet agave balanced with pepper, oak and floral tones
Finish: Light green notes with a vanilla finish
Extra Anejo
Aging: Slowly aged in American oak ex-bourbon barrels for four to five years
Aroma: Coffee, cinnamon, and butter with notes of caramel
Taste: A balanced blend of coffee, dark chocolate, dry fruits, and roasted almonds
Finish: Hints of pepper and oak
Paradiso
Aging: Slowly aged in French oak ex-Cognac barrels for five  years
Aroma: Butterscotch, herbs, hints of smoke, oak, and tropical notes
Taste: Blend of sweet butterscotch and herbs
Finish: Butterscotch, herbs, hints of smoke, oak and tropical notes
Coriander crusted yellowtail with agua chile and smoked jalapeno oil (paired with Blanco)
Coffee rubbed tenderloin with green pistachio mole and corn cake (paired with Reposado)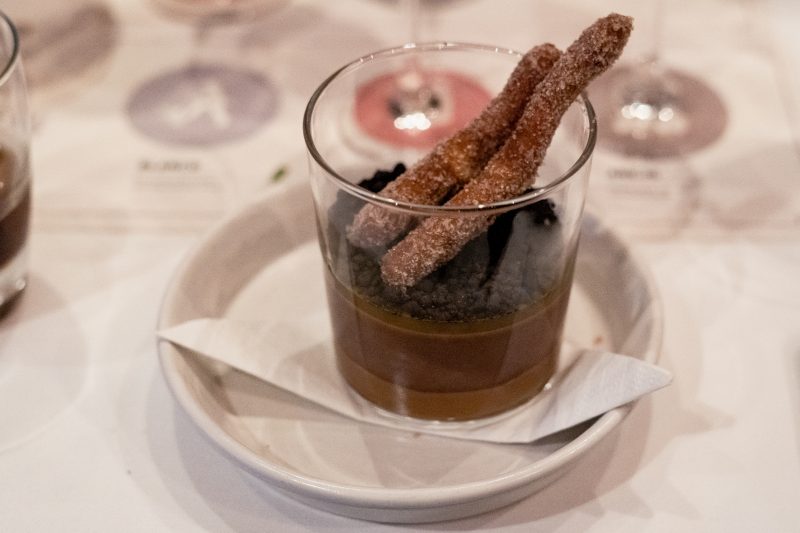 Dark chocolate custard with dulce de leche, coffee gelee, Mexican chocolate crumble and churro (paired with Anejo)
Chocolate custard with chocolate paint, chocolate streusel, whipped creme fraiche, and cocoa nib brittle
Continuing this educational evening, coffee artisan Barbara Angel of La Floresta Café shared how coffee has shaped her life from growing up around coffee to even meeting her husband through coffee. She answered a panel of questions and demonstrated creating a unique blend of coffee. As a former barista, I was excited to be able to create my own blend from their various 100% Arabica beans, grown in the highlands of Mexico. My personal blend included Armonia Clasico, Jade Oaxaca, and Amatista Veracruz. We also learned how to make Café de Olla, a traditional Mexican coffee that uses piloncillo and cinnamon to "spice up" your mornings.
Thank you to El Tesoro Tequila, La Floresta Café, Luma on Park, and Savona Communications for an incredible evening.
La Sandia – El Tesoro Blanco, lime, honey, watermelon water, and matcha