Dexter's of Thornton Park, near Lake Eola Park, is known for their award winning Sunday brunch with bottomless mimosas but they have recently come out with a new dinner menu, bringing a renewed emphasis on their dinner offerings.
We were invited to Dexter's to preview their new menu created by owner and Executive Chef Drew Weisner and we enjoyed everything we tried.  The flavors and presentation for every dish was on point.
Here are our Favorite Dishes from the New Menu at Dexter's of Thornton Park:
1. Chef's Charcuterie of the Day & Chef's Burrata Board
The Chef's Charcuterie of the Day consists of a selection of cured meats and cheeses, olives, fruit, crackers or pressed French bread.  The Chef's Burrata board consists of house pesto, burrata, sangria tomatoes, crostini – altogether fun, and always a sign of the beginning of a special time.
2. Thai Chili Crispy Chicken Skewers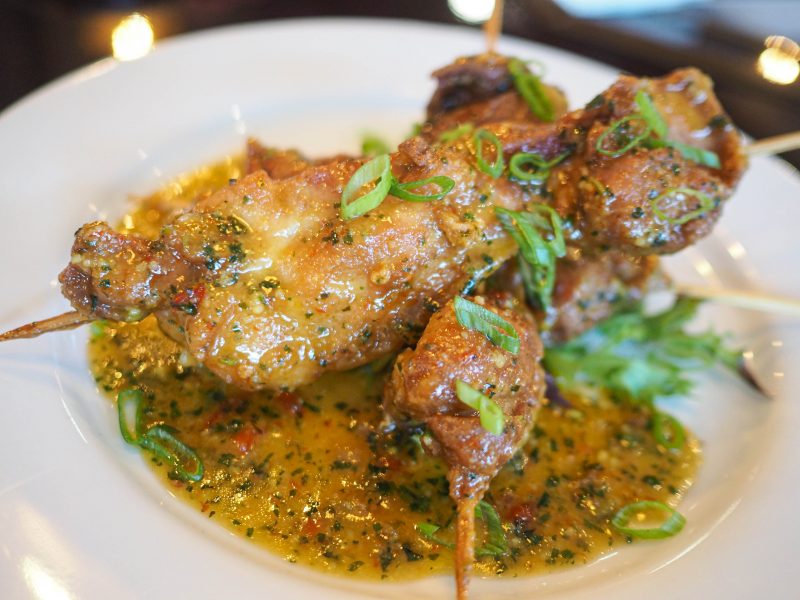 Four chicken skewers dipped in chef's Thai chili herb sauce.  The chicken skewers were cooked perfectly and plated beautifully with a glaze that was sweet and flavorful.
Chef Drew showcasing some of the dishes from the new dinner menu: Thai Chicken Skewers and Mini Wonton Pork Tacos.
3. Mini Wonton Pork Tacos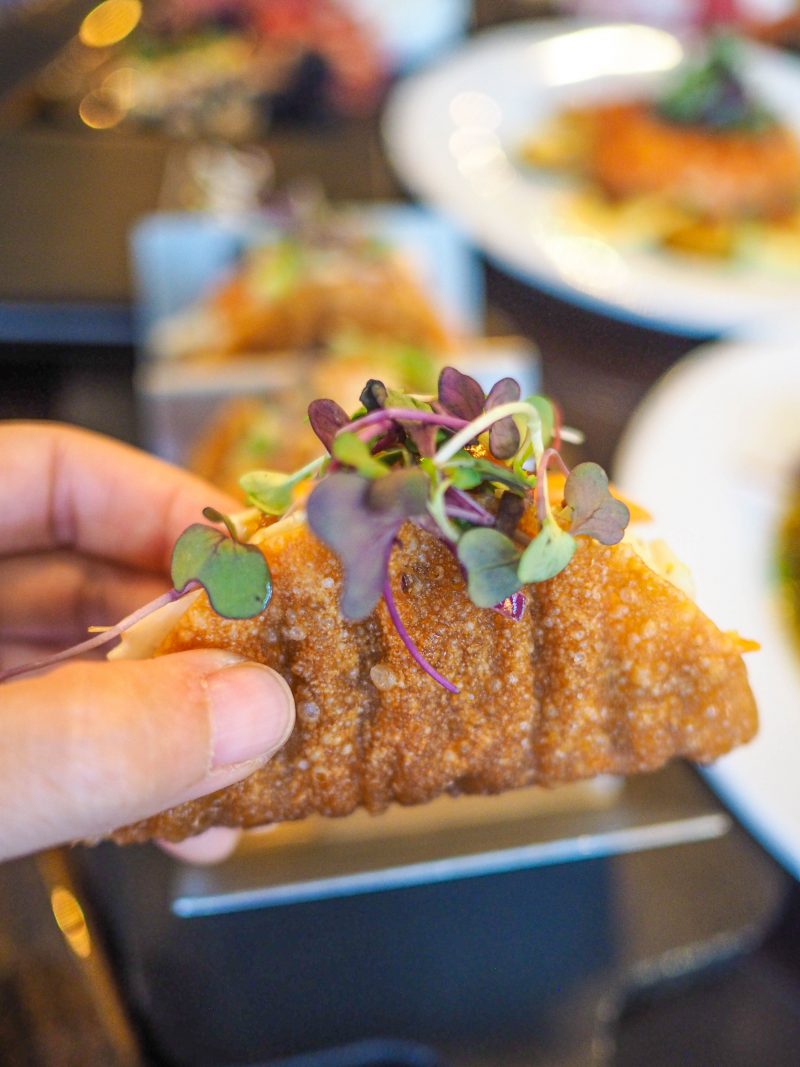 Three crispy wontons filled with freshing and delicious braised pork, topped with house slaw and spicy BBQ sauce.  The crispy taco shells made with deep fried wonton wrappers were a game changer – with delightful textures of both crunchy and soft.
4. Summer Salmon with Smoked Tomato Marmalade
This is a delicious new chargrilled salmon steak served on perfectly grilled summer squash and zucchini topped with house made smoked tomato marmalade, a sweet and addictive glaze.
5. Sesame Seared Tuna
This dish blew my mind – sesame crusted tuna seared rare served with grilled kimchi marinated baby bok choy, jasmine rice and unagi. The tuna was very fresh and delicious and paired well with the spicy pickled kimchi marinated baby bok choy.  The warm, crispy, crunchy rice made this dish comforting.
6. Pumpkin Cheesecake
Just in time – this delicious seasonal dessert will be available during the upcoming fall season.  It will cast a spell on those non-pumpkin eaters and turn them into believers.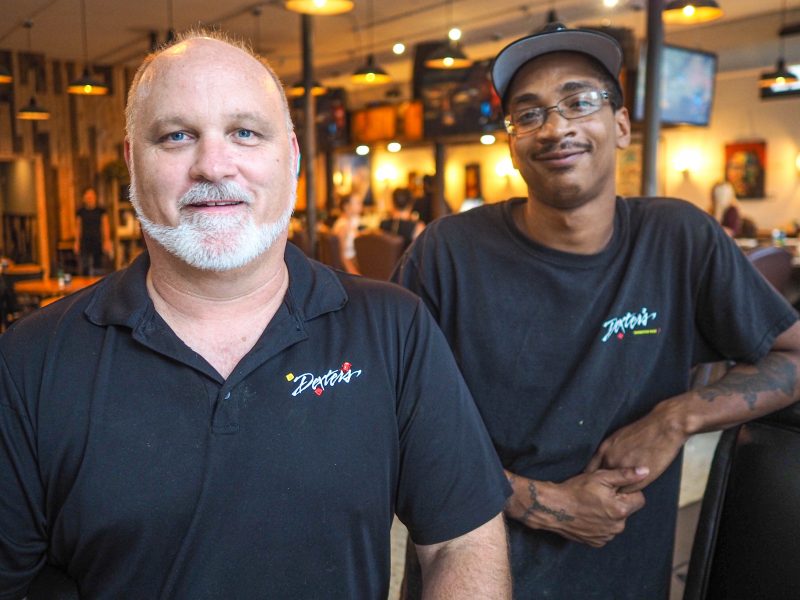 Thank you Executive Chef Drew and Chef Desmond for preparing all our delicious food!
Dexter's has been operating in Thornton Park for 24+ years and also recently went through a major renovation where they've revamped their booths, bar, and walls separating the kitchen, with wood accents that make you want to try some new whiskeys with the meal.
Guest can also enjoy crafted cocktails or wine from their unique, extensive collection by the glass or bottle at the newly-renovated full bar.
A fun historical fact is that the building used to be home to one of the first-ever Publix stores in Orlando back in the 1930's.
You can find framed photos of the first Publix owners (pictured above) and staff hung up on the wall at Dexter's Thornton Park.

Be sure to check out Dexter's the next time you are in the Thornton Park area for not only great brunch, but also a fabulous dinner full of excellent food and service!
Dexter's – Thornton Park
808 E Washington St, Orlando, FL 32801
(407) 648-2777